Extending a Legacy of Leadership
The Max De Pree Center for Leadership was founded in 1996 by Samuel T. Reeves in honor of his good friend and fellow Fuller Seminary board member Max De Pree. Sam established the center in recognition of the profound influence Max had leaders throughout the world through his leadership of Herman Miller Inc., bestselling writings, non-profit work, and mentoring.
Dr. Robert Banks, Fuller professor and leading thinking on faith in the marketplace, was the first Executive Director of the De Pree Center. He was followed by Dr. Walter C. Wright, Jr., former president of Regent College and a longtime mentoree of Max De Pree. Walt led DPC to develop Max's idea of relational leadership and further explored how beliefs shape practice of both individuals and organizations. In 2012, Dr. Gideon Strauss assumed leadership of the center, helping to define new opportunities for the development of leaders in light of the integration of faith and work.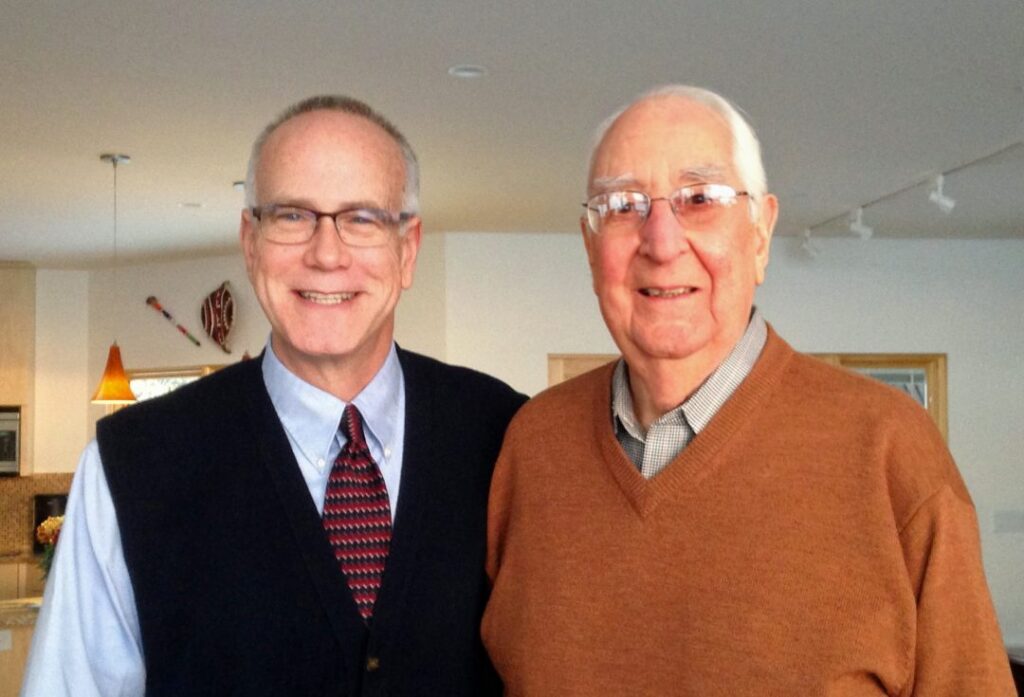 Max De Pree (right) and Mark Roberts (left) in 2015
In 2015, Dr. Mark D. Roberts became the executive director of the De Pree Center. Mark, with years of pastoral and non-profit leadership experience, brought a unique perspective and vision to the center. His long-term commitment to and engagement with marketplace and other leaders has helped the center focus afresh on serving today's leaders well, so they might flourish in their work as leaders and also in every part of life.
Mark is joined by a strong team of associates, senior fellows, and board members. He works closely with Dr. Michaela O'Donnell Long, Senior Director of the center, Dr. Scott Cormode, Hugh De Pree Professor of Leadership at Fuller, and Dr. Tod Bolsinger, Vice President of Fuller and author of the bestselling leadership book Canoeing the Mountains. Together, they and their colleagues seek to help leaders respond faithfully to God's callings in all seasons of life and leadership.
Learn More
Every generation has its grouping of distinguished leaders that contributes to shaping their field of expertise. Max De Pree is one such leader. Learn more about Max De Pree and the De Pree Center.
Max De Pree
Article about Max De Pree
Max (1924-2017) was perhaps most well known as CEO of Herman Miller, Inc., trustee of Fuller Theological Seminary, and author of multiple leadership books.
About Us
Information about De Pree Center
Learn more about the mission, history, staff, and leadership of Fuller's Max De Pree Center for Leadership.