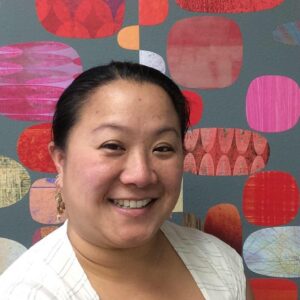 Wenonie Ling is a creative artist who is administratively strong and has joined the Max De Pree Center for Leadership as Office & Design Manager.
Exhibiting strong organizational design skills, Wenonie's career has included working for multiple Los Angeles area nonprofits that advocated for public policy on behalf of underserved minority communities. One organization in particular required not only managing the daily operations of an office, but also producing 9 annual cultural events: 7 of which occurred within a 3-month period! Appreciating the value of relationship building and helping others, Wenonie has also worked alongside those who have led in the areas of children's ministries, student ministries, and worship coordinating.
Wenonie has earned an M.A. in Worship, Theology, & the Arts from Fuller Theological Seminary. Playing into her love for the stage, costume, music, and dance, she has a B.A. in Theatre from UC Irvine, a certificate in Fashion Design from Cal State Los Angeles, and additionally has studied Asian Pacific Theatre & Dance at the University of Hawaii, Manoa. Although Wenonie has lived in Hong Kong and Honolulu, she considers Southern California home.