Walter C. Wright, Jr.
Executive Director, 2000-2012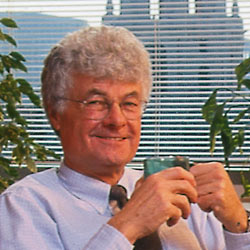 "Would you be willing to tutor me on leadership?"
"I will be a member of your secretariat or board of advisors as you pursue your own leadership development."
From that initial exchange emerged a 30-year mentoring relationship between Walt and Max De Pree. Drawing on Max's wisdom and experience Walt navigated a leadership journey as administrator at Fuller Seminary, as president of Regent College in Vancouver, and as executive director of the De Pree Center. Deeply influenced by Max's assertion that "belief precedes behavior", Walt has practiced, written and spoken about effective organizations that create vital relational cultures, where men and women have space and encouragement to grow. His books, Relational Leadership, Mentoring: The Promise of Relational Leadership, Crossings, The Third Third of Life: Preparing for your Future, and monographs unfold that theme.
Walt's commitment to relational leadership and mentoring finds an effective metaphor and application in the mountaineering rope. Seven men have been climbing mountains and exploring backcountry wilderness together for 37 years. These men have been roped together in life as well as wilderness, defining for all of them the bonds of relationship and community. In Don't Step on the Rope! Reflections on Leadership, Relationships and Teamwork, the lessons learned in the mountains are applied to organizational teams.
Walt lives in Pasadena with Beverly, and enjoys his four grandchildren, when not working or in the mountains.