Now the LORD said to Abram, "Go from your country and your kindred and your father's house to the land that I will show you. I will make of you a great nation, and I will bless you, and make your name great, so that you will be a blessing. I will bless those who bless you, and the one who curses you I will curse; and in you all the families of the earth shall be blessed."
Focus
The story of Abraham shows us that when it comes to following God's call, we can't do it alone. When it comes to receiving the completeness of God's redemption, we can't do it alone. And when it comes to delighting in the fullness of God's blessing, we can't do it alone
Today's devotion is part of the Life for Leaders series: Can't Do It Alone.
Devotion
Last week I began a Life for Leaders devotional series called Can't Do It Alone. I talked about the epidemic of loneliness in the United States and how this is not what God has intended for us. From the very beginning of the Bible, we learn that we are relational beings created in the image of a relational God. What God says of the first man is true also of us: It's not good for us to be alone.
Yet we all experience relational brokenness and ensuing aloneness as a result of sin. Yes, our sin can cut us off from other people. But sin's impact is far broader and deeper. Sin infects, not just our personal lives and relationships, but the whole world and all of its people. "Doing it alone" instead of in nurturing, collaborative communities is a result of living in a world broken by sin.
When the first human beings rejected God, a decision that led to relational brokenness and dysfunctionality, God could have abandoned human beings, leaving us forever burdened by sin and the isolation it causes. But our gracious God did not do that. Instead, God chose to redeem and restore us, and not just us, but also the world God had created. God's plan of salvation was not a quick fix, however. What God began after sin entered the world would take thousands and thousands of years to be completed.
A major step forward in God's saving work is chronicled beginning in Genesis 12. There God speaks to Abram, whose name later becomes Abraham. God says to him: "Go from your country and your kindred and your father's house to the land that I will show you. I will make of you a great nation, and I will bless you, and make your name great, so that you will be a blessing. I will bless those who bless you, and the one who curses you I will curse; and in you all the families of the earth shall be blessed" (Gen 12:1-3). When we first read this, it might seem that God is in fact telling Abraham to "do it alone." After all, he must leave his country, family, and home to receive God's blessing and to be a blessing for "all the families of the earth."
This interpretation is not entirely misguided. There are times when God does indeed call us away from our key relationships and places of community. But the case of Abraham reminds us that, even then, we mustn't do it alone. In the verses that follow God's call we read, "So Abram went, as the LORD had told him; and Lot went with him. Abram was seventy-five years old when he departed from Haran. Abram took his wife Sarai and his brother's son Lot, and all the possessions that they had gathered, and the persons whom they had acquired in Haran; and they set forth to go to the land of Canaan" (Gen 12:4-5). When Abraham left home, he was joined by his nephew, Lot, his wife Sarai (AKA Sarah), and many others as well. Though he did leave much behind, Abraham did not do it alone, but rather in community with others.
It's worth noticing that God's plans for Abraham had much to do with people in relationship with each other. God wasn't planning simply to save Abraham as an individual. Rather, God intended to make from Abraham (and Sarah) a "great nation" (12:2). Yes, Abraham would be blessed. But that's not all. God says, "[I]n you all the families of the earth shall be blessed" (12:3). Not just "all the people of the earth," but "all the families of the earth." (The Hebrew word translated as "families" can also refer to other kinds of related groups.) This suggests that though we can experience God's blessing as an individual, we will receive the fullness of that blessing in community with others.
In sum, the story of Abraham shows us that when it comes to following God's call, we can't do it alone. When it comes to receiving the completeness of God's redemption, we can't do it alone. And when it comes to delighting in the fullness of God's blessing, we can't do it alone.
Reflect
Have you ever sensed that, like Abraham, God was calling you away from home, family, or a familiar community? If so, what was that like? What happened?
When in your life have you found that sharing in a project with others leads to greater fruitfulness and joy?
How might families, friendship groups, and other communities experience God's blessing together?
Act
Do you know someone who has recently left home and/or family, perhaps to go to college or to start a new job? If it seems appropriate, reach out to that person in friendship and care.
Pray
Gracious God, thank you for not abandoning us in our sin. Thank you for not leaving us in our aloneness. Thank you for reaching out to us in grace, choosing to redeem and restore us, not only as individuals, but also as people in relationship with others.
As I seek to fulfill your call upon my life, may I follow the example of Abraham by serving you in community. As I do, may many people, indeed, even many "families," be blessed by you. Amen.
Banner image by Vaida Tamosauskaite on Unsplash.
Find all Life for Leaders devotions here. Explore what the Bible has to say about work at the unique website of our partners, the Theology of Work Project's online commentary. Reflection on today's Life for Leaders theme can be found here: Abraham's Faithfulness Contrasted with the Faithlessness of Babel (Genesis 12:1-3).
---
Subscribe to Life for Leaders
Sign up to receive a Life for Leaders devotional each day in your inbox. It's free to subscribe and you can unsubscribe at any time.
---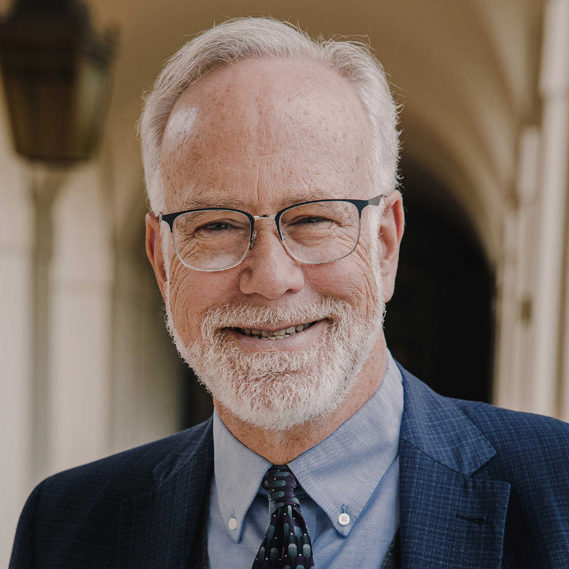 Dr. Mark D. Roberts is a Senior Strategist for Fuller's Max De Pree Center for Leadership, where he focuses on the spiritual development and thriving of leaders. He is the principal writer of the daily devotional, Life for Leaders, and the founder of the De Pree Center's Flourishing in the Third Third of Life Initiative. Previously, Mark was the Executive Director of the De Pree Center, the lead pastor of a church in Southern California, and the Senior Director of Laity Lodge in Texas. He has written eight books, dozens of articles, and over 2,500 devotions that help people discover the difference God makes in their daily life and leadership. With a Ph.D. in New Testament from Harvard, Mark teaches at Fuller Seminary, most recently in his D.Min. cohort on "Faith, Work, Economics, and Vocation." Mark is married to Linda, a marriage and family counselor, spiritual director, and executive coach. Their two grown children are educators on the high school and college level.