June 21, 2023 • Webinar
On June 1st, 2023, participants of the De Pree Center's Alongside mentoring cohort were able to participate in a Q&A with special guest Steve Sawyer, hosted by Meryl Herr.
About the Speakers
Steve Sawyer recently retired from a business career spanning 45 years.  He grew up in the San Francisco Bay Area and attended college at Stanford where he started attending Menlo Park Presbyterian Church, an experience which profoundly impacted his faith and spiritual growth.  Following a brief stint in marketing at IBM, he attended business school at Kellogg at Northwestern in Chicago where he met his wife, Meritt.
Steve's primary work spanned over 40 years at Woodruff Sawyer & Co., a large commercial insurance brokerage company based in San Francisco.  During that time, the company grew from 35 employees in a single office in San Francisco to over 600 employees across 14 offices in the US and UK.  Today, it is the second-largest privately-held insurance brokerage in the country.  While the values of the organization were never overtly framed as faith-based, the values and culture were shaped by the shared faith of a few senior leaders.  Among various awards and recognition the company has received, it has been regularly included among "The Best Places to Work in the Bay Area" and received other industry accolades for its excellence in growth and culture.
Steve's faith deeply shaped his sense of call and purpose in his work. Despite his family legacy, his sense of God's leading impacted his decision for the role he assumed in leadership within the company and allowed for him to experience the fulness of God's blessing and fulfillment in his work.
Steve and Meritt have been married for 41 years and live in Menlo Park, CA.  Meritt is a Fuller grad and long-time Trustee, and recently retired from a long career in international ministry, with a brief final stint as an Executive Pastor.  They have 3 grown children, Ryan, Kendra (married to Matt, both PhD's in clinical psychology from Fuller) and Clary.  They were long-time members of Menlo Park Presbyterian Church (now Menlo Church) before callings to serve elsewhere. Both Steve and Meritt are on boards involved in various areas of international ministry and look forward to further ministry in retirement.    Steve enjoys biking and skiing and he and Meritt  love spending time at their cabin in the mountains where they enjoy various winter and summer sports.   In retirement, they have multiple hiking trips planned in national parks in the U.S. as well as destinations internationally.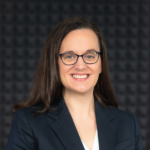 Dr. Meryl Herr is the Director of Research and Resources at the Max De Pree Center for Leadership where she designs and conducts research studies that add to the understanding of what helps marketplace leaders flourish. She also oversees the conversion of research findings into resources that will serve leaders across industries and seasons of life.
Meryl earned a BS from Vanderbilt University and an MDiv and PhD (Educational Studies) from Trinity Evangelical Divinity School. Her doctoral research focused on the role of imagining the future in vocational discipleship. After completing her doctorate, Meryl pursued additional training by completing a graduate certificate in Educational Research Methods through the University of Illinois at Chicago.
In addition to working at the De Pree Center, Meryl is the owner of The GoodWorks Group, a consulting firm specializing in educational program planning and evaluation. She collects and analyzes data to help her clients make informed decisions about their educational programs.
Meryl is an affiliate professor for Fuller's Doctor of Ministry program. She previously taught as an adjunct professor for Cornerstone University's Professional and Graduate Studies Division as well as for Trinity Evangelical Divinity School.
Meryl lives in Watkinsville, Georgia with her husband and two sons.