For he himself is our peace, who has made the two groups one and has destroyed the barrier, the dividing wall of hostility, by setting aside in his flesh the law with its commands and regulations. His purpose was to create in himself one new humanity out of the two, thus making peace, and in one body to reconcile both of them to God through the cross, by which he put to death their hostility.
In Tuesday's reflection, we saw that Christ demolished the wall that divided Jews from Gentiles, thus bringing peace and making both groups one. How did he accomplish this? And why does this matter to us today?
Ephesians 2:15 explains that Christ destroyed this barrier "by setting aside in his flesh the law with its commands and regulations." The use of the word "flesh" refers to the body of Christ sacrificed on the cross. The death of Christ satisfied the demands of the law, thus setting it aside (see Colossians 1:21-22).
How did this abolishing of the law break down the wall of hostility between Jews and Gentiles? For one thing, Jews believed that they and they alone could be in relationship with the one true God by keeping the law. Moreover, we saw previously that many Jews considered the law to be an impenetrable barrier between themselves and non-Jews. The law kept Jews from interacting with and being polluted by pagans. Thus, it fostered separatism and a sense of religious and moral superiority. This did not sit well with the Gentiles, who despised the Jewish reluctance to participate fully in Greco-Roman society.
But, by satisfying the law's demands, Christ opened up a new avenue to salvation, a new way for all people to be in relationship with God. All people have sinned, including both Jew and Gentile. And all people are saved by God's grace offered through the death of Christ. Thus, the law no longer functions to support the hostile division between Jews and Gentiles.
How might this matter to us today? As we consider the implications of what Jesus accomplished through his death on the cross, it is sadly ironic that so many Christians have rebuilt a wall of hostility between believers and non-believers. The bricks of this wall are composed of moral and ceremonial rules and regulations. We look down upon those who don't worship as we worship or who sin in ways we have judged to be particularly nasty. Our judgmental attitude has repelled many in our day from the grace of God offered in Jesus Christ to all people.
Christ died to demolish the walls that separate us from one another. Shouldn't this keep us from building new walls of separation today?
Something to Think About:
Have you erected walls in your life that keep you separate from those who need God's grace?
What "dividing walls of hostility" might Christ want to break down in your life? In your workplace? In your church? In your family? In your circle of friends? In your city?
Something to Do:
Breaking down walls often starts with relatively small actions, removing just one brick, so to speak. As you consider the walls in your life, ask the Lord to show you some small action you might take to begin the dismantling process. Then, with God's help, take that step.
Prayer:
Lord Jesus Christ, thank you for fulfilling the law's demands so that I might be saved, not by my inadequate works, but by your more-than-adequate grace. Thank you for shattering the wall of hostility between Jews and Gentiles by the sacrifice of your flesh on the cross. Thank you for offering through your death not only reconciliation with God but also reconciliation among people.
Help me, Lord, not to erect new walls that keep others from your grace. Free me from a judgmental and haughty attitude. In all of my relationships, may I demonstrate your grace and mercy, living sacrificially for others even as you lived and died sacrificially for me. Amen.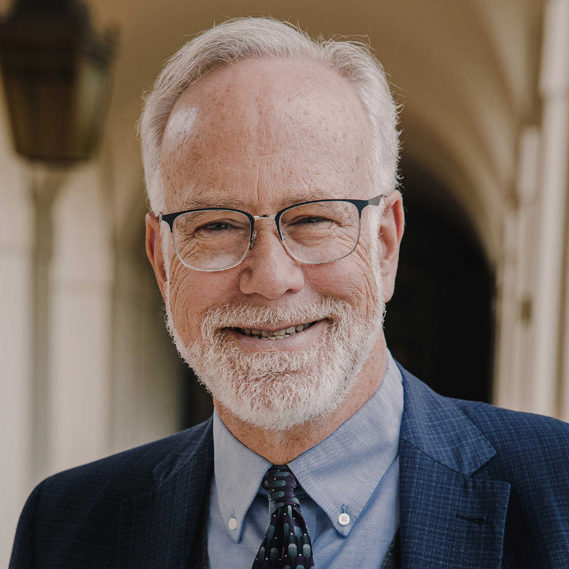 Dr. Mark D. Roberts is a Senior Strategist for Fuller's Max De Pree Center for Leadership, where he focuses on the spiritual development and thriving of leaders. He is the principal writer of the daily devotional, Life for Leaders, and the founder of the De Pree Center's Flourishing in the Third Third of Life Initiative. Previously, Mark was the Executive Director of the De Pree Center, the lead pastor of a church in Southern California, and the Senior Director of Laity Lodge in Texas. He has written eight books, dozens of articles, and over 2,500 devotions that help people discover the difference God makes in their daily life and leadership. With a Ph.D. in New Testament from Harvard, Mark teaches at Fuller Seminary, most recently in his D.Min. cohort on "Faith, Work, Economics, and Vocation." Mark is married to Linda, a marriage and family counselor, spiritual director, and executive coach. Their two grown children are educators on the high school and college level.