"Abraham replied, 'They have Moses and the prophets; they should listen to them.' He said, 'No, father Abraham; but if someone goes to them from the dead, they will repent.' He said to him, 'If they do not listen to Moses and the prophets, neither will they be convinced even if someone rises from the dead.'"
Focus
God has spoken plainly in Scripture about his care for the poor. God calls his people to exercise similar care, to treat the poor with generosity and justice. Are we listening?
Today's devotion is part of the series Following Jesus Today.
Devotion
Today's Scripture comes from a parable in Luke 16. It begins with a rich man living luxuriously while a poor man suffered at his gate. When these two men died, the rich man went to Hades while the poor man went to the place where Abraham was, presumably Heaven. The rich man cried out to Abraham, asking him to send the poor man back to earth to warn the rich man's family about their imminent fate if they did not care for the poor. But Abraham rejected this request, explaining, "They have Moses and the prophets; they should listen to them" (Luke 16:29). Abraham added that those who neglected to listen to Moses and the prophets would not even pay attention to one who rose from the dead.
As I reflect on this parable, I'm struck by what Abraham said about listening: "They have Moses and the prophets; they should listen to them" (16:29). The rich man and his relatives had what we know as the Old Testament to guide their behavior. And it is chock full of instructions about how those who are rich are to treat the poor with generosity and justice. For example, those who are well off enough to have land to harvest are not to "reap to the very edges of [their] field, or gather the gleanings of [their] harvest." Rather, they are to "leave them for the poor and for the alien: I am the LORD your God" (Leviticus 23:22). Through the prophet Isaiah God said,
Is not this the fast that I choose:
+++to loose the bonds of injustice,
+++to undo the thongs of the yoke,
to let the oppressed go free,
+++and to break every yoke?
Is it not to share your bread with the hungry,
+++and bring the homeless poor into your house;
when you see the naked, to cover them,
+++and not to hide yourself from your own kin?
Then your light shall break forth like the dawn,
+++and your healing shall spring up quickly;
your vindicator shall go before you,
+++the glory of the LORD shall be your rear guard. (Isaiah 58:6-8)
Proverbs 19:17 adds, "Whoever is kind to the poor lends to the LORD, and he will reward them for what they have done." These are just a few of dozens and dozens of passages in the Hebrew Scriptures that teach us, especially those of us who are wealthy, to care for and empower the poor.
Now, I'm not rich in the mode of Jeff Bezos or Elon Musk. But, compared to most people throughout the world today and throughout history, I am relatively wealthy. I do not have to worry about where my next meal is coming from or whether I'll be sleeping in a comfortable bed tonight. I am confident that my children will be well taken care of. So, in light of Jesus's parable, I have to ask myself if I'm listening to what God has said about riches and poverty. Do I care for the poor? How much do I invest in helping the poor become enabled and encouraged? How much do I give to organizations that are doing excellent work both feeding and educating the poor? Am I taking seriously what God has said clearly in Scripture? Or am I letting the values and assumptions of my culture determine my attitudes and actions toward the poor? Perhaps you'll join me in reflecting on these questions as they are relevant to your life.
Reflect
What shapes your attitudes and actions toward the poor?
How do you respond to the biblical passages about the poor?
In what ways do you exercise care for the poor?
Act
Do something today as a tangible response to God's concern for the poor. If you are unsure of what to do, it's always helpful and wise to support World Vision.
Pray
Lord Jesus, thank you for this parable in Luke and for the reminder to care for the poor. Scripture is clear that we are to be generous and just in our relationship with the poor. Help us use our money and our influence, not only to give to the poor, but also to educate and empower them, so that they might emerge from poverty for good. Amen.
A Note from Mark
I'd like to share some exciting news with you. This week a wonderful new book is being released: Make Work Matter – Your Guide to Meaningful Work in a Changing World, by Michaela O'Donnell. Now, you may know that Michaela is now my boss, so my enthusiasm may seem required. But I read the manuscript of her book months before she became the Executive Director of the De Pree Center. Here's what I wrote back then:
Make Work Matter is surprising in many ways. Unlike so many other books on work, it is based, not just on the writer's solid convictions, but also on research into the working lives of real people. Yet the book is also filled with astute theological insights that are presented as if from a good friend seeking wisdom rather than from an esteemed professor with all the answers. Michaela generously opens up her own life to us, inviting us into a shared process of discovery and vocational discernment. Make Work Matter is perfect for folks in the early stages of figuring out their work lives. But, unexpectedly, it also speaks powerfully to older readers who are wondering about God's callings in the third third of life.
If you're in a place of vocational transition – like so many in today's world – this book is perfect for you. But I'd encourage you also to buy this book as a gift for friends, children, or grandchildren. I know they'll appreciate it.
If you'd like to learn more about Make Work Matter, check out this page on our website. Here's the Amazon link for Make Work Matter if you want to buy the book now.- Mark
Find all Life for Leaders devotions here. Explore what the Bible has to say about work at the unique website of our partners, the High Calling archive, hosted by the Theology of Work Project. Reflection on today's Life for Leaders theme can be found here: Really Listening to God

---
Subscribe to Life for Leaders
Sign up to receive a Life for Leaders devotional each day in your inbox. It's free to subscribe and you can unsubscribe at any time.
---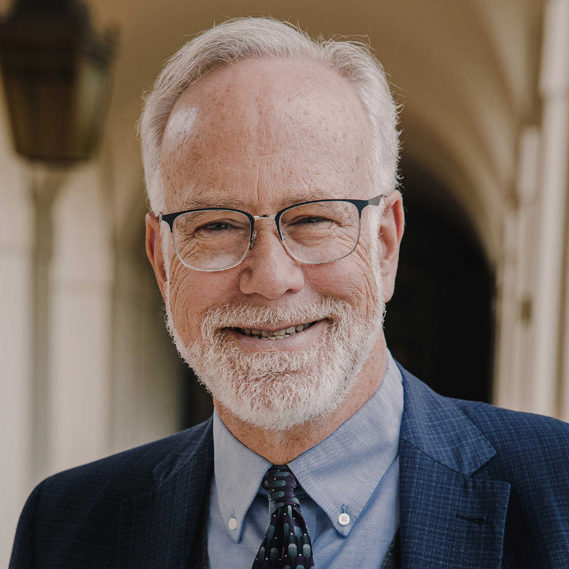 Dr. Mark D. Roberts is a Senior Strategist for Fuller's Max De Pree Center for Leadership, where he focuses on the spiritual development and thriving of leaders. He is the principal writer of the daily devotional, Life for Leaders, and the founder of the De Pree Center's Flourishing in the Third Third of Life Initiative. Previously, Mark was the Executive Director of the De Pree Center, the lead pastor of a church in Southern California, and the Senior Director of Laity Lodge in Texas. He has written eight books, dozens of articles, and over 2,500 devotions that help people discover the difference God makes in their daily life and leadership. With a Ph.D. in New Testament from Harvard, Mark teaches at Fuller Seminary, most recently in his D.Min. cohort on "Faith, Work, Economics, and Vocation." Mark is married to Linda, a marriage and family counselor, spiritual director, and executive coach. Their two grown children are educators on the high school and college level.