And I heard a loud voice from the throne saying, "Look! God's dwelling place is now among the people, and he will dwell with them. They will be his people, and God himself will be with them and be their God."
When I was a boy, I loved going camping with my family. We'd jam our car full of all sorts of equipment and head for the mountains. Once we arrived, my dad would set up our tent, a spacious canvas structure with a floor to keep the critters out. Our tent was fairly good-sized for a tent, but it had to provide shelter for six people, my parents and three siblings in addition to me. As you can imagine, six people living in a tent for a couple of weeks was quite an adventure. It facilitated family closeness, along with the occasional squabbles that come when people are stepping all over each other (literally!).
Now, you may be wondering what these reminiscences have to do with Revelation 21. There doesn't appear to be anything about camping in this passage. But, if we examine the Greek text of verse 3, we see something not apparent in English. The Greek word translated as "dwelling place" is skene (skay-nay). If you were to look up skene in the standard Greek-English lexicon, you'd find as the primary translation "tent, booth, camp." Moreover, the Greek verb behind the phrase "he will dwell with them" is skenoo (skay-nah-oh), for which the standard translation is "pitch tents, encamp." So, it wouldn't be crazy to translate Revelation 21:3: "God's tent is now among the people, and he will camp with them."
Yet, before we see our eternal future as one endless camp out with God, we should acknowledge that the Greek words related to "tent" took on a secondary meaning in ordinary Greek of "dwelling place" and "dwell." More importantly, in the Greek translation of the Old Testament, the word skene was used for the Tabernacle, the tent where God made his presence known prior to the building of the Temple in Jerusalem. In the skene, God's glorious presence, his shekinah, was revealed to the Israelites. It's likely that this sense of skene undergirds Revelation 21:3. Even as God was once truly and gloriously present with his people in the Tabernacle, in the future he will once again be truly, gloriously, and fully present with us, dwelling with us for eternity.
Before I conclude today's devotion, I want to draw to our attention one other biblical passage that uses camping/Tabernacle imagery in a striking way. In the opening chapter of John's gospel we read, "The Word became flesh and made his dwelling among us. We have seen his glory, the glory of the one and only Son" (John 1:14). The Greek verb translated as "made his dwelling" is skenoo, the same verb used in Revelation 21:3. Thus, according to John, Jesus is the new tabernacle, if you will, the new dwelling of God on earth. In Jesus, we glimpse God's glory. Thus, as we await God's dwelling with us in the future, we can know God and dwell with him through the Word of God Incarnate, God "camping" with us in the person of Jesus Christ.
Something to Think About:
How do you respond to the camping metaphor in this passage? What memories do you have of camping?
When you consider the promise of God dwelling with us, how do you respond? What thoughts or feelings come to mind?
How has Jesus Christ made God known to you?
Prayer:
Gracious God, we thank you for the promise and hope of this passage. One day, you will "camp out" with us. You will dwell with us and we will dwell with you in a way we can only imagine today. Thank you for this hope.
In the meanwhile, may we know you intimately and truly through Jesus Christ, who "camped out" with us and revealed the fullness of your glory. Amen.
This post was originally published on April 11, 2016.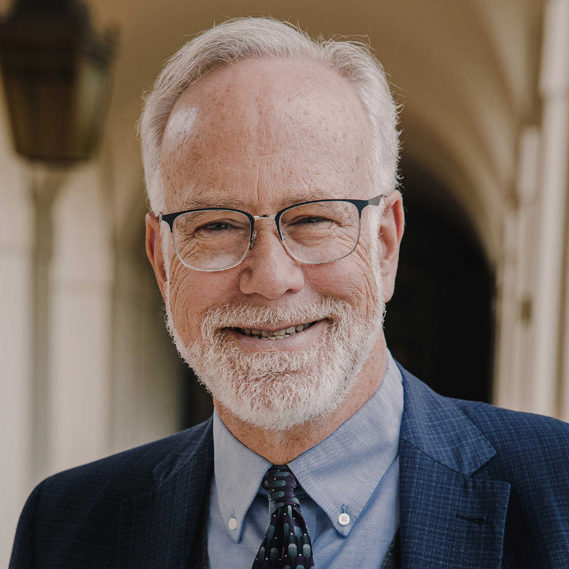 Dr. Mark D. Roberts is a Senior Strategist for Fuller's Max De Pree Center for Leadership, where he focuses on the spiritual development and thriving of leaders. He is the principal writer of the daily devotional, Life for Leaders, and the founder of the De Pree Center's Flourishing in the Third Third of Life Initiative. Previously, Mark was the Executive Director of the De Pree Center, the lead pastor of a church in Southern California, and the Senior Director of Laity Lodge in Texas. He has written eight books, dozens of articles, and over 2,500 devotions that help people discover the difference God makes in their daily life and leadership. With a Ph.D. in New Testament from Harvard, Mark teaches at Fuller Seminary, most recently in his D.Min. cohort on "Faith, Work, Economics, and Vocation." Mark is married to Linda, a marriage and family counselor, spiritual director, and executive coach. Their two grown children are educators on the high school and college level.