After John was put in prison, Jesus went into Galilee, proclaiming the good news of God. "The time has come," he said. "The kingdom of God has come near. Repent and believe the good news!"
Can I live in God's kingdom now, or do I have to wait until the kingdom comes in the future? Christians have answered this question differently throughout the years. Some have emphasized the contemporary presence of the kingdom of God. They point to things Jesus said, such as, "The kingdom of God is within you" (Luke 17:21, KJV). Others emphasize the future coming of the kingdom. They underscore other sayings of Jesus, like: "For I tell you I will not drink again from the fruit of the vine until the kingdom of God comes" (Luke 22:18). Often, the debate among Christians about the timing of the coming of the kingdom leaves us confused. Which is it? Now? Or sometime in the future?
This confusion comes, I suggest, from Jesus' own proclamation of the kingdom. Not that he was confused, mind you. Rather, what Jesus taught does not fit our neat and tidy categories of "now" or "future." According to Jesus, the truth is something more like "both now and future," and this can be confusing to us.
Consider Jesus' proclamation in Mark 1:15, for example. He says, "The time has come. . . . The kingdom of God has come near. Repent and believe that good news!" "The time has come" surely suggests that God's kingdom is already on its way. This is confirmed by "The kingdom of God has come near." "Has come near" accurately translates the Greek underlying this verse (engiken is the perfect of the verb meaning "to come near"). The CEB nicely captures the feel of Jesus' announcement in this way, "Now is the time! Here comes God's kingdom!"
Yet, if the kingdom has come near, does that mean it is already here? In a sense, yes. But, in a sense, not quite yet. Theologians have captured the way in which the kingdom is present in the teaching of Jesus with the phrase "already and not yet." God's reign is already present. Yet it is not fully present. It is here, but not completely. It has come near, but still has a bit farther to go.
Why is it important for us to grasp the "already and not yet" nature of the kingdom of God? Because, when we do, we are able to begin to live in God's kingdom right now, but without reducing the kingdom to our present experience. In our work, we can "seek first the kingdom of God" (Matt 6:33), even though we realize that competing "kingdoms" still exist in the workplace. We can discover ways to live under God's reign in every part of life, though living with the limitations of this age. And, when our experience falls short of our expectations for the kingdom, we can be refreshed by the hope that, someday, "The kingdom of the world has become the kingdom of our Lord and of his Messiah, and he will reign for ever and ever" (Rev 11:15).
Something to Think About:
When you think of the kingdom of God, do you tend to think of it as present, future, or a mix of both?
In what ways do you experience God's kingdom in your daily work?
What difference would it make if you were to seek God's kingdom in every part of your life, including your work?
Prayer:
Gracious God, how we thank you for your kingdom. Thank you that, in the ministry of Jesus, your kingdom has come near. Thank you for the opportunity we have right now to live under your reign.
Yet, we recognize that your kingdom is both here and not here. It is, indeed, already and not yet. Thus, we yearn to experience more fully your reign on earth . . . your sovereignty, your justice, and your peace. May your kingdom come, Lord!
Help us, we pray, to seek your kingdom each day, in all we do. Teach us to live under your sovereignty and for your purposes in every part of life. Show us how we might serve you in our daily work.
All praise be to you, King of kings and Lord of lords! Amen.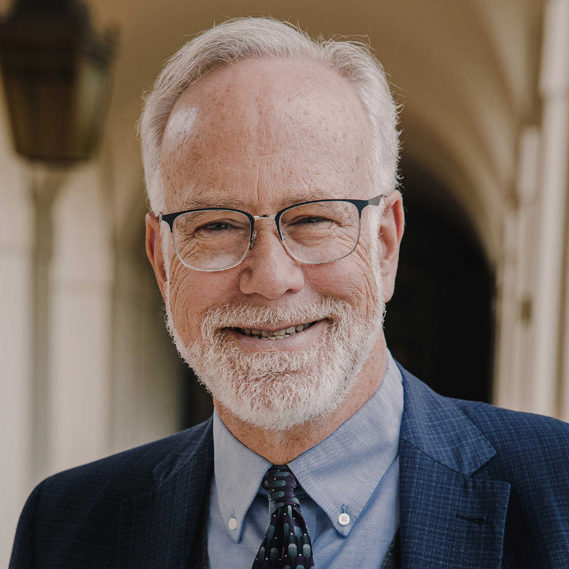 Dr. Mark D. Roberts is a Senior Strategist for Fuller's Max De Pree Center for Leadership, where he focuses on the spiritual development and thriving of leaders. He is the principal writer of the daily devotional, Life for Leaders, and the founder of the De Pree Center's Flourishing in the Third Third of Life Initiative. Previously, Mark was the Executive Director of the De Pree Center, the lead pastor of a church in Southern California, and the Senior Director of Laity Lodge in Texas. He has written eight books, dozens of articles, and over 2,500 devotions that help people discover the difference God makes in their daily life and leadership. With a Ph.D. in New Testament from Harvard, Mark teaches at Fuller Seminary, most recently in his D.Min. cohort on "Faith, Work, Economics, and Vocation." Mark is married to Linda, a marriage and family counselor, spiritual director, and executive coach. Their two grown children are educators on the high school and college level.