Are you eager to clarify your purpose for the third third of life? If so, let others join you in this process.
That's the main point of this article, the seventh in a series called "Clarifying Your Purpose in the Third Third of Life." To this point, I've offered the following suggestions:
Suggestion 1: Be committed to God's purpose for all things, including your life.
Suggestion 2: Seek the Lord in prayer and surrender to God's will.
Suggestion 3: Pay attention to how God has made and gifted you.
Suggestion 4: Pay attention to what God is putting on your heart.
Suggestion 5: Pay attention to where you are bearing fruit.
Suggestion 6: Look for continuity but be open to surprises.
Suggestion 7: Get in touch with and act upon your generativity.
Suggestion 8: Experiment your way forward.
Today, I'm adding another one:
Suggestion 9: Discover and discern your purpose in community with other Christians.
To be sure, there are times when people discover their purpose when they're by themselves (not counting the presence of God, of course). Moses was alone at the burning bush when he found out that God was calling him to a new purpose for his life: leading the people of Israel out of captivity in Egypt. Zechariah, a Jewish priest, was alone in the temple when an angel appeared to him, informing him that he would soon have a new purpose as the father of an unexpected son. So, times of solitude and silence can prepare our hearts to hear from God in a new way and discover a new purpose for our lives.
Yet, especially since the outpouring of the Holy Spirit on all believers, the discovery and discernment of purpose often happens in community: in small groups, among friends, in family and mentoring relationships, in spiritual direction and working groups. In fact, I wouldn't be writing articles like this and focusing on helping folks flourish in the third third of life apart from the counsel, support, and urging of people who know me well. They have helped me clarify my purpose in this season of my life.
The Importance of Community for Purposeful Living

Academic research confirms the importance of community for discerning and maintaining purpose as we get older. Several years ago, a German psychology professor named Martin Pinquart did a deep dive into research on purpose and old age. He examined 70 academic studies on this topic, looking for common themes and conclusions. He presented his findings in an article in Ageing International, "Creating and Maintaining Purpose in Life in Old Age: A Meta-Analysis." Pinquart found that older adults with a strong sense of purpose do flourish, living healthier, happier, and more productive lives. However, the research also showed an "age-associated decline of purpose in life." In general, we lose our sense of purpose as we get older, even though having clear purpose makes our lives better and richer as we age.A sad irony!
But some older adults maintain a strong sense of purpose, swimming against the tide of declining purpose. What makes the difference for these purposeful third thirders? Based on his research, Pinquart writes, "[W]e analyzed which factors may promote the maintenance of high levels of purpose in life in older adults . . . . We found that social integration, and in particular a high quality of social contacts, showed the strongest association with purpose in life" (emphasis added). He goes on to say, "We conclude that developing close social ties and building up a large social network is an important way of preventing declines of purpose in life."

So, what encourages us to live with purpose as we get older? What prevents declines in purpose as we age? "Relationships! Relationships! Relationships!" to borrow a line from George Vaillant, former director of the Harvard Study of Adult Development. That study found that the most important predictor of flourishing in old age is the quality of our relationships. Now, with Pinquart's research in mind, we understand one practical way our relationships help: They enable us to forge a sense of purpose in life and they help to keep that purpose strong even when we go through the transitions and losses of older adulthood.
Examples of Community Clarifying Third Third Purpose
Earlier in this article I mentioned how people in my inner circle of relationships helped me get clear on my purpose concerning my work on third third flourishing. I'm doing this work today, believing that God has called me to it, because folks who know me well helped me to hear and respond to this particular calling. Now, as I'm helping older adults to flourish, I'm seeing again and again how much community matters when it comes to clarifying purpose.
For example, in my De Pree Center work I get to lead cohorts for third third folk (both Road Ahead and Third Third Flourishing). Some are approaching retirement and wondering what to do next. Others are retired and looking for new purpose. Still, others plan to continue working but are wondering about changing the focus of their professional life. In the cohorts, participants seek to identify God's callings and clarify their purpose.
It's been exciting to watch this happen. A former CEO of a giant corporation discovered a fresh calling to focus more on family relationships, especially with her grandchildren. A man for whom faith and work integration had been so important felt called to help produce a new faith/work educational program for churches. An executive who used to be a musician decided it was time to renew her musical gifts so she could teach underserved children. A man whose work had required so much of his attention decided that, in retirement, it was time to pay more attention to his wife. These are just a few examples.
Additionally, one of the flagships of our third third work is the Flourishing in the Third Third of Life course. This six-session, video-based course explores what is essential if people are going to live fully, fruitfully, and faithfully as they get older. Since the release of this course a year ago, I've had the chance to hear from many people about the difference it has made in their lives. Often they'll speak about a new sense of purpose. A recently retired woman said that she had begun to fear that retiring was the worst decision she had ever made because her life felt so empty. But as she participated in the Flourishing course, she realized that God had a purpose for her as she lived into God's purpose for all things. She felt new excitement about what lay ahead for her in the third third. Yet, the content of the course helped her to gain a new sense of purpose. But, crucially, this was also a result of the small group conversations in the course sessions as well as talking with folks outside of class.
In a recent webinar, Kids Hope USA President Karen Pearson shared how she began her professional life as a professor and academic administrator. But a few years ago, she changed course by taking on the leadership of an organization that helps children thrive through mentoring relationships with adults. I asked Karen what advice she might have for people who were considering a significant vocational change in their third third. She strongly encouraged people to listen to those who know them well. Ask for their counsel. Talk about what you might do and get their wisdom.
Conclusion: The Joy of Clarifying Purpose Together
I would strongly urge you to discover and discern your purpose in community with other Christians. Then, once you've clarified your purpose, let your key relationships support you as you live into that purpose.
Clarifying purpose along with others is a wise strategic move, but it also can add to the joy in your life. Four years ago, as I was trying to figure out whether to follow the advice of my friends and jump into this third third work, a very generous couple offered to give the De Pree Center a seed grant to get the work going. I was grateful and excited. But I was not alone in these feelings. Those who had been encouraging me in this work joined me in my joy, which was so much richer because it was shared in community.

Now that I'm well into my third third work, I have the opportunity to coach others who are going through third third transitions. I walk with them as they seek and discover their new purpose. Sometimes this happens quickly. Often it takes many months or even years. But no matter the timing, when new clarity comes, I can share in their excitement. I get to "rejoice with those who rejoice" (Rom 12:15).
Banner image by Getty Images on Unsplash.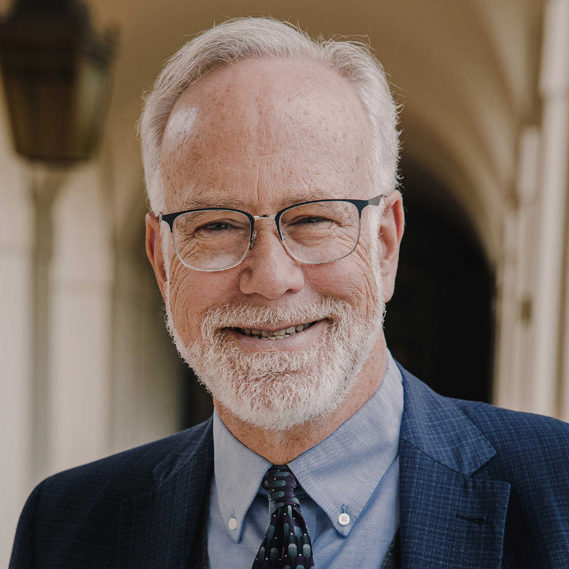 Dr. Mark D. Roberts is a Senior Strategist for Fuller's Max De Pree Center for Leadership, where he focuses on the spiritual development and thriving of leaders. He is the principal writer of the daily devotional, Life for Leaders, and the founder of the De Pree Center's Flourishing in the Third Third of Life Initiative. Previously, Mark was the Executive Director of the De Pree Center, the lead pastor of a church in Southern California, and the Senior Director of Laity Lodge in Texas. He has written eight books, dozens of articles, and over 2,500 devotions that help people discover the difference God makes in their daily life and leadership. With a Ph.D. in New Testament from Harvard, Mark teaches at Fuller Seminary, most recently in his D.Min. cohort on "Faith, Work, Economics, and Vocation." Mark is married to Linda, a marriage and family counselor, spiritual director, and executive coach. Their two grown children are educators on the high school and college level.