Then the LORD God said, "It is not good that the man should be alone; I will make him a helper as his partner."
Focus
There is an epidemic of loneliness in the United States. Older adults are lonely. Millennials are lonely. Young people are lonely. Yet, God once said that it is not good for people to be alone. Not only will God help us to experience the warmth of human community, but also God will use us to reach out with love and grace to those who are struggling with loneliness.
This devotion is part of the Life for Leaders series: Can't Do It Alone.
Devotion
American society is facing an epidemic of loneliness. I found clear evidence of this epidemic in my research related to the De Pree Center's Third Third Flourishing Initiative. For example, a recent article from the U.S. Centers for Disease Control observed,
Loneliness and social isolation in older adults are serious public health risks affecting a significant number of people in the United States and putting them at risk for dementia and other serious medical conditions.
A report from the National Academies of Sciences, Engineering, and Medicine (NASEM) points out that more than one-third of adults aged 45 and older feel lonely, and nearly one-fourth of adults aged 65 and older are considered to be socially isolated. Older adults are at increased risk for loneliness and social isolation because they are more likely to face factors such as living alone, the loss of family or friends, chronic illness, and hearing loss [italics added].
This is not good news for those of us in the third third of life. But it turns out that we are not the only ones in our society experiencing loneliness. According to data from YouGovAmerica, "Millennials are the loneliest generation." Three in ten Millennials report that they are often or always lonely. But Millennials are joined by others when it comes to loneliness. A 2019 Wall Street Journal article bore this headline, "The Lonely Burden of Today's Teenage Girl." The reasons for this burden are many, including the omnipresence of smartphones. Since 2007, "girls have dramatically decreased the amount of time they spend shopping, seeing friends or going to movies." Instead, they spend countless hours by themselves on their phones.
Ample research shows that loneliness plagues people of all ages in the United States. According to NPR, "Most Americans Are Lonely, And Our Workplace Culture May Not Be Helping." It's certainly true that the COVID-19 pandemic made things worse. But research published in January 2020, before the pandemic, found that three in five Americans were lonely. That percentage was growing steadily before COVID-19 forced us into even greater isolation. The title of a recent report from the Making Caring Common Project of Harvard Graduate School of Education sums up the situation succinctly: "Loneliness in America: How the Pandemic Has Deepened an Epidemic of Loneliness and What We Can Do About It."
Sorry to begin this devotion on such a downer, but we need to know what's happening in the culture around us, and perhaps in our workplaces, neighborhoods, churches, and families. Maybe even in our own hearts! We may well be victims of the epidemic of loneliness that's all around us, at least to some extent.
This is not what God intends for us. As we saw in yesterday's Life for Leaders devotion, God created humankind as "male and female" (Genesis 1:27). We were created in community so that we might live in community. Genesis 2 makes this point from a different perspective. In that narrative of creation, God begins by making a solitary man. But then God says, "It is not good that the man should be alone; I will make him a helper as his partner" (Genesis 2:18). This sets up the creation of woman as man's partner. But I believe this passage also gives us basic truth for our lives: It is not good for any of us to be alone. If there's an epidemic of loneliness in our society today, this is not good, not good at all.
As we move forward in this devotional series called Can't Do It Alone, we must keep in mind the fact that millions of Americans are in fact doing it alone and paying a heavy price. Their loneliness leads to many negative results, including sadness, illness, and clinical depression. An article in the New Yorker bears this chilling title: "Suicide, A Crime of Loneliness."
How should Christians respond to the epidemic of loneliness in our society? Let me suggest two of many possible responses. First of all, we should examine our own lives to see if we are experiencing persistent loneliness. For example, we might ask ourselves: How often do I feel lonely? How often do I feel as if I have nobody with whom to talk honestly? How satisfied am I with the quality of my core relationships? Am I experiencing community that encourages, supports, nurtures, and challenges me? Am I sharing life with others in a meaningful way? Or am I effectively doing it alone?
Second, I am convinced that we who follow Jesus can and should reach out in love to the millions of people in our world who are lonely. If we believe that it's not good for people to be alone, then we can help those who are living in isolation and unhappy solitude. Odds are that many of the people you interact with on a regular basis are experiencing some degree of loneliness. Even a kind word from you can make a difference. Sometimes that kind word can open a door to a new, mutually-beneficial relationship.
Of course, you and I, acting individually, cannot make much of a dent in the epidemic of loneliness of our age. That's why we need to do this work, not by ourselves, but with others. I wonder what would happen if the Jesus-followers in our time of history were committed to working together to build relationships with those who are lonely. How might our world be different? How might we be different?
Reflect
How often would you say that you feel lonely? When, in particular, are you apt to feel lonely? Why might this be the case?
When do you feel connected to people in a healthy and positive way?
Can you think of anyone in your life who may be struggling with loneliness? How might you reach out to this person in a helpful and respectful way?
Act
Ask the Lord to show you someone who needs your kindness this week. As God guides you, reach out to that person.
Pray
Gracious God, you have made us for relationship, for relationship with you and for relationship with other people. Thank you for this gift.
We are concerned, Lord, by the epidemic of loneliness in our world. Sometimes we may experience this epidemic in a personal way. But even if we are satisfied by our relationships, there are people around us who are hungry for a bit of human connection and compassion. Use me, Lord, to love others with your love.
O God, may your people on this earth be inspired by your Spirit to embrace those who are lonely with your grace. Give us eyes to see and hearts open to feel what others are going through. May we be part of the solution to the epidemic of loneliness in our time of history. Amen.
Find all Life for Leaders devotions here. Explore what the Bible has to say about work at the High Calling archive, hosted by the unique website of our partners, the Theology of Work Project. Reflection on today's Life for Leaders theme can be found here: A Helper for What?.
---
Subscribe to Life for Leaders
Sign up to receive a Life for Leaders devotional each day in your inbox. It's free to subscribe and you can unsubscribe at any time.
---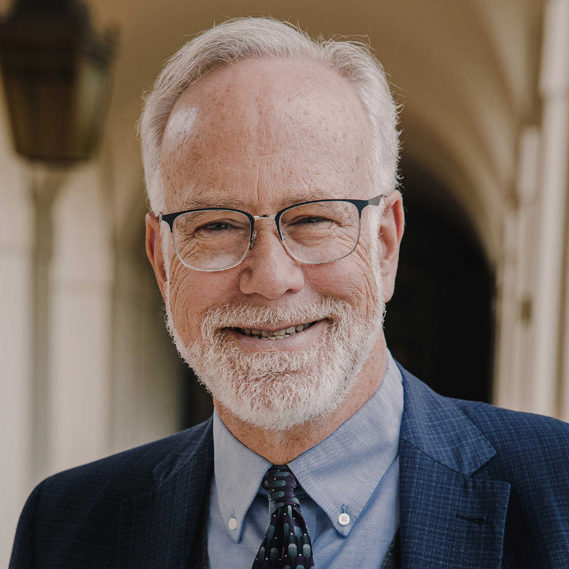 Dr. Mark D. Roberts is a Senior Strategist for Fuller's Max De Pree Center for Leadership, where he focuses on the spiritual development and thriving of leaders. He is the principal writer of the daily devotional, Life for Leaders, and the founder of the De Pree Center's Flourishing in the Third Third of Life Initiative. Previously, Mark was the Executive Director of the De Pree Center, the lead pastor of a church in Southern California, and the Senior Director of Laity Lodge in Texas. He has written eight books, dozens of articles, and over 2,500 devotions that help people discover the difference God makes in their daily life and leadership. With a Ph.D. in New Testament from Harvard, Mark teaches at Fuller Seminary, most recently in his D.Min. cohort on "Faith, Work, Economics, and Vocation." Mark is married to Linda, a marriage and family counselor, spiritual director, and executive coach. Their two grown children are educators on the high school and college level.