As God's chosen ones, holy and beloved, clothe yourselves with compassion, kindness, humility, meekness, and patience. Bear with one another and, if anyone has a complaint against another, forgive each other; just as the Lord has forgiven you, so you also must forgive. Above all, clothe yourselves with love, which binds everything together in perfect harmony. And let the peace of Christ rule in your hearts, to which indeed you were called in the one body. And be thankful. Let the word of Christ dwell in you richly; teach and admonish one another in all wisdom; and with gratitude in your hearts sing psalms, hymns, and spiritual songs to God. And whatever you do, in word or deed, do everything in the name of the Lord Jesus, giving thanks to God the Father through him.
Focus
People loved by God are to act distinctively in the world. Scripture says we're to "clothe ourselves" with "compassion, kindness, humility, meekness, and patience." Those qualities won't help you get giant numbers on Twitter or a highly competitive job. But they will help you be more like Jesus. And they will demonstrate the fact that your identity is based on the God who loves you more than you'll ever fully know.
Today's devotion is part of the series Live Who You Are.
Devotion
I grew up as a straight-laced kid in a straight-laced family that attended a straight-laced church. I wore dress shoes to elementary school most of the time, unlike my friends who got to wear tennis shoes. My clothes were always neat and tidy, thanks to my mom. And when it came to church, I always wore a dress shirt with a nifty clip-on tie. I looked pretty much like all the other boys and men at church.
But in the late 60s, this began to change. Young adults by the thousands flocked to Hollywood. Known as Hippies, Street People, or Flower Children, they lived on the streets or in flop houses. They dressed in a strikingly counter-cultural way, featuring ragged bell-bottom jeans, tie-dyed shirts, and long, stringy hair. You might have expected my straight-laced church to discourage these street people from attending our services, given their outrageous clothing. But the opposite was true. The First Presbyterian Church of Hollywood reached out to the people in the streets, providing places for them to sleep, building a coffee house for them, and even welcoming them into our worship services. All of this I found quite amazing.
In his letter to the Colossians, the Apostle Paul told them to dress in a shocking counter-cultural way. No, he didn't commend dirty Levis and flowery t-shirts. But he did tell the Colossian Christians: "clothe yourselves with compassion, kindness, humility, meekness, and patience" (Colossians 3:12). We may read this instruction without wincing because it's in the Bible and the Bible is so familiar. But it's hard to overstate just how utterly counter-cultural these "items of clothing" were. In the first-century Greco-Roman world, nobody aspired to such things as compassion, kindness, humility, meekness, and patience. They wanted honor and acclamation. They sought power and personal advantage. It's hard to imagine something less like the Roman Empire than Paul's list of "clothing" in Colossians 3:12.
Unless, of course, you're thinking about contemporary American culture. Yes, to be sure, there are plenty of moving counter-examples. But, for the most part, would you say that people in our day seek to live with compassion, kindness, humility, meekness, and patience? You're not going to find these virtues in the mission statements of most companies. They're not going to be featured in the platforms of either major political party. And you're not going to find these qualities featured in the next superhero film (though one or two show up occasionally). If you put on your resumé that your strengths are compassion, kindness, humility, meekness, and patience, good luck getting a job!
Now, you may want to object and say, "Wait! I know somebody who fits this description." Truly, there are such people. I've known a few myself. So, I'm not saying it's impossible today to put on the moral clothing Paul commends in Colossians 3:12. But I am saying it goes counter to the tide of our culture, and therefore it won't be easy.
I don't have time here to investigate the meanings of each of the five words Paul uses in this verse. What you read in the NRSV is trustworthy. Other translations are quite similar:
compassion, kindness, humility, gentleness and patience (NIV, CEB)

compassionate hearts, kindness, humility, meekness, and patience (ESV)

compassion, kindness, humility, quiet strength, discipline (Message).
So, without digging into the Greek originals here, you can get a good sense of what Scripture is telling us to put on.
Now comes the fun part . . . or, well, the hard part. Once we know what these words mean, more or less, it's time to take a good, long look at ourselves. Are we wearing this counter-cultural clothing? Are we doing so at home? At work? In our community? In our public engagements? In the way we talk about those with whom we disagree? In our social media posts? In our hearts before the Lord?
As I think about my own life, I can see glimpses of hope. There are times when I am compassionate, and my compassion can sometimes lead to kindness. (Of course, there are other times, too.) But honestly, I struggle most with patience. I'm naturally impatient with just about everything and everyone, including myself—oh, and including God, too. My tendency to be impatient is certainly encouraged by the culture in which I live. So, if I'm going to learn to be patient, I'll need the counter-cultural example of Jesus to inspire me, that's for sure. And I'll need the indwelling guidance of the Holy Spirit, not to mention a community of Christians seeking to put on the way of Jesus each day.
Reflect
When you read the list of attributes and behaviors you're supposed to put on, how do you respond? What do you think? How do you feel?
Being as honest as you can be with yourself, which of the qualities on this list is something you'd consider an area of personal strength?
Conversely, which of these qualities would you consider to be a personal weakness?
Why do you think Paul began with such unexpected, counter-cultural qualities as compassion, kindness, humility, meekness, and patience?
Act
Choose to intentionally do something tomorrow that is compassionate, kind, humble, meek, or patient.
Pray
Gracious God, it's certainly true that your ways are not our ways. When I read the list of qualities in Colossians 3:12, I'm reminded of this fact.
The problem, Lord, is that your ways are not really my ways, either. I'm not naturally inclined to be compassionate, kind, humble, meek, and patient. I think you've helped me to grow in some of these, but I have such a long way to go.
So, I ask you to help me. May the model of Jesus inspire me. May your Word in Scripture teach me. May your Spirit empower me to live in the counter-cultural way of your kingdom. Amen.
Find all Life for Leaders devotions here. Explore what the Bible has to say about work at the unique website of our partners, the High Calling archive, hosted by the Theology of Work Project. Reflection on today's Life for Leaders theme can be found here: Imitating Christ's Humility

---
Subscribe to Life for Leaders
Sign up to receive a Life for Leaders devotional each day in your inbox. It's free to subscribe and you can unsubscribe at any time.
---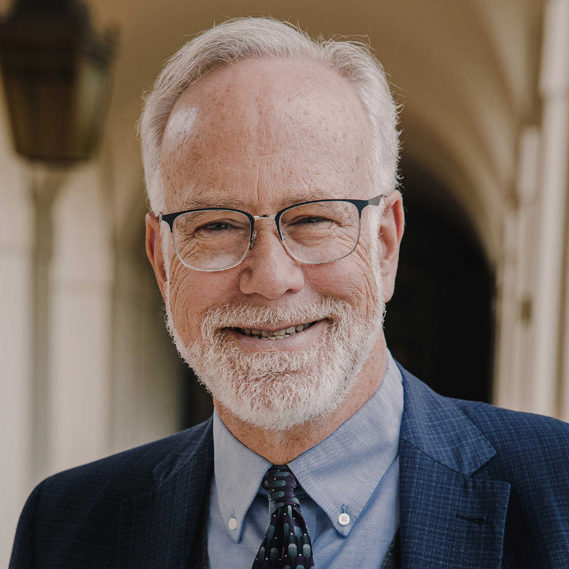 Dr. Mark D. Roberts is a Senior Strategist for Fuller's Max De Pree Center for Leadership, where he focuses on the spiritual development and thriving of leaders. He is the principal writer of the daily devotional, Life for Leaders, and the founder of the De Pree Center's Flourishing in the Third Third of Life Initiative. Previously, Mark was the Executive Director of the De Pree Center, the lead pastor of a church in Southern California, and the Senior Director of Laity Lodge in Texas. He has written eight books, dozens of articles, and over 2,500 devotions that help people discover the difference God makes in their daily life and leadership. With a Ph.D. in New Testament from Harvard, Mark teaches at Fuller Seminary, most recently in his D.Min. cohort on "Faith, Work, Economics, and Vocation." Mark is married to Linda, a marriage and family counselor, spiritual director, and executive coach. Their two grown children are educators on the high school and college level.