In our prayers for you we always thank God, the Father of our Lord Jesus Christ, for we have heard of your faith in Christ Jesus and of the love that you have for all the saints.
Focus
Gratitude isn't something we feel or express once in a while. Rather, we should be thankful to God and others regularly. As we express our thanks consistently, we will nurture in ourselves a posture of gratitude. We will be people for whom gratitude comes consistently, even in difficult times. We will pay attention to God's gifts and be thankful for God's grace.
The devotion is part of the series: Thanksgiving Preseason.
Devotion
In yesterday's Life for Leaders devotion, I began to consider the implications of the word "always" in the line "In our prayers we always thank God for you." I suggested that "always" functions figuratively here. The point is that Paul is consistently giving thanks to God for the Colossians, not that he is doing so in every single waking moment.
There is something else about "always" that I want to explore with you today. I think it suggests, not just persistence in thankful prayer, but also a posture of gratitude. I'm not speaking of a literal posture, but rather of a way of thinking, feeling, being, and acting. One who has a posture of gratitude sees all of life as full of God's good gifts. A person with this posture pays attention to how God showers us with blessings upon blessings. Spoken thanks to God flows naturally from such a posture.
I have been asking myself: Do I have a posture of gratitude? I know that I both feel and express my thanks to God and people much more frequently now than I did when I was younger. I feel less entitled to good things and more aware of how they are gifts to me. Plus, I have built into my life certain practices that stir up gratitude within my heart. So, I'm on my way, thanks be to God.
But, still, it's so easy for me to get caught up in life's problems, to let anxiety, fear, or anger fill me, thus erasing my gratitude. For example, shortly before writing this email, I became aware of a significant problem associated with my work. What I learned was distressing to me and, frankly, still is. I could easily let my anxiety rule my heart for the rest of the day. Yet, I learned about this problem from some of my highly competent colleagues who are addressing it wisely. It makes sense that I should feel anxious. But shouldn't I also feel grateful to have such amazing work partners? If I had a consistent posture of gratitude, I might still feel concerned when it's warranted. But that concern would be qualified and limited by an overriding sense of gratitude. So, when it comes to living with a posture of gratitude, I have a long way to go. (In case you're interested, what I did with my anxiety was, first, to tell God about it. Then I offered thanks for my excellent colleagues and their wisdom. I did what Paul commends in Philippians 4:6, "Do not worry about anything, but in everything by prayer and supplication with thanksgiving let your requests be made known to God.")
When I think of people I have known who demonstrate a posture of gratitude, many come to mind. For example, I remember Howard E. Butt, Jr., the founder of Laity Lodge in Texas, where I worked for several years. During my tenure with the H.E. Butt Foundation, the "mothership" of Laity Lodge, I had the privilege of spending time with Howard in a variety of settings, including business meetings, retreats, and one-on-one appointments at his home. In all of these contexts, Howard expressed deep and consistent gratitude. He didn't ignore the challenges and pains of life. In fact, Howard was more open than just about anyone I know when it comes to life's struggles. But, even during hard times, Howard was able to step back and see God's blessings. Sometimes, in the middle of a tough conversation, he would begin praying without warning, "Lord, thank you for blessing us in this way. Thank you for . . . ." And he was off to the gratitude races!
Howard is now with the Lord and I expect he's still thanking God for all sorts of things. The last time I met with Howard individually, his health was failing, but he was eager to hear in detail about my work and all that was happening at Laity Lodge and the other Foundation ministries. Howard didn't say much because he was having trouble speaking. But he listened attentively. Finally, at the end of our two-hour meeting, we took time to pray. After I finished my prayer, for several minutes Howard prayed articulately and without hindrance. What did he pray? Thanks upon thanks upon thanks. He thanked God in detail for all I had reported to him, without consulting any notes. He remembered it all. Then he expressed gratitude for related blessings, for all the ways God had been gracious to him in life, for his daughter and son-in-law who had assumed responsibility for the Foundation, for his wife and sons, for his brother, sister, and parents—and on and on and on. I felt privileged to witness such effusive and intimate prayers of gratitude.
I want to be like Howard and others I know who have developed postures of gratitude. I want thanks to flow spontaneously and generously from my lips. I want gratefulness to fill my heart because I pay attention to God's good gifts. I expect you do too.
Reflect
Have you known someone with a posture of gratitude? What was this person like? How did they express their thanks?
Would you say you have a posture of gratitude? If so, how did this happen? If not, why not?
Are there things in your life that are true gifts from God but things you rarely thank God for? What are some of these things?
Act
Continue to contribute three things for which you are thankful in your gratitude journal.
Pray
Gracious God, thank you for all the gifts you shower upon me. Thank you for the multitude of gifts I've received even this very day. You are so good to me!
Help me, Lord, to be thankful, not just every now and then, but consistently. May I live my life with a posture of gratitude. In what I think and feel, in what I do and say, in how I perceive and believe, may I be full of thanks. Amen.
Find all Life for Leaders devotions here. Explore what the Bible has to say about work at the High Calling archive, hosted by the unique website of our partners, the Theology of Work Project. Reflection on today's Life for Leaders theme can be found here: Gratitude at Work.
---
Subscribe to Life for Leaders
Sign up to receive a Life for Leaders devotional each day in your inbox. It's free to subscribe and you can unsubscribe at any time.
---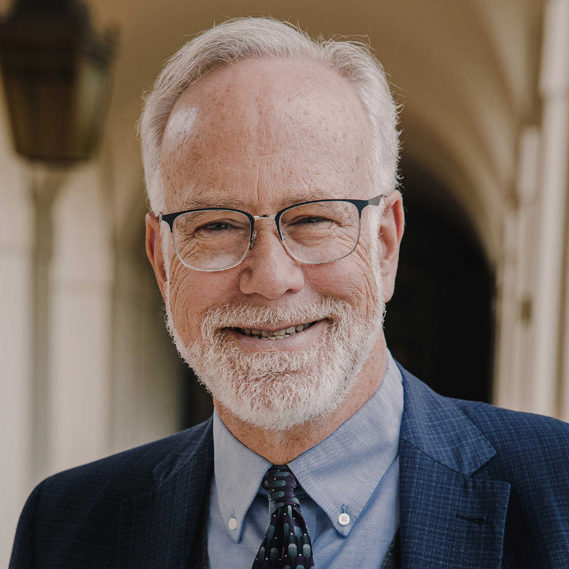 Dr. Mark D. Roberts is a Senior Strategist for Fuller's Max De Pree Center for Leadership, where he focuses on the spiritual development and thriving of leaders. He is the principal writer of the daily devotional, Life for Leaders, and the founder of the De Pree Center's Flourishing in the Third Third of Life Initiative. Previously, Mark was the Executive Director of the De Pree Center, the lead pastor of a church in Southern California, and the Senior Director of Laity Lodge in Texas. He has written eight books, dozens of articles, and over 2,500 devotions that help people discover the difference God makes in their daily life and leadership. With a Ph.D. in New Testament from Harvard, Mark teaches at Fuller Seminary, most recently in his D.Min. cohort on "Faith, Work, Economics, and Vocation." Mark is married to Linda, a marriage and family counselor, spiritual director, and executive coach. Their two grown children are educators on the high school and college level.