Therefore encourage one another and build up each other, as indeed you are doing.
Focus
You know how good it feels when somebody pays attention to you, sees what you're doing, and offers affirmation. Now, consider the fact that you have the power to makes others feel good in this way. Why not offer a word of encouragement to someone today? Or two or three!
This devotion is part of the series: Encouragement from 1 Thessalonians.
Devotion
In yesterday's Life for Leaders devotion, I talked about how encouragement is not a one-way street. All of us have the opportunity and responsibility to encourage our brothers and sisters in Christ and, I might add, to receive encouragement from them.
One way we do this, as we saw yesterday, is by reminding each other of the gospel of Jesus Christ. We shouldn't leave this to pastors and other church leaders. Rather, we all can help our fellow Christians remember the good news of God's love in Christ, good news that gives us reassurance in the present and hope for the future.
There are other ways to encourage people as well. We see an example of this in 1 Thessalonians 5:11. That verse begins with an imperative that mirrors what we saw in 4:13, "Therefore encourage one another," adding another imperative, "and build up each other." The verse ends with, "as indeed you are doing."
I want to focus on that last phrase. At first glance it seems rather inconsequential. No deep theology here! But something very important is going on when Paul and his co-writers say, "as indeed you are doing." This phrase, I suggest, would be a great encouragement to the Thessalonian Christians. It models for us a powerful way to encourage others.
In order to write, "as indeed you are doing," Paul and Co. needed to pay attention. They needed to know how the Thessalonians were in fact doing. In this instance, Timothy had traveled to Thessalonica and then back to Paul who was in Athens. Timothy brought a report on how it was going in the Thessalonian church. No doubt this included the fact that they were encouraging each other and building each other up, even if they needed to do so more and more.
"As indeed you are doing" requires paying attention. But that's not all. It also expresses recognition and appreciation. It acknowledges ways in which the Thessalonians are already acting as mature Christians, even though they're just getting started in their faith. You may recall that Paul and his co-writers offered similar acknowledgement in Chapter 4. Before they urged the Thessalonians to grow in love for each other, they said, "Now concerning love of the brothers and sisters, you do not need to have anyone write to you, for you yourselves have been taught by God to love one another, and indeed you do love all the brothers and sisters through Macedonia" (1 Thessalonians 4:9-10).
I expect you can understand how these words of affirmation must have mattered to the Thessalonians. You know how good it feels when somebody pays attention to you, sees what you're doing, and offers affirmation. Now, consider the fact that you have the power to makes others feel good in this way.
Encouragement is not hard to do. You can easily offer a few words of recognition and affirmation. You can send a short email or even a text. On a fairly regular basis, I will text my pastor after the Sunday worship service, thanking him for his leadership and for his preaching. Sometimes I will send an email to our worship leader, thanking her for her work. All of this takes very little time and effort, but it can mean a lot to those who are on the receiving end.
However, I won't do these things if I'm not paying attention. In order to encourage others, I first need to see what they're doing, not just with my eyes, but with my heart. It's all too easy for me to take for granted the goodness of others without really "seeing" it.
I also try to discern when people are in need of encouragement. For example, if a colleague seems discouraged, I will try to offer support and/or a listening ear. If someone is exhausted, that's a good time to speak a word of encouragement.
I did not start off my life in Christ as someone who was a strong encourager. I often failed to notice the goodness in people. But, over the years, I have sought to grow in my ability to build up others. I think I've made some progress, though I still have a long way to go. I am helped in this effort by praying regularly for the people in my life. I find that the Spirit of God will lead me to encourage somebody in a particular way when I am interceding for them.
I expect that you may well be more adept at encouragement than I am. That's great. If you're already a strong encourager, here's what I'd like to say to you today: "Encourage one another and build up each other, as indeed you are doing."
Reflect
Can you think of a time (or times) when you were encouraged by someone who saw what you were doing and acknowledged it favorably? If so, what was this like for you? How did you feel?
Are you someone who regularly acknowledges the good things that other people do? If so, why? If not, why not?
Can you think of anyone who could use encouragement from you today?
Act
If you answered that last question affirmatively, act on it. Offer encouragement to the person who is on your heart now.
Prayer
Gracious God, thank you for all the ways you encourage us. Sometimes this happens through the indwelling Spirit. Often it happens through others. Thank you for those who have seen me and my work, and who have taken time to encourage me.
Help me to see the people around me and their good deeds. Spur me on to encourage them. Help me to become even more someone who regularly and sincerely encourages others. Amen.
Find all Life for Leaders devotions here. Explore what the Bible has to say about work at the unique website of our partners, the The High Calling archive, hosted by the Theology of Work Project. Reflection on today's Life for Leaders theme can be found here: Dignity Lost and Found.
---
Subscribe to Life for Leaders
Sign up to receive a Life for Leaders devotional each day in your inbox. It's free to subscribe and you can unsubscribe at any time.
---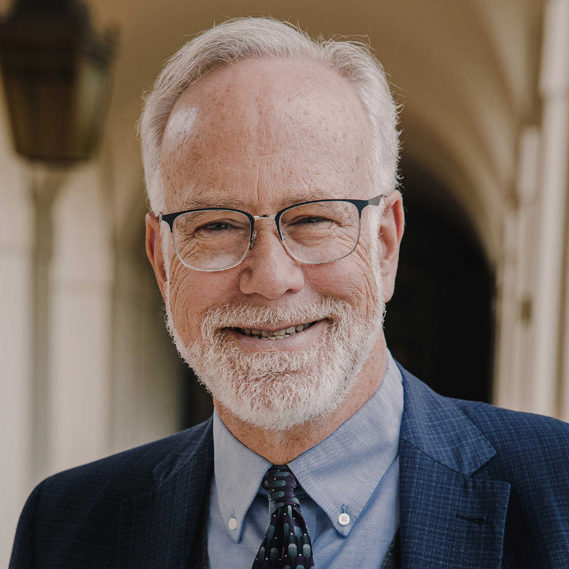 Dr. Mark D. Roberts is a Senior Strategist for Fuller's Max De Pree Center for Leadership, where he focuses on the spiritual development and thriving of leaders. He is the principal writer of the daily devotional, Life for Leaders, and the founder of the De Pree Center's Flourishing in the Third Third of Life Initiative. Previously, Mark was the Executive Director of the De Pree Center, the lead pastor of a church in Southern California, and the Senior Director of Laity Lodge in Texas. He has written eight books, dozens of articles, and over 2,500 devotions that help people discover the difference God makes in their daily life and leadership. With a Ph.D. in New Testament from Harvard, Mark teaches at Fuller Seminary, most recently in his D.Min. cohort on "Faith, Work, Economics, and Vocation." Mark is married to Linda, a marriage and family counselor, spiritual director, and executive coach. Their two grown children are educators on the high school and college level.