We always give thanks to God for all of you and mention you in our prayers, constantly remembering before our God and Father your work of faith and labor of love and steadfastness of hope in our Lord Jesus Christ.
Focus
The Apostle Paul and his colleagues consistently thanked God for the Christians in Thessalonica. Their example encourages us to give thanks on a regular basis for the people who matter to us. God can help us to see these people clearly and to sense how much they are gifts from God to us. Then, gratitude flows from an aware and full heart.
Today's devotion is part of the series Encouragement from 1 Thessalonians.
Devotion
After greeting the Christians in Thessalonica, Paul, Silvanus, and Timothy continue their letter by writing, "We always give thanks to God for all of you and mention you in our prayers" (1 Thessalonians 1:2). In his other letters, Paul commonly offers thanks for the recipients and often mentions other occasions for gratitude in the body of his letters, so what we see in 1 Thessalonians is pretty typical.
Of course, when Paul and his colleagues say they "always" give thanks for the Thessalonians, they don't mean this in an overly literal way. They aren't going through the whole day doing anything but offering prayers of gratitude for the Thessalonians. "Always" in this case means something more like, "Every time we pray for you" or "Very often." The Message gets the gist, I think: "Every time we think of you, we thank God for you."
As one who has been a Christian for a long time (almost 59 years!), I've tried throughout my life to imitate the example of Paul and Co. in this passage and others like it. I've tried to thank God regularly and consistently for God's gifts to me, especially the gifts of people. When I was young, my efforts to be like Paul failed miserably. It's not that I wasn't thankful for people in my life. But I struggled to build regular gratitude into my devotional life. (And, for that matter, I struggled to have a regular devotional life.) Plus, I was focused on things like studying and work, which often took away time from things like prayer and thanks.
Today, I would not claim to have mastered the imitation of Paul when it comes to regular gratitude. But, by God's grace, I find that I do thank the Lord consistently for all sorts of things, mainly, in fact, for the people in my life. I say "by God's grace" because I can't claim to have accomplished this by my own efforts. Rather, the Spirit of God helps me to see people more clearly, to feel their impact on my life and the lives of others more deeply, and therefore to find gratitude welling up in my heart. When I was young, for example, I spent most of my time in meetings paying attention to the agenda and trying hard to impress others with my great insights. Now, I often sit in meetings and marvel at what great colleagues I have. I'm not working at this. It just happens.
I wonder if this is partly a function of age. I've known many people who become more thankful as they get older. Yet, this isn't always true. Other folks seem to become more bitter and less thankful in their latter years, more apt to complain and less likely to feel or express gratitude. So, I don't believe thankfulness comes naturally with aging. It does seem to me to be a work of God in our hearts.
Nevertheless, I don't think we're helpless when it comes to growth in gratitude. We can always work on building expressions of gratitude into our lives, whether in our daily devotions, our prayers before eating, or randomly throughout the day. I often find that my feelings of gratitude come, not before, but after I give thanks to God. If I were to wait around to say "thanks" until I felt thankful, I might be waiting a long time.
There is something else that often helps me both to feel and to communicate thanks to God. I'll talk about this in tomorrow's Life for Leaders devotion. For now, let me encourage you to reflect on the following questions and to go ahead and imitate Paul and Co. by thanking God for the people in your life.
Reflect
How often and in what contexts do you thank God for people in your life?
What gets in the way of your expressions of gratitude to God?
What helps you to give thanks regularly?
Act
Set aside enough time to thank God for the people who make a difference in your life.
Pray
Gracious God, first of all, I thank you for the example set by Paul and his colleagues. Their expressions of gratitude both challenge and encourage me to give thanks for the people in my life who mean so much to me.
So, in imitation of Paul and Co., I want to thank you for . . .
In these people, Lord, I experience your goodness in my life. Thank you. Amen.
Find all Life for Leaders devotions here. Explore what the Bible has to say about work at the unique website of our partners, the High Calling archive, hosted by the Theology of Work Project. Reflection on today's Life for Leaders theme can be found here: Be Thankful in All Circumstances

---
Subscribe to Life for Leaders
Sign up to receive a Life for Leaders devotional each day in your inbox. It's free to subscribe and you can unsubscribe at any time.
---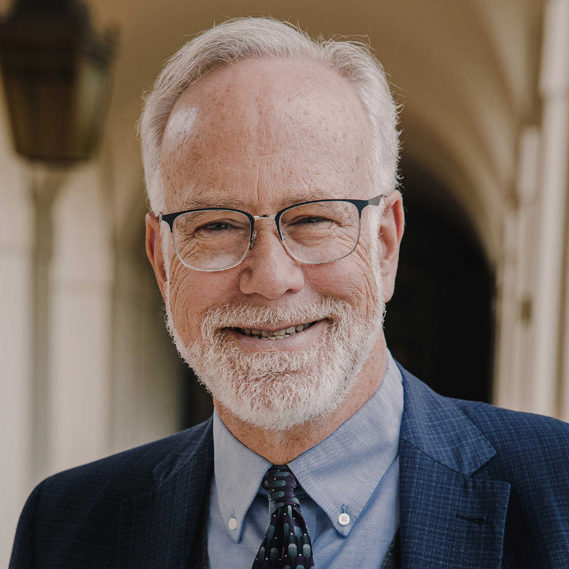 Dr. Mark D. Roberts is a Senior Strategist for Fuller's Max De Pree Center for Leadership, where he focuses on the spiritual development and thriving of leaders. He is the principal writer of the daily devotional, Life for Leaders, and the founder of the De Pree Center's Flourishing in the Third Third of Life Initiative. Previously, Mark was the Executive Director of the De Pree Center, the lead pastor of a church in Southern California, and the Senior Director of Laity Lodge in Texas. He has written eight books, dozens of articles, and over 2,500 devotions that help people discover the difference God makes in their daily life and leadership. With a Ph.D. in New Testament from Harvard, Mark teaches at Fuller Seminary, most recently in his D.Min. cohort on "Faith, Work, Economics, and Vocation." Mark is married to Linda, a marriage and family counselor, spiritual director, and executive coach. Their two grown children are educators on the high school and college level.