Not that I have already obtained all this, or have already arrived at my goal, but I press on to take hold of that for which Christ Jesus took hold of me. Brothers and sisters, I do not consider myself yet to have taken hold of it. But one thing I do: Forgetting what is behind and straining toward what is ahead, I press on toward the goal to win the prize for which God has called me heavenward in Christ Jesus. All of us, then, who are mature should take such a view of things.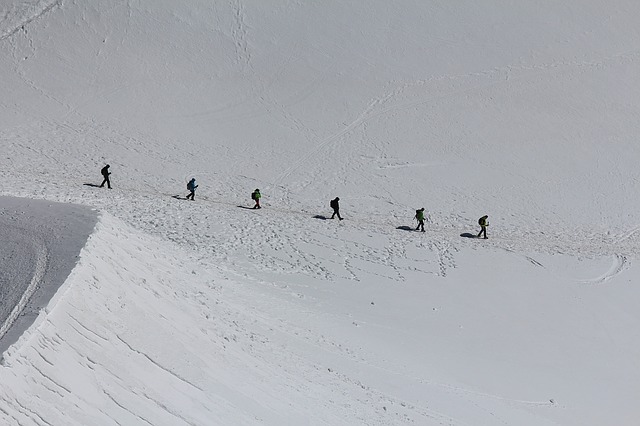 "In a time of drastic change it is the learners who inherit the future. The learned usually find themselves equipped to live in a world that no longer exists."
– Eric Hoffer
The internal and psychological stress of leading, exploring, learning and keeping an organization "on mission" is demanding. The fear of failure weighs heavy. We who started so eagerly to lead something significant for God into uncharted territory start to pine for security and stability. We long to be seen as the "expert" and experience the deference that people in our society offer to those of us who have "made it."
I call this "the expert expectation." The expert expectation is assumption that if you are going to lead a people, you have to know exactly what you are doing and where you are going at all times. That if you stop being (or at least appearing to be!) an expert then you are disqualified as a leader.
But this is not the way of Christ or the true expectation of Paul. For Christians (and for adaptive leaders) the hallmark of a faithful and fruitful disciple is that they are lifetime learners, not experts. But succumbing to the "expert expectation" thwarts both discipleship and leadership.
In his letter to the Philippians, Paul makes it clear that his definition of spiritual maturity is to have a mindset of humility; that the wise ones worthy of following and imitation are those who have the self-awareness of how far they still have to go — and grow. The mature disciple knows that as a follower of Jesus, one never arrives, has never "made it", and never reaches the full stature of Christ. And while this is certainly true for all disciples, it is even truer for leaders. Indeed, to be an expert is the opposite of being an adaptive leader where learning is at the heart of the leadership process.
"The leaders of the future need to continually cultivate a learning posture," offers Steve Yamaguchi, Fuller Seminary Dean of Students. And for Yamaguchi, this comes through developing the "beginner's mind," that is unafraid to ask "stupid questions."
I encourage leaders to "escape the expert expectation" by becoming an expert experimenter, an expert question-asker instead of answer-giver. I often coach my clients, "Make your goal in every conversation to have someone say, 'That's a great question.'" A great question that when asked, and attempted to answer offers more than a solution, but a transformation.
Perhaps the most powerful lesson to learn from Lewis and Clark and the Corps of Discovery was not about what they discovered about the country, but what they discovered about themselves. When the men (and one woman!) of the Corps were exploring uncharted territory they were clearly their best selves.
Far from the enforcement offered by the rule of law, the captains never faced a serious challenge to their authority. The men never mutinied, even when they strongly disagreed with the captains. In uncharted territory, the captains relied more on relationships than the rulebook, more on influence than on court-marshal.
Offering the Native American woman Sacagawea and the slave York the same vote they offered all the men over where the Corps would spend the winter, allowing John Colter to leave the expedition to explore Yellowstone, maintaining their commitment to equal partnership with each other in every way — all are examples of how when tested, the very best parts of Lewis and Clark was on display while on the adventure—and how the adventure continued to transform them as leaders.
Shouldn't we expect leadership in the mission of the gospel to do the same?
QUESTIONS TO CONSIDER:
In what ways have you experienced the "expert expectation"? When are you most tempted to prefer the settled status of being an expert to the ongoing transformation of being a learner?
How has being a leader most greatly led to your own transformation? What differences do you notice in your own life because you have accepted responsibilities of leadership?
In what specific ways do you experience God calling you to strain toward what is ahead…(and) press on toward the goal of being more like Christ?
PRAYER:
Oh Lord, I give you thanks for the way that you use everything in my life, including my leadership responsibilities to change me. I thank you that in small but significant ways I am more like you today than when I first started walking with you. But, Lord, I pray that you will enable me to have the courage to keep pressing on, to keep straining toward what you have for me, what you want from me, what you demand of me.
Lord, when I am fearful grant me courage; when I am proud, give me the gift of humility. When I think I am an expert, make me a true learner, a true disciple. Help me find more and more inspiration in the transformation that you have in store for me, as I follow and learn from you. Amen.
Eric Hoffer, Reflections on the Human Condition Harper & Row, (1973), Section 32, Cited in http://en.wikiquote.org/wiki/Future