"I wanted to be a visual artist my whole life, but it took me so long to have the courage to do what I wanted to do." These are the words of Roxanne Fulkerson, a lifelong artist who only three years ago stepped into visual arts as a full-time pursuit. For most of her working career, Roxanne was a performing artist–as a performer and choreographer, making commercial jingles, doing studio singing, and as the marketing director of a theater. "I worked hard at that and was good at what I did. But it was never my heart, never what I wanted to do." Rather than performing arts, her true passion was visual arts, through the mediums of painting and writing. But her doubts and insecurities about her talents, and comparing her work to other accomplished artists prevented her from believing in herself, that she could make a living by working with her hands. "I just never felt good enough," she shared. The economic downturn of 2008 was another roadblock, as it forced her to take odd jobs for over a decade, just to make ends meet.
Roxanne's vocational struggle was something I instantly related with, as a thirty-something year old still figuring out his career and calling. She echoed the sentiments of my generation that wonders what to do with our lives, what our callings to God and God's kingdom might be.
But the intriguing thing about Roxanne only recently stepping into her visual artistry–and the difference from the struggles of "my generation"–is her age. She has children roughly the same age that I am, is a grandmother, and just celebrated her 60th birthday. Millennials want to find their calling right now so they can devote the rest of their lives to it–but the union of Roxanne's calling with her interests and talents didn't begin to materialize until she turned 57.
"There are things in my life that I've prayed for thirty, forty years," she shared, "and haven't seen an answer yet, but some I'm starting to." Roxanne's life experiences have helped her learn to accept that though God may put a desire in your heart, you may not find answers or step into those desires for a long while. It took her decades to "find the courage."
"How did you find that courage?" I asked as the next natural question. Roxanne told me: "For years, my husband would say, 'I want your art all over the house,'" since she kept her paintings hidden away in her art portfolio, scared that others would think they were no good. It wasn't until about four years ago she painted a picture for him for Christmas. "Wow, you did this?" he reacted with awe and delight. Roxanne's imagination was sparked: "Maybe I have what it takes to be an artist."
So, Roxanne took a risk and showed her paintings to a well-known artist in town. After receiving positive affirmation, Roxanne began taking classes, connecting with other artists, and soon entered a competition and her painting got in. "I didn't have the confidence, but I just stepped into it and received validation from others. I started thinking, 'maybe I'm okay,'" Roxanne shared. She took that risk, put one foot in front of the other, and just started doing it. And as she took steps, she began to believe in herself. In these three short years, Roxanne developed a large portfolio, had her work displayed in four galleries, and is establishing her audience.
As Roxanne shared her excitement and passion for her work, she also shared the deeper purpose behind it all. "I'm here to glorify God no matter what I'm doing…My calling has always been to encourage people, especially towards freedom: spiritual freedom, freedom in thinking properly, thinking about yourself properly." And her art is an expression of that encouragement, of that freedom. "My art, my paintings, my poetry, it always goes back towards God." She looks forward to this new chapter–this third third of her life–with very specific things she wants to do and accomplish. "I see the next few years as exciting," she shared, "because God is creative. I have no idea what God's up to, but I know God is faithful."
Photo Credits
All paintings by Roxanne Fulkerson
Headshot by Cindie Wolf of Own the Moments Photography
Photos of Roxanne's paintings taken by Elizabeth Hale
---
Roxanne Fulkerson is a San Diego native. Primarily self taught, she has been painting and creating for as long as she can remember. Her most recent exhibits have been at the Blue Azul Collection in Little Italy and at Yeagley's Design in Hillcrest. She is also now being represented by the Five3 Gallery in Laguna, CA. You can view her work at FulkersonArt.com. Roxanne's Artist Statement: "Life comes in layers. That is how I paint. My purpose is not to mask each layer but to enhance it just as each hope and heartache combine to reveal a destiny. I invite you to look beyond the veil of reason into the abstract. Let your heart discover and see".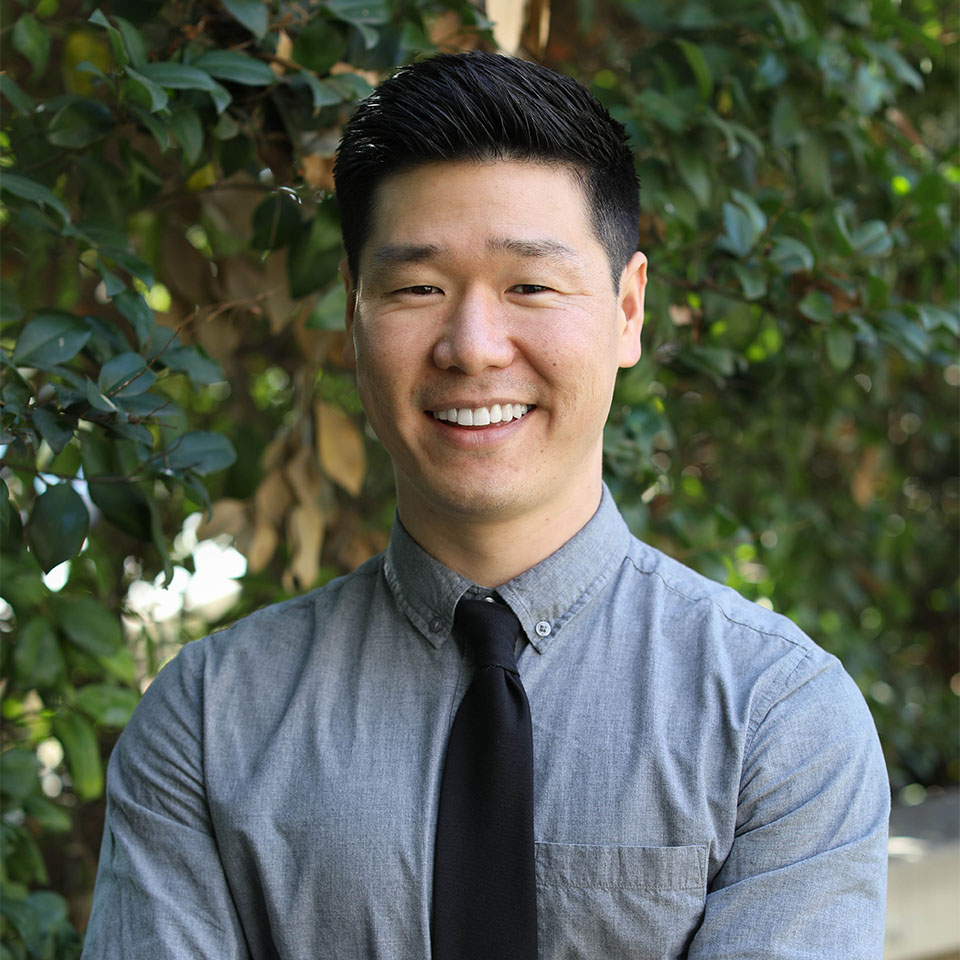 Paul Matsushima is the operations manager for Fuller's De Pree Center for Leadership. He is the author of Thank You Very Mochi, a children's book about preserving family culture and traditions, and writes for Inheritance Magazine. Paul holds a Master of Theology from Fuller.
Click here to view Paul's profile.