October 5, 2022 • Course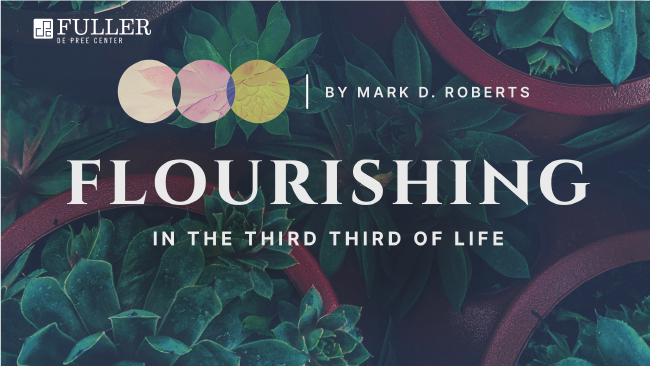 What does it look like
to flourish in the third third of life?
This six-session course will help participants understand how to flourish in the third third of life. Anchored in Scripture and enriched by science and other disciplines, this course will equip individuals to live faithfully and fruitfully and experience abundant and purposeful life in this season. Designed for groups and classes, but suitable for individual use as well, each session consists of a video lecture, questions for small group discussion, and resources for individual study and devotions.
If you are buying this course for a class or small group, the Leader's Kit costs $125. This gives you lifetime access to the videos and one workbook in PDF form. Class or group members will need to purchase their own workbooks (or you can purchase them for them).
If you are buying this course for personal use, you are eligible for a 50% discount. On the Fuller Equip order checkout page, enter the coupon code flourishsolo50 when asked if you have a coupon.
If you are ready to order now, click on the Leader's Kit button below this paragraph. If you would like more information about this course, scroll down. You can order from below as well.  Thanks!
Leader's Kit | $125 | Add to Cart
Workbook | $10.99 | Add to Cart
Course Overview
Session 1 | Flourishing
Session 2 | Relationships
Session 3 | Health
Session 4 | Remembering & Gratitude
Session 5 | Purpose & Calling
Session 6 | New Narratives
The lectures in this course are given by Dr. Mark D. Roberts, the founder of the De Pree Center's Flourishing in the Third Third of Life Initiative. You can learn more about Mark here.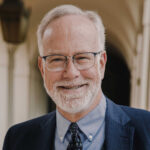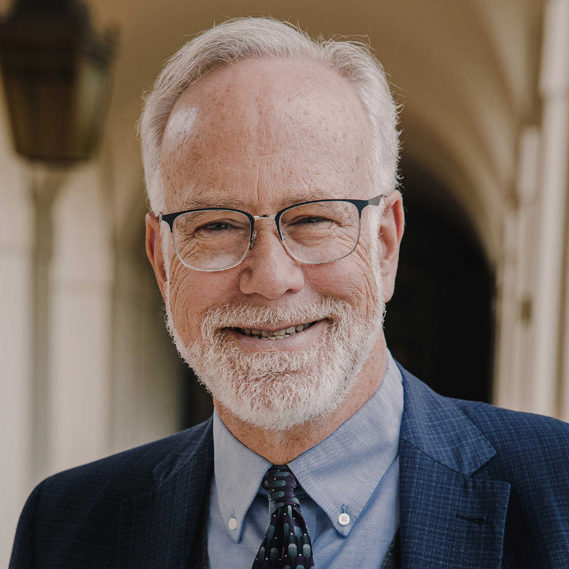 What People Are Saying About This Course
"It is the most rewarding class you can take.  One of the reasons it is so rewarding is because it causes you to look at your life in a more positive way and gives you purpose for your life. – BH (woman in her 60s)

"The Flourishing in the Third Third course focuses on purposeful living as we age and offers practical ways to think about and plan for our participation in this stage of life. The Flourishing class led me to see new ways I can be part of God's plan now. It helped me think more deeply about my choices in this stage of life."  N.S. (woman in her 70s)

"The Third Third Course is unique, with its strong foundation of Scripture coupled with extensive research and supporting data.  This allows for the practical application of the principles learned to our third third lives."  J.S. (man in his 60s)
How to Purchase This Course
If you are buying this course for a group, you'll need
The Leader's Kit ($125 for one kit) and
Participant Workbooks ($10.99 for each participant).
If you're buying this course for yourself, you'll need
The Leader's Kit ($62.50 after a 50% off discount).
Leader's Kit: $125
The Leader's Kit includes access to the videos, one copy of the participant's workbook, a leader's guide, and materials to help you promote the course. All materials are digital. You will have access to the Leader's Kit for the lifetime of the course and will not need to purchase it again if you plan to host the course more than once. Leader's Kit | $125 | Add to Cart
Course for Individual Use: $62.50
Individuals wishing to take the course can purchase the Leader's Kit using the following discount code: flourishsolo50. The Leader's Kit contains all of the resources needed for an individual user.
Participant's Workbook: $10.99
The Participant's Workbook includes lecture outlines, small group questions, personal study questions, devotions, and additional resources. You should purchase one digital copy for each course participant. To purchase more than one quantity, please use the links below:

Scholarships
Scholarships are available for those needing financial assistance. Please contact the De Pree Center for more information (connect@depree.org).
Purchasing the Course through Fuller Equip
Watch a brief video that explains how to purchase the Leader's Kit & Participant Workbooks through the Equip online store. Alternatively, you can follow the written instructions on our FAQ page.
Leader's Kit | $125 | Add to Cart
Questions
If you have any questions, please visit our FAQ page (Frequently Asked Questions). If you're having problems with the Fuller Equip store, please contact Fuller Equip by clicking here.
Sign Up to Receive the
Third Third Life Newsletter
Third Third Life is our monthly newsletter with content about flourishing in the third third of life. Ideal for those in or entering the third third of life.
---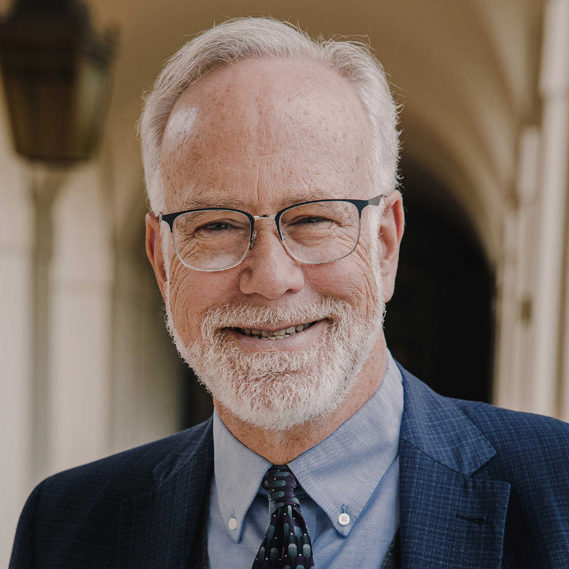 Dr. Mark D. Roberts is a Senior Strategist for Fuller's Max De Pree Center for Leadership, where he focuses on the spiritual development and thriving of leaders. He is the principal writer of the daily devotional, Life for Leaders, and the founder of the De Pree Center's Flourishing in the Third Third of Life Initiative. Previously, Mark was the Executive Director of the De Pree Center, the lead pastor of a church in Southern California, and the Senior Director of Laity Lodge in Texas. He has written eight books, dozens of articles, and over 2,500 devotions that help people discover the difference God makes in their daily life and leadership. With a Ph.D. in New Testament from Harvard, Mark teaches at Fuller Seminary, most recently in his D.Min. cohort on "Faith, Work, Economics, and Vocation." Mark is married to Linda, a marriage and family counselor, spiritual director, and executive coach. Their two grown children are educators on the high school and college level.