As God's chosen ones, holy and beloved, clothe yourselves with compassion, kindness, humility, meekness, and patience. Bear with one another and, if anyone has a complaint against another, forgive each other; just as the Lord has forgiven you, so you also must forgive. Above all, clothe yourselves with love, which binds everything together in perfect harmony. And let the peace of Christ rule in your hearts, to which indeed you were called in the one body. And be thankful. Let the word of Christ dwell in you richly; teach and admonish one another in all wisdom; and with gratitude in your hearts sing psalms, hymns, and spiritual songs to God. And whatever you do, in word or deed, do everything in the name of the Lord Jesus, giving thanks to God the Father through him.
Focus
According to Colossians, when someone bugs us, we're to put up with them. But when somebody actually sins against us, we're to forgive. In fact, we're to forgive others as the Lord has forgiven us. This can be a tall order sometimes, to be sure. The ability to forgive comes as we experience more deeply God's forgiveness for ourselves. Plus, God's Spirit helps us to forgive when we lack what is needed to do so. The more we know God's grace for us, the more we'll be able to give grace to others through forgiveness.
Today's devotion is part of the series Live Who You Are.
Devotion
In last Thursday's devotion, we focused on the simple imperative found in Colossians 3:13 "Bear with one another," or, as I prefer to say, "Put up with each other." I explained that "putting up with" has to do with responding to things people do and say that are not actually wrong, but just displeasing to us. According to Colossians, we need to put up with things in others that we do not prefer or appreciate. This is one essential element of "putting on" the clothing of Christ as people chosen, holy, and beloved by God.
But what should we do when someone treats us in a way that is actually wrong? In this case, something more than putting up with is needed. That's exactly what we find in Colossians 3:13, which reads, "Bear with one another and, if anyone has a complaint against another, forgive each other; just as the Lord has forgiven you, so you also must forgive." The word "complaint" in this case assumes that the "complainer" has good reason to be offended. Someone has treated this person in a sinful way. Therefore, forgiveness is required, not forbearance.
The verb translated in verse 13 as "forgive" is charizomai in Greek. It's closely related to the Greek word for grace, charis. Why should we forgive (charizomai) each other? According to Colossians, because the Lord has forgiven (charizomai) us. God has shown grace to us through Jesus Christ, forgiving us when we were not worthy. Similarly, we are to show grace to each other.
The connection here between forgiveness we receive from the Lord and forgiveness we give to others reminds me of a parable of Jesus. In Matthew 18:23-35, Jesus tells the story of a slave who owed a massive amount of money to his master. When the slave begged for mercy, the master forgave the huge debt. But then, when someone owed this slave a modest sum, the slave was unforgiving and threw the debtor in jail. The master, shocked by his slave's lack of grace, handed him over to be punished. Jesus concludes, "So my heavenly Father will also do to every one of you, if you do not forgive your brother or sister from your heart" (Matthew 18:35).
Now, it's important to say that forgiveness does not necessarily erase the need for justice, restitution, and reconciliation. If a fellow Christian has robbed you, that person may very well serve time in jail and should endeavor to repay you. The mending of your relationship will take serious work. But your act of forgiveness is not dependent on that person's effort to make things right. Rather, you forgive because you have been forgiven. The forgiveness you receive from the Lord supplies both your motivation for and your model of forgiving.
Forgiveness is in short supply these days. (So, for that matter, is repentance, but that's a different story.) People who have been wronged often hang onto the offense and the pain, believing that these will protect them from future hurt. But, in fact, unforgiveness wounds the one who holds it, hardening our hearts and even turning us away from God's grace. As Jesus says in Matthew 6:14-15, "For if you forgive others their trespasses, your heavenly Father will also forgive you; but if you do not forgive others, neither will your Father forgive your trespasses." When we have hardened our hearts, we can't receive the grace God wants to give us.
I'm not suggesting that forgiveness is easy, mind you. When someone has sinned against you in a way that is painful and damaging, forgiving is indeed difficult. But God helps us to forgive. God's Spirit will stir within us, giving us a supernatural desire to give grace to the one who hurt us. Moreover, God will help us to know who we truly are as "chosen ones, holy and beloved" (Colossians 3:12). The more we recognize how much God cares for us, the more we have an intimate relationship with God, the more God's love for us is poured into our hearts, the more we will be able to forgive even those whose offense can feel unforgivable.
I have written before about the case of Corrie ten Boom, a Dutch Christian woman who, along with her family, was imprisoned by the Nazis because they had been seeking to hide Jews from detention. Corrie witnessed the death of her beloved family members and, therefore, had an understandable hatred for the guards who treated them so terribly. Yet, after the war, when facing one of those guards, Corrie remembered how Christ had forgiven her and asked for help to forgive the guard. As she extended her hand to this man in obedience to God, she felt overwhelming love. Writing about this experience in her book, The Hiding Place, she says, "And so I discovered that it is not on our forgiveness any more than on our goodness that the world's healing hinges, but on [Christ's]. When He tells us to love our enemies, He gives, along with the command, the love itself" (p. 247).
If you're struggling to forgive someone who has hurt you deeply, what I'm writing here might seem simplistic and insensitive. I get that. I know how hard it is sometimes to forgive. And, as a pastor, I've prayed with many who have wrestled with forgiving people who have wronged them greatly. I know that forgiveness is often a process that takes lots of time, healing, courage, and grace. Having said this, I do believe that we are called to forgive, even when it's hard. Doing so unifies and strengthens the community of Christ, and it also allows us to live with greater freedom and joy as God's chosen, holy, and beloved people.
Reflect
Why do you think forgiveness is so uncommon in our world today?
Can you remember a time in your life when you were able to forgive someone who hurt you significantly? What was that like? What helped you to forgive? What difference did this make in your life?
When have you felt in an experiential way the forgiveness you have in Christ? How did you feel? How did you respond?
Act
If you have someone you need to forgive, talk with the Lord about what you should do. Then follow the Spirit's lead. If you don't have anyone you need to forgive, pray for someone you know who struggles with unforgiveness.
Pray
Gracious God, thank you for the clarity of your guidance to us in Colossians 3. Thank you for instructing us to forgive each other. Thank you for showing us what forgiveness is all about through Christ.
Lord, you know that sometimes it's very hard to forgive. Forgiveness can feel scary, even impossible, when we've been deeply wronged by someone. In times like these, we reach out to you for yet more of your grace. Help us to know how much we are loved and forgiven by you. In the security of that truth, give us the grace we need to forgive others.
In a time when forgiveness is so uncommon, may my church be a place in which forgiveness is generously given. And may I be on the forgiving side as well as on the side of those who receive forgiveness. In all of this, Lord, may you receive the glory. Amen.
Find all Life for Leaders devotions here. Explore what the Bible has to say about work at the unique website of our partners, the High Calling archive, hosted by the Theology of Work Project. Reflection on today's Life for Leaders theme can be found here: Generous Forgiveness

---
Subscribe to Life for Leaders
Sign up to receive a Life for Leaders devotional each day in your inbox. It's free to subscribe and you can unsubscribe at any time.
---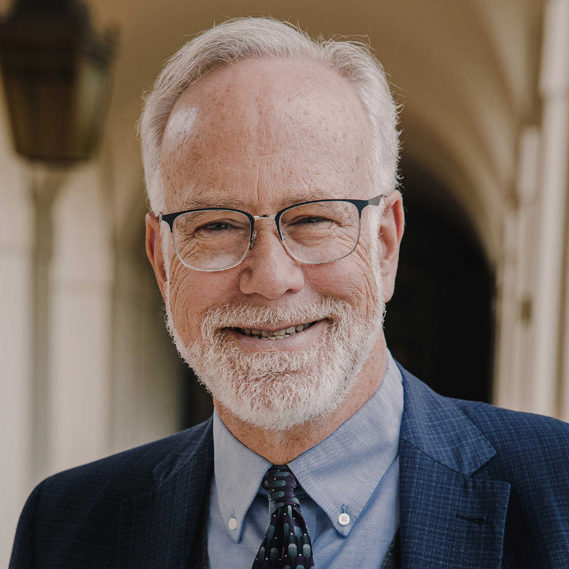 Dr. Mark D. Roberts is a Senior Strategist for Fuller's Max De Pree Center for Leadership, where he focuses on the spiritual development and thriving of leaders. He is the principal writer of the daily devotional, Life for Leaders, and the founder of the De Pree Center's Flourishing in the Third Third of Life Initiative. Previously, Mark was the Executive Director of the De Pree Center, the lead pastor of a church in Southern California, and the Senior Director of Laity Lodge in Texas. He has written eight books, dozens of articles, and over 2,500 devotions that help people discover the difference God makes in their daily life and leadership. With a Ph.D. in New Testament from Harvard, Mark teaches at Fuller Seminary, most recently in his D.Min. cohort on "Faith, Work, Economics, and Vocation." Mark is married to Linda, a marriage and family counselor, spiritual director, and executive coach. Their two grown children are educators on the high school and college level.