So if anyone is in Christ, there is a new creation: everything old has passed away; see, everything has become new! All this is from God, who reconciled us to himself through Christ, and has given us the ministry of reconciliation; that is, in Christ God was reconciling the world to himself, not counting their trespasses against them, and entrusting the message of reconciliation to us.
Focus
What astounding good news! We who were once God's enemies have now been made God's friends through God's grace in Christ.
This devotion is part of the series: Treasure in Clay Jars.
Devotion
As a boy, I loved superheroes. My favorites were Batman and Superman, with Spiderman not far behind. Thus, when Warner Brothers came out with a film called Batman v Superman: The Dawn of Justice, I was worried. How could my two favorite superheroes, both central characters in the DC universe, be enemies? Well, that question was what drew me and millions of other fans to see the movie, coughing up over $800 million dollars in the process.
In Batman v. Superman the two superheroes did indeed become mortal enemies, each believing that the other posed a grave threat to the world. One was actually responsible for the other's death, or at least it appeared that way. We had to wait for more than a year to see how things worked out in the follow-up film, Justice League. There – spoiler alert – we witnessed a version of resurrection and, perhaps more importantly, a moving example of reconciliation. It was a sweet thing to see former enemies become friends.
You may be wondering how all this talk about superheroes is relevant to our passage from 2 Corinthians. Allow me to explain. According to the Bible, our sin actually made us into enemies of God. Romans 8:7 says that when our minds were set on the flesh they were hostile (echthra in Greek) to God. Romans 5:10 refers to us as God's "enemies" (echthroi in Greek). But the point of this verse is that, even when we were God's enemies, we were "reconciled to God through the death of his Son" (Romans 5:10). 2 Corinthians reaffirms this good news, stating that God "reconciled us to himself through Christ" (2 Corinthians 5:18). The following verse elaborates a bit more: "that is, in Christ God was reconciling the world to himself, not counting their trespasses against them" (5:19). The thing that made us God's enemies – our trespasses – was wiped out by God's grace through Christ. Thus, we can be reconciled to God.
The Greek verb translated here as "to reconcile" is katallassō. If you look this word up in the standard classical Greek dictionary, you'll find that one of the major definitions is "to change from enmity to friendship." That's more or less the meaning of "to reconcile," but the image of two enemies becoming friends takes the idea of reconciliation and clothes it with flesh and blood. We can feel the difficulty of such a process and take delight in the outcome.
Thus, while it's fine to translate 2 Corinthians 5:18 using the language of reconciliation, we might want also to think that God has turned us from enemies to friends through Christ. We who once rejected God's ways and opposed God's will have been forgiven for our rebellion. Moreover, our hearts have been changed so that we are eager to be in relationship with God even as God is eager to be in relationship with us. That is the mind-blowing truth of reconciliation. It's not just what we want. It's what God wants. God wants to be friends with us.
In this Holy Week, we will be reminded of Jesus's passion and of the enemies who crucified him. We will be saddened and horrified by what they did to our Lord. This is appropriate, of course, for those of us who love Jesus. But, in a way, we should also identify with Jesus's enemies, with those who rejected him and crucified him. He suffered on the cross, not just because of the sins of his political and religious enemies, but mainly because of us and our sins. To think this way is terrifying, I admit. But it makes even more wonderful the good news we find in Romans, which I'll quote once again, now using the enemies-to-friends paraphrase: "For if while we were enemies, we were made friends of God through the death of his Son, much more surely, having been turned from enemies to friends, will we be saved by his life. But more than that, we even boast in God through our Lord Jesus Christ, through whom we, once God's enemies, have now been made God's friends" (Romans 5:10-11, paraphrased).
What astounding good news! We who were once God's enemies have now been made God's friends through God's grace in Christ.
Reflect
When you read Scripture texts that refer to us as God's enemies, how do you respond?
To be sure, God is not only your friend. God is so much more: your Creator, Redeemer, Lord, and Savior. But, do you ever think of yourself as a friend of God? If so, why? If not, why not?
How might the notion that you are God's friend make a difference in your relationship with God? (You might check out John 15:13-15.)
Act
Set aside some time to reflect on the truth of 2 Corinthians 5:18-19. What does it mean for you to be reconciled to God? What does it mean for you to be God's friend?
Pray
Gracious God, I must confess that I'm not happy thinking of myself as your enemy. I'd rather think of my sin as displeasing you. But the idea that my sinfulness opposes you is disturbing to me . . . as indeed it should be.
But when I take seriously my opposition to you, I am even more moved and amazed by your grace. You chose to make me your friend even though I was your enemy. You chose to set aside my sin by forgiving me through the cross.
Now, that's wonderful all by itself. But what it implies is even more stunning. You actually want me as a friend. You want a relationship with me. And, in fact, you wanted this even when my heart was hostile to you.
Thank you, gracious God, for the reconciliation we have in Christ. Thank you, Lord, for turning us from your enemies to your friends. Amen.
Banner image by Jon Tyson on Unsplash.
Find all Life for Leaders devotions here. Explore what the Bible has to say about work at the unique website of our partners, the Theology of Work Project's online commentary. Reflection on today's Life for Leaders theme can be found here: Reconciling the Whole World (2 Corinthians 5:16–21).
---
Subscribe to Life for Leaders
Sign up to receive a Life for Leaders devotional each day in your inbox. It's free to subscribe and you can unsubscribe at any time.
---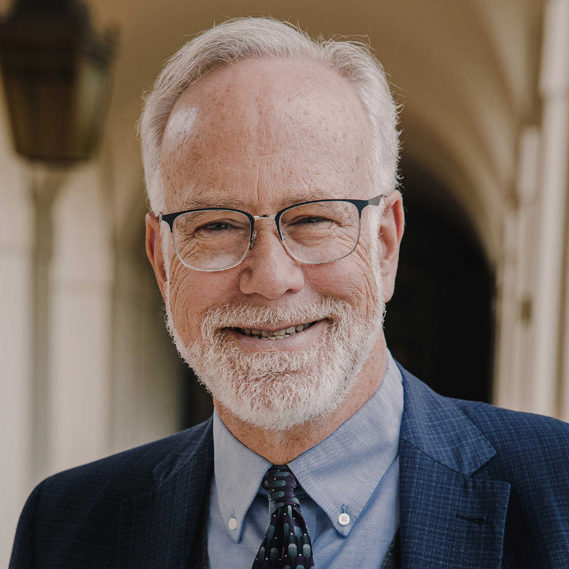 Dr. Mark D. Roberts is a Senior Strategist for Fuller's Max De Pree Center for Leadership, where he focuses on the spiritual development and thriving of leaders. He is the principal writer of the daily devotional, Life for Leaders, and the founder of the De Pree Center's Flourishing in the Third Third of Life Initiative. Previously, Mark was the Executive Director of the De Pree Center, the lead pastor of a church in Southern California, and the Senior Director of Laity Lodge in Texas. He has written eight books, dozens of articles, and over 2,500 devotions that help people discover the difference God makes in their daily life and leadership. With a Ph.D. in New Testament from Harvard, Mark teaches at Fuller Seminary, most recently in his D.Min. cohort on "Faith, Work, Economics, and Vocation." Mark is married to Linda, a marriage and family counselor, spiritual director, and executive coach. Their two grown children are educators on the high school and college level.