A Psalm. A Song for the Sabbath Day.
It is good to give thanks to the LORD,
    to sing praises to your name, O Most High,
For you, O LORD, have made me glad by your work;
    at the works of your hands I sing for joy.
But you have exalted my horn like that of the wild ox;
    you have anointed me with fresh oil.
The righteous flourish like the palm tree
    and grow like a cedar in Lebanon.
They are planted in the house of the LORD;
    they flourish in the courts of our God.
In old age they still produce fruit;
    they are always green and full of sap,
showing that the LORD is upright;
    he is my rock, and there is no unrighteousness in him.
Focus
Reflection flourishes on the foundation of rest. Or to put it the other way around, rest enables reflection.
Today's devotion is part of the series: A Biblical Guide to Reflection
Devotion
As you probably know, during the last few weeks I wrote a series of Life for Leaders devotions on the theme Unwrapping God's Gift of Rest. Yesterday, in my final devotion of that series, I talked about one practice I added to my own sabbath experience in light of the devotions I had been writing. I began setting aside an hour on Sunday mornings to reflect prayerfully on the previous week, remembering what had happened, thinking about how I thought, felt, and acted, and looking again for where God had been particularly present. I now look forward to these times of Sunday morning reflection and hope I continue to practice them indefinitely.
Though it's certainly possible for me to reflect on my past week at some other time, I doubt I'd be able to pull it off regularly. Why? Because during the week I'm preoccupied with my work. It would be hard for me to set aside adequate time for in-depth reflection when my mind is busy with so many other things. But because I think of Sunday morning as part of my sabbath, I can easily choose to take an hour or so to reflect.
In my experience, reflection flourishes on the foundation of rest. Or to put it the other way around, rest enables reflection.
So, it makes sense that after finishing a devotional series on rest I should begin one on reflection. This also makes sense because for the next three months the De Pree Center is focusing on the theme of reflection. You can read some of our first articles on this theme here. We'll be talking more about reflection, especially self-reflection that contributes to personal growth and thriving leadership.
Psalm 92 is a good jumping-off point for thinking about the relationship between rest and reflection. This psalm is entitled, "A Song for the Sabbath Day." Its themes invite us into a time of prayerful, worship reflection during our day of rest.
The psalm opens with joyful reflection on God's steadfast love and faithfulness (v. 2). But then the psalm writer makes this more personal: "For you, O LORD, have made me glad by your work" (v. 4). Reflection makes a connection between God's work and our experience.
A few verses later, the psalmist specifically mentions God's personal blessing: "But you have exalted my horn like that of the wild ox" (v. 10). This poetic expression points to how God has authorized and empowered the writer. His praise of God is stimulated by his reflection on how God has been present and gracious to him.
The final verses of Psalm 92 are a reflection on the benefits of being righteous, that is, living in right relationship with God and people. The righteous not only flourish in the moment but even all the way into old age. Their fruitfulness is not limited to youth and middle age but lasts throughout their lives.
What is reflection? The Oxford English Dictionary offers the following as one definition of "reflection": "The action or process of thinking carefully or deeply about a particular subject, typically involving influence from one's past life and experiences; contemplation, deep or serious thought or consideration, esp. of a spiritual nature." That also happens to be a fine description of Psalm 92. The example of the psalm writer invites us into the "process of thinking carefully or deeply" about God and God's role in our lives. As we read, meditate upon, and pray Psalm 92, we engage in "deep or serious thought or consideration, esp. of a spiritual nature." And we do this, as Psalm 92 indicates, as part of our sabbath day, that is, our weekly time of intentional rest.
In the next several weeks we'll be exploring various dimensions of biblical reflection. As we do, I invite you to join me by experiencing them in a personal way. For this to happen, I expect you'll need times of rest, times when you can stop working and allow your mind to think carefully and deeply about your life, leadership, and relationship with the living God.
Reflect
During the time of the week when you set aside for rest, what helps you to reflect on your life, work, and your relationship with God?
Do you ever use the psalms as encouragement and guidance for personal reflection? If not, would be open to trying?
What helps you to reflect more deeply upon the things that matter most in life?
Act
During an upcoming time of rest, read Psalm 92 slowly, thoughtfully, and prayerfully. Let this psalm guide you into a time of reflection.
Pray
Gracious God, indeed, you are good. We experience your goodness in so many ways. Thus, with the psalm writer, we sing of your grace in our lives.
When our lives are so full, it's easy to forget to reflect. Thus we need your gift of rest, times when we can put aside the ordinary demands of life to think, pray, and listen to the still, small voice of your Spirit.
Help me, Lord, to set apart times for regular reflection. May I use my times of regular rest for this purpose. I ask you to meet me in those times. Speak to me by your Spirit. Show me what's important in my life and in the world around me. Amen.
Banner image by Yosep Surahman on Unsplash.
Find all Life for Leaders devotions here. Explore what the Bible has to say about work at the High Calling archive, hosted by the unique website of our partners, the Theology of Work Project. Reflection on today's Life for Leaders theme can be found here: Here's an Experiment: Frame Your Day With God's Love and Faithfulness.
---
Subscribe to Life for Leaders
Sign up to receive a Life for Leaders devotional each day in your inbox. It's free to subscribe and you can unsubscribe at any time.
---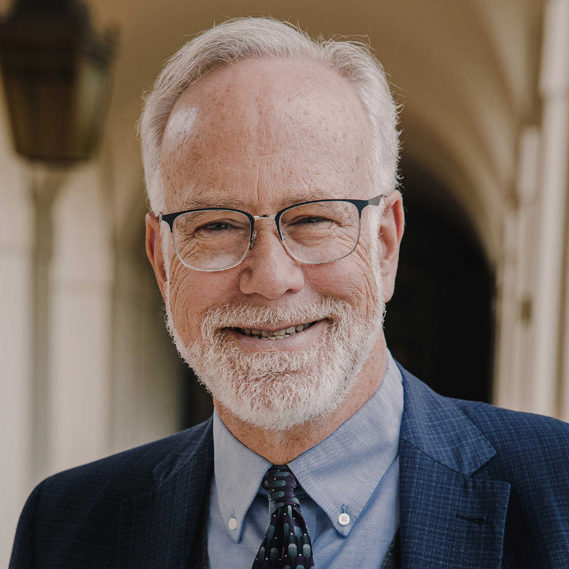 Dr. Mark D. Roberts is a Senior Strategist for Fuller's Max De Pree Center for Leadership, where he focuses on the spiritual development and thriving of leaders. He is the principal writer of the daily devotional, Life for Leaders, and the founder of the De Pree Center's Flourishing in the Third Third of Life Initiative. Previously, Mark was the Executive Director of the De Pree Center, the lead pastor of a church in Southern California, and the Senior Director of Laity Lodge in Texas. He has written eight books, dozens of articles, and over 2,500 devotions that help people discover the difference God makes in their daily life and leadership. With a Ph.D. in New Testament from Harvard, Mark teaches at Fuller Seminary, most recently in his D.Min. cohort on "Faith, Work, Economics, and Vocation." Mark is married to Linda, a marriage and family counselor, spiritual director, and executive coach. Their two grown children are educators on the high school and college level.