… a time to scatter stones and a time to gather them…
Yesterday, we reflected on how the words of the Teacher in Ecclesiastes 3:5 might inspire us to clear out anything in our lives that prevents the growth that God wants in us. Today, I want to reflect on the second half of this verse that says there is "a time to gather [stones]."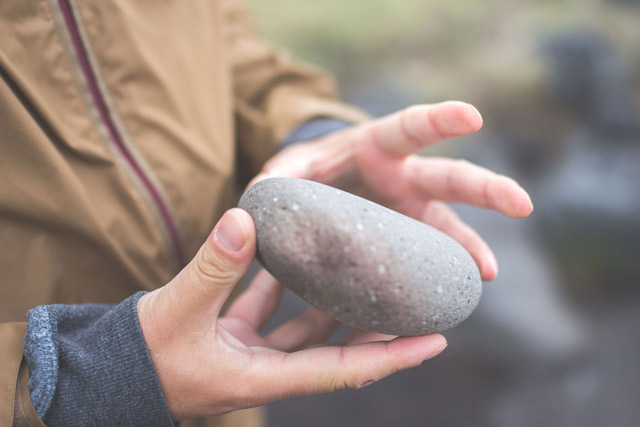 One of the times in the Bible when we see people gathering stones is in 1 Samuel 7:12. After the Lord gave a great victory to Israel, "Samuel took a stone… He named it Ebenezer, saying, 'Thus far has the Lord helped us.'" It's a small monument to God to remember something he has done.
Perhaps the Teacher was implying that there is a time to work (scatter stones) and a time to rest (gather stones). Leaders are not only called to press forward in building teams, seize opportunities to get ahead of market realities, and acquire resources for expansion. Leaders are equally called to slow down to rest. Leaders who pause and take time to commemorate God's activity in their lives are less prone to forget about God and their dependence on him for lasting and impactful leadership.
At my 100-year-old Presbyterian Church, I often try to help the congregation remember that they have a rich history in the Reformed tradition that can be readily applied to their everyday lives. One of my favorite things is to quote the Westminster's Shorter Catechism's opening question (with my own modernizing to be more gender inclusive):
Q: "What is the chief end of humankind?"
A: "Humankind's chief end is to glorify God and enjoy him forever."
Your primary purpose is not to be a successful leader or have a wonderful career. Your purpose is not to acquire things, be more productive, or earn praise. Even a 100-year-old church needs to be reminded that Jesus didn't take the cross to erect buildings but to empower a movement. At best these good things are secondary things to knowing God and glorifying him with our lives.
If you want your 2018 to be set in the right direction, pausing from work regularly to remember God's faithfulness will keep you focused on the work he has called you to do each day. Gathering stones like Samuel is a purposeful resting in God's greatness. It empowers us to continue serving amidst difficulties and keeps us from being arrogant amidst successes. Gathering stones is a purposeful resting from our work so that we can re-engage with proper perspective, helping our leadership flourish beyond short-term gains and toward lasting impacts that make a difference for good.
Something to Think About:
Is a rhythm of working and resting something you naturally do? When you do take time to rest, how do you remember God's faithfulness?
Why do you think the writers of the Westminster Shorter Catechism paired glorifying God with enjoying him? Do you more easily enjoy God during work or during rest?
Something to Do:
Listen to this version of "Come Thou Fount" by All Sons and Daughters.
Think of an Ebenezer moment where you can recall God's faithfulness and thank him for his continued empowerment as you lead and serve. Share this with someone and ask them to recall a time when God's faithfulness was made known to them.
Prayer:
Father, I know that I don't always pause from work in order to remember your faithfulness, but I need to so I don't forget who you are and who I am. I am fully alive when I glorify you and enjoy the work you have given to me. Help me become a mature leader who enjoys resting in your grace more than being productive. May true success follow this foundational focus of resting in you. Amen.