Give thanks in all circumstances; for this is the will of God in Christ Jesus for you.
Focus
The Bible says we're to give thanks in everything, not for everything, but in everything. No matter our situation, we can experience God's presence and give thanks. This isn't always easy, to be sure. But gratitude opens our hearts to a greater and deeper experience of God's love and grace.
This devotion is part of the series: Encouragement from 1 Thessalonians.
Devotion
1 Thessalonians 5:18 is another of those verses that troubled me when I was young. There were at least two reasons for my perplexity. First, I found it very difficult to be thankful in all circumstances. For example, when my dad was out of work for two years during my childhood, I worried that I wasn't feeling very thankful to God, even though I tried to work up some gratitude. Second, as a boy I interpreted verse 18 to mean that we should be thankful for all things. When a friend of mine died of cancer at a young age, it didn't make sense to me to be thankful for his suffering and death. But that's what I thought the Bible told me to do. So, I was perplexed about the meaning of 1 Thessalonians 5:18 and how to put it into practice.
Honestly, I still find it difficult to be thankful in all circumstances. Human suffering and injustice are sometimes so horrible and painful that seems impossible. But I am helped by the fact that I understand 1 Thessalonians 5:18 differently today than when I was young. And I believe my current interpretation is more faithful to the text.
The Greek original of this verse emphasizes the phrase "in all circumstances" by putting it at the start of the sentence. Literally, the first part of the verse reads, "In everything [en panti], keep on giving thanks." The form of the imperative in this verse makes it clear that we are to give thanks in an ongoing basis, so I opt for "keep on giving thanks."
Notice what the verse does not say. It does not say give thanks for all things, as I once believed. Rather, we are to give thanks in all things. This is a crucial distinction. No matter our circumstances, we can find things for which to be thankful and tell God about them. We can be thankful for God's presence and comfort in times of suffering and loss. We can thank the Lord for his commitment to justice when we see people mistreated and systems corrupted. But we don't have to feel obligated to thank God for things that are actually evil. We can certainly thank the Lord for using evil for his own gracious purposes. But evil things do not come from God's hand such that we should thank God for them.
Sometimes, of course, life is complicated. Good and evil are often interwoven. All human institutions, for example, even those that accomplish a good deal of good, contain a mixture of goodness and badness. The same is true of human beings. We have all seen how people who accomplish great and godly things in life can sometimes have a hidden dark side. And if we're honest, we can see the same duality in ourselves. So, giving thanks for things can at times be quite confusing.
I would suggest that it can also be hard to give thanks in all circumstances. When evil impacts our lives, when we experience suffering, or when we feel empathy for those who are in distress, gratitude may not come easily. Learning to thank God in all things is, I believe, a lifelong experience of growing in trust, humility, awareness, wisdom, and surrender.
Why should we go through this process of growth? One obvious answer comes in 1 Thessalonians 5:18. This verse says, "Give thanks in all circumstances; for this is the will of God in Christ Jesus for you." God wants us to give thanks in all things. That is God's will for us. What motivates God to expect gratitude from us? To be sure, God rightly deserves credit for the good God does in the world and in our lives. But that's not all. I believe God also wants us to give thanks in all things because this is good for us. God knows what dozens of researchers throughout the world have now demonstrated, namely, that gratitude improves our quality of life (see note below). The more we are able to give thanks in all circumstances, the more we will flourish in all circumstances, even in those that are painful and discouraging.
Let me mention in closing that giving thanks in all circumstances does not mean we sit back and tolerate all circumstances. The Bible is full of encouragement to the people of God to seek justice, to heal the sick, and to love others. We will be motivated to do such things not only by obedience and compassion, but also by the assurance that God is at work in all things. Thus, gratitude can empower us to be people living in all circumstances for God's purposes, doing justice, loving mercy, and walking humbly with God (Micah 6:8).
Note: On the benefits of gratitude, see Robert A. Emmons and Anjali Mishra, "Why Gratitude Enhances Well-Being: What We Know, What We Need to Know," in Kennon M. Sheldon (ed), Designing Positive Psychology: Taking Stock and Moving Forward (January 2011), pp. 248-262. https://doi.org/10.1093/acprof:oso/9780195373585.003.0016
Reflect
Would you say that you are someone who (mostly) is able to give thanks in all circumstances? If so, why? If not, why not?
What makes it hard for you to express gratitude to God?
What helps you to express thanks to God?
Act
No matter what's going on in your life right now, set aside at least ten minutes to thank God for all the ways you are being blessed these days.
Prayer
Gracious God, today I'm reminded to give thanks to you, not just when something wonderful happens, but "in all circumstances." So, in response to this encouragement, I want to thank you right now:
For the gift of life now and for the promise of the life to come.
For the love of family and friends and the ability to love others.
For the beauty of the world and for the ability to appreciate it.
For making yourself known to us and desiring to know us as well.
For saving us by your grace through Christ and helping us to receive your grace in faith.
For making us new in Christ and giving us a life of purpose as we serve you in all things.
And, dear Lord, for the encouragement to thank you in all things, thank you! I need this reminder today. Amen.
Find all Life for Leaders devotions here. Explore what the Bible has to say about work at the High Calling archive, hosted by the unique website of our partners, the Theology of Work Project. Reflection on today's Life for Leaders theme can be found here: Be Thankful in All Circumstances.
---
Subscribe to Life for Leaders
Sign up to receive a Life for Leaders devotional each day in your inbox. It's free to subscribe and you can unsubscribe at any time.
---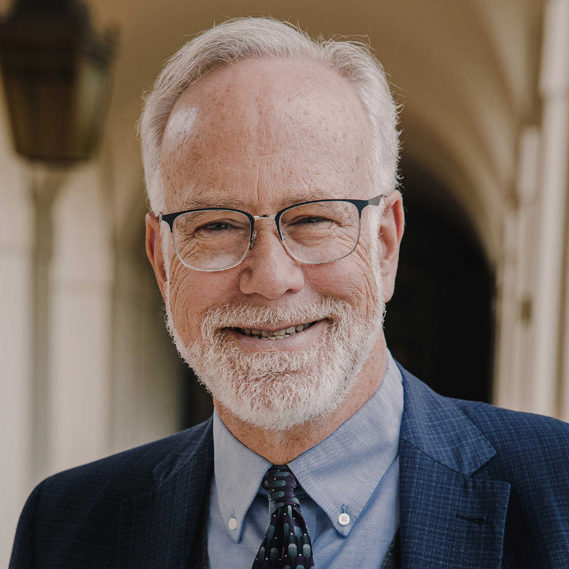 Dr. Mark D. Roberts is a Senior Strategist for Fuller's Max De Pree Center for Leadership, where he focuses on the spiritual development and thriving of leaders. He is the principal writer of the daily devotional, Life for Leaders, and the founder of the De Pree Center's Flourishing in the Third Third of Life Initiative. Previously, Mark was the Executive Director of the De Pree Center, the lead pastor of a church in Southern California, and the Senior Director of Laity Lodge in Texas. He has written eight books, dozens of articles, and over 2,500 devotions that help people discover the difference God makes in their daily life and leadership. With a Ph.D. in New Testament from Harvard, Mark teaches at Fuller Seminary, most recently in his D.Min. cohort on "Faith, Work, Economics, and Vocation." Mark is married to Linda, a marriage and family counselor, spiritual director, and executive coach. Their two grown children are educators on the high school and college level.