Sing and make music from your heart to the Lord, always giving thanks to God the Father for everything, in the name of our Lord Jesus Christ.
Ephesians 5:20 urges us to give thanks to God the Father for everything. For everything? Really? Are we to thank the Lord for pain and suffering? For heresy and falsehood? For depression and death? For racism and poverty? For despair and darkness?
Common sense suggests that we should not thank God for that which is contrary to God's own will. In 1 John 1:5, for example, we read that "God is light; in him there is no darkness at all." So if we thank God for moral and spiritual darkness, we are giving him false credit for that which is evil. I don't believe Ephesians 5:20 means that we should specifically thank God for the evil in this world—that for which God is not morally responsible, that which he opposes. If I punch you in the face for no good reason, neither one of us should thank God for it. (Don't worry; I have no plans to do this. Just a hypothetical.)
But, having said this, we should also realize that many things in this world that seem bad to us turn out, in fact, to be useful in God's good plan. God can even use human evil for his providential purposes. Consider the classic case of Joseph, for example. He suffered many terrible things in his life, including: attempted murder by his own brothers, being sold into slavery, false accusation, sexual harassment on the job, and unwarranted imprisonment. As he was rotting in jail, Joseph may not have been ready to pray, "Lord, thank you that I am rotting in jail." But, in retrospect, Joseph would have seen how God used his being in jail for his own benefit, not to mention the benefit of his family and a whole nation. Thus, later in life, Joseph said to the brothers who had once tried to kill him and who sold him into slavery, "You intended to harm me, but God intended it for good to accomplish what is now being done, the saving of many lives" (Genesis 50:20). We can surely thank God for the good he does, even through using and redeeming the evil we do or that is done to us.
Yet there are times when we simply don't know how to pray, when we're not sure if the things happening to us are of God or are manifestations of evil. In times like these, we may not know exactly what it means to thank God for everything. But even in such morally and spiritually ambiguous times, we can still thank the Lord. We can thank him for his presence with us. We can thank him for his compassion. We can thank him for never leaving or forsaking us. We can thank him for saving us from sin and death, and for giving us the sure hope of his future. We can thank God that nothing happens that is beyond the scope of his sovereignty, that he can and will use all things for his purposes. We can thank him that the most horrible action in all of history – the torturous murder of the Father's own Son – turned out, in the mystery of his grace, to be the ultimate demonstration of divine love and the source of eternal life.
A few months ago, a dear friend of mine died suddenly and unexpectedly of a heart attack. Mike was an amazing man and I miss him often. But my loss is nothing compared to that of his dear wife and children. I miss Mike most when I am with them, feeling their grief. I will admit to you that I am not able to thank God for Mike's death. I don't even know if I'm supposed to do this. But, as I think of Mike today, I am full of gratitude as well as sadness. I'm grateful for his amazing life, for all the ways he loved people, especially those who are often neglected. I'm thankful for Mike's gentle manner, his love of nature, his exceptional skill with tools, his humble servanthood. I'm thankful for the children he fathered and the wife he loved so much. And, I'm thankful that, today, Mike knows a fullness of life I can only imagine.
Yes—in all things, even the hard things in life, we can thank the Lord. Thanking doesn't mean pretending or denying. It doesn't mean ignoring pain and loss. It does mean recognizing God's grace in the midst of a broken and hurting world. It means trusting that God, in his mysterious way, is working out all things for good, even when we don't understand what he's doing. It's seeing God's gifts and acknowledging God's grace.
Something to Think About:
When you're going through hard times, are you able to thank the Lord? Why or why not?
What helps you to offer thanks even when your heart is heavy or your life is difficult?
Are you currently struggling with a major loss or disappointment that gets in the way of your gratitude? Are you willing to talk with the Lord about this honestly? Is there someone you trust who might listen to you and pray for you?
Something to Do:
If you have experienced or are currently experiencing something difficult and painful, it may be hard for you even to think about being thankful. But, without denying your suffering, are there things associated with it for which you can honestly give thanks? If so, speak your thanks to God as honestly as you can.
Prayer:
Gracious God, thank you for all of your wonderful gifts to me. I can't even begin to think of them all, let alone to thank you for them. You have been so amazingly gracious to me.
Yet, there are times, Lord, when I struggle to thank you. There are things in my life that are difficult and painful. Should I thank you for these things? Should I give you credit for that which is not from you? I would never want to falsely accuse you through misdirected gratitude but well-meaning gratitude.
At the same time, Lord, I recognize that your sovereignty is more than I can comprehend. You do indeed ordain that which I can't comprehend. You use even those deeds that are done in contempt of you. As it was in the case of Joseph and his brothers, what humans intended for evil you intended for good. And in such a battle of intentions, you always win.
So I thank you for your amazing grace, for your awesome providence, for your all-surpassing wisdom. I thank you for using every bit of my life for your purposes. I thank you for being with me in all things and for using all things for my ultimate good and for your ultimate glory. Thank you, Lord, that, in all things, you work for the good of those who love you, who have been called according to your purpose (Romans 8:28). Amen.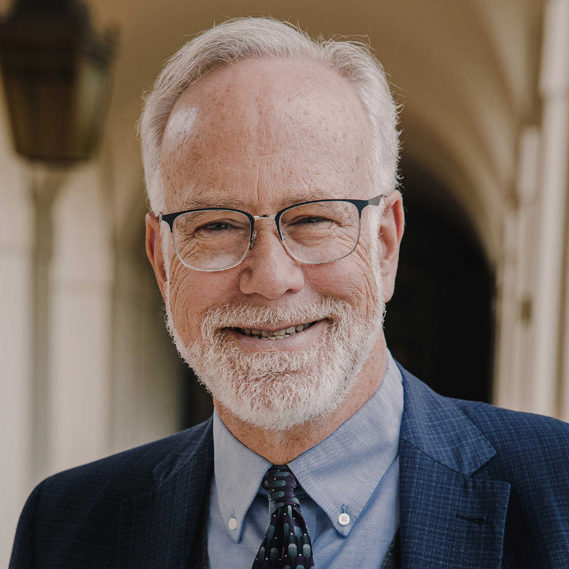 Dr. Mark D. Roberts is a Senior Strategist for Fuller's Max De Pree Center for Leadership, where he focuses on the spiritual development and thriving of leaders. He is the principal writer of the daily devotional, Life for Leaders, and the founder of the De Pree Center's Flourishing in the Third Third of Life Initiative. Previously, Mark was the Executive Director of the De Pree Center, the lead pastor of a church in Southern California, and the Senior Director of Laity Lodge in Texas. He has written eight books, dozens of articles, and over 2,500 devotions that help people discover the difference God makes in their daily life and leadership. With a Ph.D. in New Testament from Harvard, Mark teaches at Fuller Seminary, most recently in his D.Min. cohort on "Faith, Work, Economics, and Vocation." Mark is married to Linda, a marriage and family counselor, spiritual director, and executive coach. Their two grown children are educators on the high school and college level.