Now to him who is able to do immeasurably more than all we ask or imagine, according to his power that is at work within us, to him be glory in the church and in Christ Jesus throughout all generations, for ever and ever! Amen.
A little over two years, on January 3, 2018, Life for Leaders had this title: "God Can Do More Than You Imagine!" Today, 777 days later, I'm sharing Part 2 of this devotion. Why am I doing such an odd thing? Well, since I began our devotional series in Ephesians with the first installment of "God Can Do More Than You Imagine!", it seems right to me to end our series by circling back to where we began.
The God revealed to us in Ephesians can indeed do more than we could ever imagine. This God – who chose us before the foundation of the world, who loved us as his dear children, who saved us by grace, who recreated us in Christ for an abundant life of good works – continues to surprise us with his matchless grace.
One of the astounding things about God's ability to do more than all we can ask or imagine is that he does so "according to his power that is at work within us." God isn't seated on some heavenly throne, billions of miles away, hurling miracles to earth as if they were lightning bolts. Rather, the God who created and who will one day redeem all things is at work in us. Did you get that? In us. This means in you! Right this very minute, God is at work in you. And God is ready to do through you more than you could ever envision. Isn't that amazing!
Over the past couple of years, I've heard from many of you about the things God has been doing in your lives. You've testified to the reality of God's indwelling power. I wish we could somehow gather all Life for Leaders readers together so we could share all that God has done. But it would be hard to sit down with 7,500 people at a time. And listening to everyone share would take a long time. So we don't get to hear how God has been at work in each other's lives. We have to take it on faith.
I'm also aware that many Life for Leaders readers are emphatically crying out for God to work in and through them. Many of you have shared your need for God's intervention, asking me to pray with and for you. Thank you for honoring me in this way! I realize it may seem beyond comprehension to you today, but the truth is that God can do more than you can ask or imagine. I pray that he will make this truth real in your life. In the meanwhile, remember that you are God's beloved. You are precious to him. He has chosen you and saved you by grace. You belong to him forever through Jesus Christ. And God has a flourishing life of good works for you to do as you live by his grace each day.
P.S. – If you'd like to go deeper in your understanding of Ephesians, let me share a couple of resources that might be helpful to you. As you may know, three years ago Zondervan published my commentary on Ephesians. Last summer, the publisher had me record a series of 18- to 20-minute messages on Ephesians (a shorter and more accessible version of the commentary). As of two days ago (an interesting timing, not of my doing!), this series is now available in video format or as an audio book. The video series is suitable especially for adult classes or small groups. So, if you're looking for more on Ephesians, you might find these resources useful.
Something to Think About:
Can you think of times in your life when God did through you more than you could ask or imagine?
How is God at work in your life right now?
In what ways do you need God's power these days?
Something to Do:
Share with your small group or a Christian friend ways in which you have experienced God's power, and ways in which you seek more of his power today.
Prayer:
Gracious God, you are indeed able to do more than all we can ask or imagine. You demonstrate this time and again. Thank you!
What amazes me, Lord, isn't that you are powerful, but that you are powerful in us. Thank you for your indwelling Spirit. Thank you for choosing to work in and through us for your purposes and glory.
God, you know how I need your power today. You know my hopes and fears, my longings and losses. You know where I am weak. You know what you want to do in and through me. So, dear Lord, I say "Do it!" I am available to you. I am open to what you have for me. Do your work, Lord, and may you receive all the glory. Amen.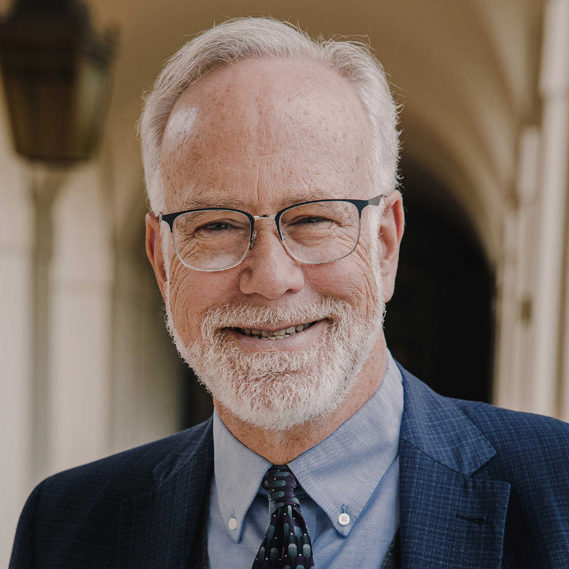 Dr. Mark D. Roberts is a Senior Strategist for Fuller's Max De Pree Center for Leadership, where he focuses on the spiritual development and thriving of leaders. He is the principal writer of the daily devotional, Life for Leaders, and the founder of the De Pree Center's Flourishing in the Third Third of Life Initiative. Previously, Mark was the Executive Director of the De Pree Center, the lead pastor of a church in Southern California, and the Senior Director of Laity Lodge in Texas. He has written eight books, dozens of articles, and over 2,500 devotions that help people discover the difference God makes in their daily life and leadership. With a Ph.D. in New Testament from Harvard, Mark teaches at Fuller Seminary, most recently in his D.Min. cohort on "Faith, Work, Economics, and Vocation." Mark is married to Linda, a marriage and family counselor, spiritual director, and executive coach. Their two grown children are educators on the high school and college level.