Jesus looked at him and said, "How hard it is for those who have wealth to enter the kingdom of God! Indeed, it is easier for a camel to go through the eye of a needle than for someone who is rich to enter the kingdom of God." Those who heard it said, "Then who can be saved?"  He replied, "What is impossible for mortals is possible for God."
Focus
Jesus came to save us, not only in the age to come, but in this age. He came to liberate souls. Jesus is at work setting us free from everything that holds us back from experiencing the eternal, abundant life of God's kingdom. There's no way we could accomplish this on our own. But what is impossible for you and me is possible for God.
Today's devotion is part of the series Following Jesus Today.
Devotion
Today's passage from Luke 18 comes at the end of the story about Jesus's encounter with a rich young ruler. The ruler asked Jesus what he needed to do to inherit eternal life. Implicitly, the ruler believed he could earn salvation through his good works, and that he had in fact accomplished this by living according to the Old Testament law. But Jesus turned the tables on the ruler, showing that God alone is good enough for eternal life and showing the ruler that there were limits to his personal goodness. The ruler, who was "very rich," was not willing to give up his possessions in order to follow Jesus, even if this meant he would receive "treasure in heaven" (Luke 18:22-23). At this point in the story, Jesus commented, "How hard it is for those who have wealth to enter the kingdom of God! Indeed, it is easier for a camel to go through the eye of a needle than for someone who is rich to enter the kingdom of God" (18:24).
This saying of Jesus is not a comfortable one, especially for those of us who are rich. We who follow Jesus today often reassure ourselves about our kingdom status in one of two ways. First, we compare our wealth to the uber-rich, to folks like Jeff Bezos or Bill Gates. In this comparison, we're not rich. This seems like a convenient way to avoid the personal implications of Jesus's teaching, except for the fact that many of us are relatively rich when compared to the rest of the people in the world. Second, we may have heard that the "eye of a needle" was a gate in the wall of Jerusalem, the opening of which required a camel to kneel down in order to pass through. Under this interpretation, Jesus was simply requiring the wealthy to be humble. The main problem with this reading of the view is that there is no evidence at all that such a gate ever existed.
So what's going on in this passage? It's likely that Jesus was speaking hyperbolically. He was exaggerating to make a point and doing so in a humorous way. Imagine watching an actual camel trying to pass through an actual eye of a needle! By speaking this way, Jesus got the disciples' attention. And the disciples got Jesus's point, asking "Then who can be saved?" (Luke 18:26).
Notice what Jesus did not say in response. He did not say, "Those who keep the whole law can be saved" or "Those who give away all their possessions can be saved" or "Those who are poor can be saved" or anything like this. Rather, he said, "What is impossible for mortals is possible for God" (18:27). Jesus's answer to the "Who can be saved?" question is as negative as it can be for those who think salvation can somehow be earned through human effort. According to Jesus, it is impossible for human beings to save themselves, no matter how good they might be. Only God has the power to save.
With respect to the issue at hand, this means that God can save a rich person. In fact, in just a few verses we'll see this very thing happen in a striking way. In the first part of Luke 19, Jesus had an encounter with a rich man named Zacchaeus. As a result of this encounter, Zacchaeus promised to give away half (not all!) of his possessions to the poor and make restitution for past unjust financial dealings (Luke 19:8). Jesus replied, saying, "Today salvation has come to this house" (19:9). It's not that Zacchaeus earned salvation through his actions, however. Salvation came through God's grace in Jesus, to which Zacchaeus responded with repentance. God did what was seemingly impossible, redeeming even a chief tax collector who had become rich by his financial misdeeds.
Notice that, in the case of Zacchaeus, salvation wasn't merely a matter of his receiving life beyond his earthly life. It was also something Zacchaeus experienced in this life. He was saved from the greed that had motivated him to become rich. He was saved from acting unjustly according to God's law, even if he followed Roman laws. He was saved valuing wealth above the community of God's people. He was saved from a life of emptiness into a life of kingdom fulness.
You and I may be rich in possessions that keep us back from following Jesus. But even if we have very little, there are other things that bind our souls, hindering us from living fully in God's kingdom. Jesus came to save us, not only in the age to come, but in this age. He came, as my friend Terry often says, to liberate souls. Jesus is at work setting us free from everything that holds us back from experiencing the eternal, abundant life of God's kingdom. There's no way we could accomplish this on our own. But what is impossible for you and me is possible for God.
Reflect
How do you respond to what Jesus said about salvation and wealth?
How have you experienced the salvation of God in your life so far?
Are there things from which you need to be saved right now?
Act
Take an honest inventory of your life, noting those things from which you need salvation by God's grace.
Pray
Lord Jesus, I acknowledge that I cannot save myself. Without you, I'm bound and stuck. But with you, I can be saved, delivered, set free.
Thank you, Lord, for the promise of salvation in the age to come. And thank you that this salvation is something I can begin to experience now. Lord, I ask that you save me from all that keeps me back from following you. Liberate my soul, Lord, so that I might live in the abundance of the life you have for me. May I be like Zacchaeus, transformed by your grace to live in the fulness of your kingdom. Amen.
Find all Life for Leaders devotions here. Explore what the Bible has to say about work at the unique website of our partners, the High Calling archive, hosted by the Theology of Work Project. Reflection on today's Life for Leaders theme can be found here: Zacchaeus Was a Wee Little . . . Mafia Don?

---
Subscribe to Life for Leaders
Sign up to receive a Life for Leaders devotional each day in your inbox. It's free to subscribe and you can unsubscribe at any time.
---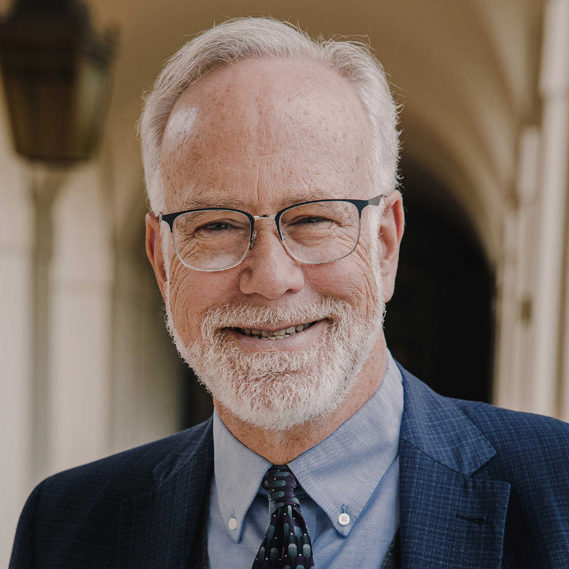 Dr. Mark D. Roberts is a Senior Strategist for Fuller's Max De Pree Center for Leadership, where he focuses on the spiritual development and thriving of leaders. He is the principal writer of the daily devotional, Life for Leaders, and the founder of the De Pree Center's Flourishing in the Third Third of Life Initiative. Previously, Mark was the Executive Director of the De Pree Center, the lead pastor of a church in Southern California, and the Senior Director of Laity Lodge in Texas. He has written eight books, dozens of articles, and over 2,500 devotions that help people discover the difference God makes in their daily life and leadership. With a Ph.D. in New Testament from Harvard, Mark teaches at Fuller Seminary, most recently in his D.Min. cohort on "Faith, Work, Economics, and Vocation." Mark is married to Linda, a marriage and family counselor, spiritual director, and executive coach. Their two grown children are educators on the high school and college level.