Slaves, obey your earthly masters with respect and fear, and with sincerity of heart, just as you would obey Christ. Obey them not only to win their favor when their eye is on you, but as slaves of Christ, doing the will of God from your heart. Serve wholeheartedly, as if you were serving the Lord, not people, because you know that the Lord will reward each one for whatever good they do, whether they are slave or free. And masters, treat your slaves in the same way. Do not threaten them, since you know that he who is both their Master and yours is in heaven, and there is no favoritism with him.
When we imagine the rewards associated with work, we naturally think of things like pay, a sense of accomplishment, the company of colleagues, the opportunity to create, the joy of serving others, and perhaps a way to contribute to the common good. We may also think of our work as a way to honor God, who created us in his own image as workers.
Ephesians gives us another perspective on the rewards of work. In speaking to slaves, it says, "Serve wholeheartedly, as if you were serving the Lord, not people, because you know that the Lord will reward each one for whatever good they do, whether they are slave or free" (Ephesians 6:7-8). The Greek verb translated here as "reward" literally means "receive." The context shows that we will receive good things from the Lord if we do good work. Or, as the NIV puts it, we will be rewarded by God for the work we do.
Notice that this promise is offered not only to slaves, but to all people, "whether they are slave or free" (Ephesians 6:8). Whoever does good work will receive good from the Lord. Once again, we see that Ephesians diminishes the difference between slaves and masters. They are all accountable to God, who gives rewards for the good work of all. Masters are not privileged in this context. Their work is subject to the Lord, as is the work of their slaves.
I wonder what kinds of rewards we receive from God for our work today. Since all good gifts ultimately come from God (James 1:17), we could say that the rewards I mentioned above (pay, sense of accomplishment, company of colleagues, opportunity to create, joy of serving others, contributions to common good) all come from God, in a sense. But is there something more that we might receive from God as a reward for our good work?
This question could be answered in many ways. I want to draw two answers from a parable of Jesus. In the Parable of the Talents (Matt 25:14-30), a master entrusts various amounts of money (Greek: talanton) to several of his slaves. The slaves who use the money given them to make more are rewarded when the master checks up on how they're doing. To these slaves he says, "Well done, good and trustworthy slave," and gives to them even more resources.
This story suggests two rewards we receive from the Lord for our work. One the one hand, we "hear" God's "Well done, good and trustworthy worker." We receive God's joyful affirmation of our good work. We have the joy of knowing that we have pleased our Lord. On the other hand, when we do good work, we often receive from the Lord more opportunities to do more good work. This can appear as if it's simply how things work in human affairs. But the story of Jesus encourages us to see the hand of God at work, rewarding us for our faithful stewardship of what God has entrusted to us by giving us more opportunity, more responsibility, more authority.
I'm not saying these two rewards exhaust what we receive from the Lord for our good work. But they are, I believe, substantial parts of our reward, which we gratefully receive from our Heavenly Master.
Something to Think About:
In what ways are you rewarded for your work? What kinds of rewards matter most to you?
Can you think of other ways God rewards us for our work, in addition to what I've mentioned in this devotional?
Something to Do:
As you think about the rewards you receive for your good work, specifically thank God for these.
Prayer:
Gracious God, thank you for creating us to work in this world. Thank you for caring about the work we do, whether we're selling clothes, starting businesses, teaching children, preaching a sermon, sorting out legalities, cooking dinner for our family, or, well, you name it.
Thank you for the rewards we receive from our work. Yes, it's good to be paid for our labors. But often we receive so much more, and for these we give thanks.
Yet, in thanking you for the rewards of our work, we also remember that many people in our world do not receive many of these. We pray for those whose workplace is tainted by injustice, for those with cruel bosses, for those who are enslaved in this day and age. We ask for your justice to reign over all the world, including all the work we human beings do. Amen.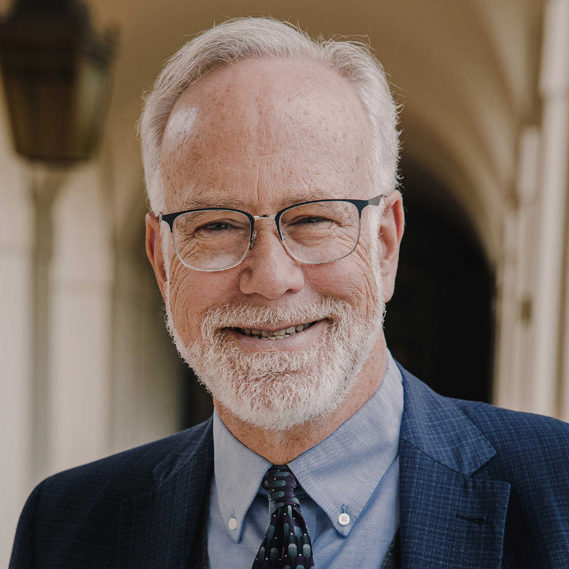 Dr. Mark D. Roberts is a Senior Strategist for Fuller's Max De Pree Center for Leadership, where he focuses on the spiritual development and thriving of leaders. He is the principal writer of the daily devotional, Life for Leaders, and the founder of the De Pree Center's Flourishing in the Third Third of Life Initiative. Previously, Mark was the Executive Director of the De Pree Center, the lead pastor of a church in Southern California, and the Senior Director of Laity Lodge in Texas. He has written eight books, dozens of articles, and over 2,500 devotions that help people discover the difference God makes in their daily life and leadership. With a Ph.D. in New Testament from Harvard, Mark teaches at Fuller Seminary, most recently in his D.Min. cohort on "Faith, Work, Economics, and Vocation." Mark is married to Linda, a marriage and family counselor, spiritual director, and executive coach. Their two grown children are educators on the high school and college level.