So Christ himself gave the apostles, the prophets, the evangelists, the pastors and teachers, to equip his people for works of service, so that the body of Christ may be built up until we all reach unity in the faith and in the knowledge of the Son of God and become mature, attaining to the whole measure of the fullness of Christ.
Then we will no longer be infants, tossed back and forth by the waves, and blown here and there by every wind of teaching and by the cunning and craftiness of people in their deceitful scheming. Instead, speaking the truth in love, we will grow to become in every respect the mature body of him who is the head, that is, Christ. From him the whole body, joined and held together by every supporting ligament, grows and builds itself up in love, as each part does its work.
When we think of church growth, we usually envision numerical growth. A growing church, we often believe, is adding new members and increasing its worship attendance. That's what it means to be a growing church. Yet, is this notion of church growth adequate? Is it based on a truly biblical understanding of the church?
We'll consider the numerical growth of the church soon. But, today, we'll focus on another dimension of church growth, one that takes center stage in Ephesians 4.
According to verses 11-12, the pastors and other leaders of the church are to equip the members for the work of ministry, "so that the body of Christ may be built up until we all reach unity in the faith and the knowledge of the Son of God and become mature." This is a clear endorsement of church growth. The people of God are to do the ministry so that the church might be built up.
But notice the first characteristic of church growth in Ephesians 4. It isn't a larger church, but rather a united church. The body of Christ is built up not "until we are bigger in size" but "until we all reach unity." Genuine church growth necessarily includes church unity.
The centrality of unity in this passage comes as no surprise if you've been reading carefully through Ephesians. Back in chapter 1, God's grand plan for the ages is to "bring unity to all things in heaven and on earth under Christ" (1:10). This unity takes visible form in the church, with the uniting of Jews and Gentiles through the cross of Christ (2:11-22). We respond to God's call on our lives by making "every effort to keep the unity of the Spirit" (4:3). But the unity we experience through the Spirit isn't just a static thing to be protected. Rather, it is something to which we contribute through our efforts. And it is something that marks a church that is truly growing in Christ.
How do we help our Christian community grow in unity? Next week, we'll discover some vital elements of true unity in Christ. But, for now, it's worth remembering what we saw at the beginning of Ephesians 4: "Be completely humble and gentle; be patient, bearing with one another in love. Make every effort to keep the unity of the Spirit through the bond of peace" (4:2-3). Each and every one of us can contribute to the unity of the body of Christ through how we treat our fellow members each day. Humility, gentleness, patience, and forbearance help the church to grow in unity.
Something to Think About:
How do you respond when you hear someone talk about church unity? What do you think? What do you feel?
Have you been a member of a church that was (mostly) unified in Christ? What was that like?
Have you been a member of a church that was (mostly) divided? What was that like?
Why is the unity of the church so important to God?
Something to Do:
Do something tangible to strengthen the unity of your own Christian community. If you're not sure what to do, ask the Lord for guidance. And then do what God inspires.
Prayer:
Gracious God, we live in a day when there is so much division: in families, in communities, in our country, and throughout the world. It's so easy for us to bring our divisive ways into the church. We insist on our own preferences. We gossip and criticize. We gather in tribes of those who agree with us on matters of worship style, politics, and race. We confess, Lord, that we have a hard time growing in unity.
Help us, dear Lord, to be truly unified in Christ, through the work of your Spirit. Help me, Lord, to be an agent of unity. May I grow in humility, gentleness, patience, and forbearance. May I make every effort to preserve the unity of your Spirit through the bond of peace. Amen.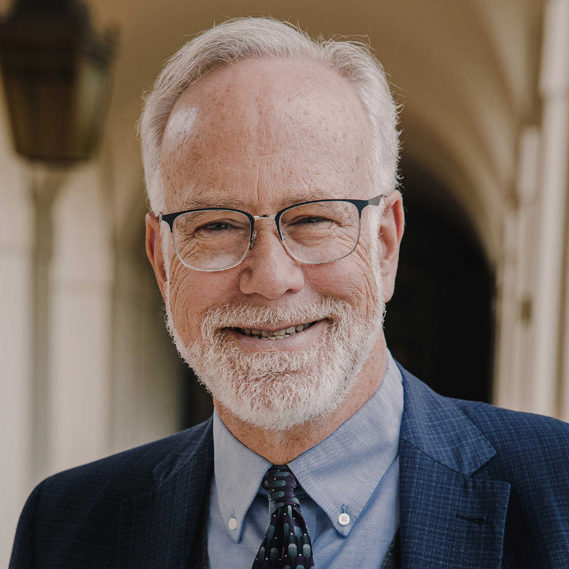 Dr. Mark D. Roberts is a Senior Strategist for Fuller's Max De Pree Center for Leadership, where he focuses on the spiritual development and thriving of leaders. He is the principal writer of the daily devotional, Life for Leaders, and the founder of the De Pree Center's Flourishing in the Third Third of Life Initiative. Previously, Mark was the Executive Director of the De Pree Center, the lead pastor of a church in Southern California, and the Senior Director of Laity Lodge in Texas. He has written eight books, dozens of articles, and over 2,500 devotions that help people discover the difference God makes in their daily life and leadership. With a Ph.D. in New Testament from Harvard, Mark teaches at Fuller Seminary, most recently in his D.Min. cohort on "Faith, Work, Economics, and Vocation." Mark is married to Linda, a marriage and family counselor, spiritual director, and executive coach. Their two grown children are educators on the high school and college level.