I hope for your salvation, O LORD,
     and I fulfill your commandments.
Focus
In the season of Advent we hope for God's salvation. Though we have already begun to experience this salvation through Christ, we recognize that there is much more salvation yet to come. This salvation is deeply personal and broadly expansive. The God who saves is in the process of making all things new. Our hope for this salvation inspires us to live today in light of the future. Everything we do should reflect the salvation of God.
Today's devotion is part of the series: Advent in the Psalms.
Devotion
Advent hope includes the hope of salvation. To be sure, there is a sense in which those who have accepted God's grace through Christ have already experienced salvation (see Ephesians 2:8, for example). Yet we recognize that there is more of salvation yet to come. We long for the time when we will enjoy complete personal transformation that accompanies the new creation. In Advent we get in touch with our hope for the fullness of salvation that we do not experience in this life.
Yet salvation, though deeply personal, is more than just individual. Yes, we can echo the words of Psalm 62:1, "For God alone my soul waits in silence; from him comes my salvation." Yet God's future salvation will touch, not just individual souls, but also the whole creation. In Romans 8, for example, we learn that "creation waits with eager longing for the revealing of the children of God" (Romans 8:19). When God's kingdom comes in all fullness, "the creation itself will be set free from its bondage to decay and will obtain the freedom of the glory of the children of God" (Romans 8:21). Thus, for our personal salvation and the salvation of the whole creation, we hope and wait. As it says in Romans, "But if we hope for what we do not see, we wait for it with patience" (Romans 8:25).
Sometimes it's hard for us to imagine what will happen when God restores all things through Christ. That can feel like pretty lofty theology. Indeed, it is. But a passage from the Book of Revelation can help us feel this theological vision in our gut. In Revelation 21, we see an inspired vision of "a new heaven and a new earth" (21:1). As the new Jerusalem descends from heaven, a loud voice proclaims, "'See, the home of God is among mortals. He will dwell with them as their God; they will be his peoples, and God himself will be with them; he will wipe every tear from their eyes. Death will be no more; mourning and crying and pain will be no more, for the first things have passed away.' And the one who was seated on the throne said, 'See, I am making all things new'" (Revelation 21:3-5).
So much in this vision touches our hearts. One day, God will dwell among us and we will be his people. Along with others, we will experience new intimacy with God. In that new relationship God will wipe away every tear from the eyes of all people who grieve, including us. Even more wonderfully, God will abolish all causes of grief, death most all. If you know people who are suffering, people who are mourning, people who are grieving – perhaps even yourself – then you can yearn for the time when God will wipe away every tear and abolish every reason to weep.
But when God dwells on the earth one day, God will not only care for people. Rather, God will be "making all things new" (Revelation 21:5). God's salvation includes the renewal of all things, not just human beings, not just individual souls, but all things. This mirrors the vision of the future in Ephesians, which I quoted in yesterday's devotion. In this vision God will unite all things in Christ, things in heaven and things on earth (Ephesians 1:10, emphasis added).
Advent is the season of the Christian year in which we focus on the inclusive and extensive future salvation of God. We put our hope in a salvation that is deeply and profoundly personal, but also widely and powerfully cosmic. When God saves, God will make right what is wrong, restore what is broken, and renew what has grown old.
Our hope for this salvation inspires us to live today in light of the future. Notice how the psalm writer completes the thought of Psalm 119:166, "I hope for your salvation, O LORD, and I fulfill your commandments." Hope for future salvation is translated into tangible action in the present. We find this connection between future and present not only in Psalm 119, but also in 1 Corinthians 15, a lengthy discourse on the future and the promise of our resurrection. The stirring conclusion of this discourse reads, "The sting of death is sin, and the power of sin is the law. But thanks be to God, who gives us the victory through our Lord Jesus Christ" (1 Corinthians 15:56-57). Notice, however, the real-life, present-day implications found in the following verse, "Therefore, my beloved, be steadfast, immovable, always excelling in the word of the Lord, because you know that in the Lord your labor is not in vain" (1 Corinthians 15:58).
Hoping for God's salvation encourages us, not only to long for all that God will do in the future but also to live in the present for God's purposes and glory. We excel in the work of the Lord in all we do to glorify God, whether in our daily work, our volunteering, our parenting and grandparenting, our church involvement, or our efforts to help this world to experience in some small way the presence of the one who is making all things new.
Reflect
When you think of God's salvation, what comes to mind for you? What images? What ideas? What feelings?
Do you tend to think of salvation mainly in personal, individual terms, or as something that touches all creation? Why do you think as you do about salvation?
In what ways might hope for God's future salvation make a difference in how you live today?
Act
Take some time to reflect on God's future salvation. Pray about what you might do today in light of this salvation. Then, do it.
Pray
Gracious God, you are the one true Savior. You alone have the power, authority, and grace to save. Thank you for your salvation!
Thank you that salvation is deeply personal. Thank you for the grace that saves me. Thank you for the privilege of knowing you through the salvation offered in Christ. Thank you for the promise of my future salvation and for the opportunity to live in light of that salvation today.
Thank you, O God, for the limitless expanse of our salvation. Thank you for the promise of all things begin made right and united in Christ. As we think about our shattered world, so filled with violence and injustice, we long for the peace that will come when you reign fully over all creation.
In the meanwhile, Lord, may I live for you today, seeking your purpose and glory in all I do. Amen.
Find all Life for Leaders devotions here. Explore what the Bible has to say about work at the High Calling archive, hosted by the unique website of our partners, the Theology of Work Project. Reflection on today's Life for Leaders theme can be found here: Renew My Life!
---
Subscribe to Life for Leaders
Sign up to receive a Life for Leaders devotional each day in your inbox. It's free to subscribe and you can unsubscribe at any time.
---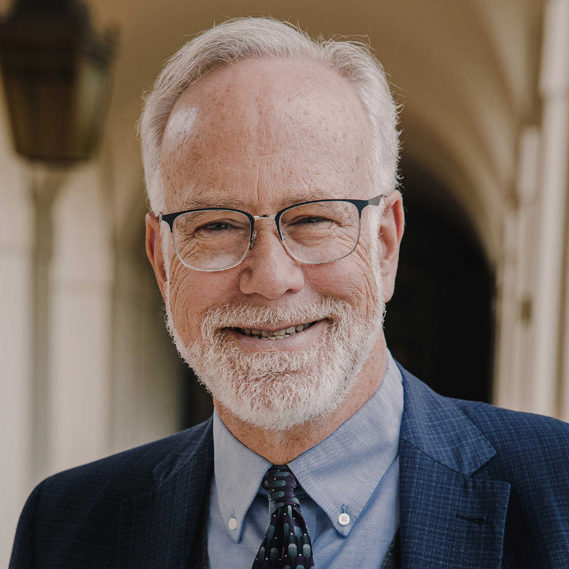 Dr. Mark D. Roberts is a Senior Strategist for Fuller's Max De Pree Center for Leadership, where he focuses on the spiritual development and thriving of leaders. He is the principal writer of the daily devotional, Life for Leaders, and the founder of the De Pree Center's Flourishing in the Third Third of Life Initiative. Previously, Mark was the Executive Director of the De Pree Center, the lead pastor of a church in Southern California, and the Senior Director of Laity Lodge in Texas. He has written eight books, dozens of articles, and over 2,500 devotions that help people discover the difference God makes in their daily life and leadership. With a Ph.D. in New Testament from Harvard, Mark teaches at Fuller Seminary, most recently in his D.Min. cohort on "Faith, Work, Economics, and Vocation." Mark is married to Linda, a marriage and family counselor, spiritual director, and executive coach. Their two grown children are educators on the high school and college level.