You are my hiding place and my shield;
     I hope in your word.
Focus
When we know God as our hiding place, it makes sense for us to put our hope in God's word. We long for God's vision of a world restored, a world filled with peace, justice, and righteousness. We hope for God to act in light of God's promises in Scripture.
Today's devotion is part of the series: Advent in the Psalms.
Devotion
When I was a boy, I loved good hiding places. One of my all-time favorites was in a Christmas tree lot near our family home in Inglewood, California. I was about four years old, tagging along with my parents as they sought to buy a live tree for Christmas. Since I was pretty short, the Christmas trees in the lot seemed giant to me. Because they were placed closely together, the trees formed an inviting forest. Soon, I was squeezing through the maze of trees, trying to get close to my parents without being spotted by them. Lurking in my forest of Douglas Firs, I found the perfect hiding place. Not only was I completely hidden as I spied on my parents, but I was also enraptured by the magical smell of the trees. I still remember this moment with joy, more than sixty years later. And, for the record, I still love the smell of fresh, live Christmas trees.
In Psalm 119:114, the psalm writer uses the metaphor of a hiding place in reference to God: "You are my hiding place and my shield." The Hebrew word translated as "hiding place" is seter, which can be translated as "cover, hiding place, or secret place." A seter is a place where you can be safe and secure, hidden from all that might hurt you, including things like bad weather or enemies. For example, in 1 Samuel 19:2 Jonathan says to David, "My father Saul is trying to kill you; therefore be on guard tomorrow morning; stay in a secret place [seter] and hide yourself."
Because God is the psalm writer's hiding place, he prays, "I hope in your word." He might have said, "I hope in you," but wanted in this instance to emphasize the word of God as something in which he hopes. God's word in this phrase is not exactly the same as the Bible. Rather, it is all that God has spoken, all that God has revealed to Israel. In particular, the psalm writer would place his hope in the promises of God, promises of protection, deliverance, salvation, prosperity, and peace.
In the season of Advent, Christians renew our hope in God. We focus especially on hope related to the future, when Christ comes again and God restores and renews all things. This hope comes to us through God's word, now preserved for us in the Bible, what we often call the Word of God. Take Ephesians 1:8-10, for example. Here we learn that God has made known to us the "plan for the fulness of time" (Ephesians 1:10). What is God's plan? It is "to gather up all things in [Christ], things in heaven and things on earth" (Ephesians 1:10). God will restore the brokenness of all things that resulted from the entrance of sin into the world. God will make all things right through Christ, filling the world with endless peace, upholding all things with justice (see Isaiah 9:7). In a world that is very broken, the promise of God to heal and to restore gives us hope. So, like the psalmist, we hope in God's word.
The core of Advent hope is something all Christians share in common. We remember how Israel hoped for the Messiah. We ourselves hope for his second coming and all that it will entail. In addition to this Advent core, we also have personal, individual hope in God. We wait upon God to respond to our needs and concerns. We wait upon God to minister to our family and friends. Our distinctive hopes are often inspired by God's word in Scripture, especially the promises to which we cling faithfully. The following questions will help you to reflect on ways in which you hope in God's word.
Reflect
As you envision the second coming of Christ along with the fulness of God's kingdom, what are things for which you feel particular hope? (For example, you might hope for the end of poverty or the vanquishing of racial injustice.)
What do you hope for God to do in your life? In the lives of your family and friends? In your church?
When you think of your personal hopes, are there biblical promises that support and inspire these hopes? If so, what are they? How do you hope in God's word?
Act
Share with a good friend or your small group some of your hopes for God. Listen to the hopes of others. Then pray for each other in light of what you've shared.
Pray
Gracious God, you are my hiding place, the one in whom I find safety, security and peace. Thank you! You are also my shield, the one who protects me from evil and harm. Thank you!
God, I do indeed hope in your word. I take seriously what you have said, especially as it's found in Scripture. I hold fast to your promises. I put my hope in you to fulfill them.
Today, Lord, I'm aware of how I am hoping in your word for . . . .  [Pray as you feel led, in light of your own circumstances and challenges.]
I also pray today for the world. In hope, I ask you to . . . .  [Pray for the world according to what's on your heart today.]
Thank you, Lord, for the encouragement of Advent to put our hope in you and to shape our hope in light of your word. Amen.
Find all Life for Leaders devotions here. Explore what the Bible has to say about work at the High Calling archive, hosted by the unique website of our partners, the Theology of Work Project. Reflection on today's Life for Leaders theme can be found here: The Word Gives Life.
---
Subscribe to Life for Leaders
Sign up to receive a Life for Leaders devotional each day in your inbox. It's free to subscribe and you can unsubscribe at any time.
---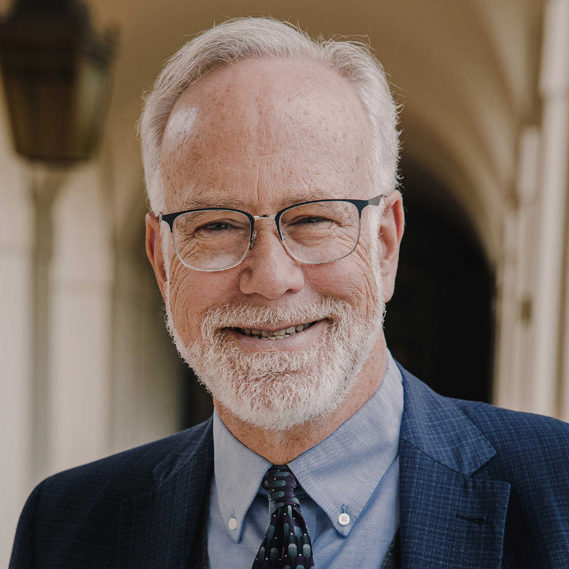 Dr. Mark D. Roberts is a Senior Strategist for Fuller's Max De Pree Center for Leadership, where he focuses on the spiritual development and thriving of leaders. He is the principal writer of the daily devotional, Life for Leaders, and the founder of the De Pree Center's Flourishing in the Third Third of Life Initiative. Previously, Mark was the Executive Director of the De Pree Center, the lead pastor of a church in Southern California, and the Senior Director of Laity Lodge in Texas. He has written eight books, dozens of articles, and over 2,500 devotions that help people discover the difference God makes in their daily life and leadership. With a Ph.D. in New Testament from Harvard, Mark teaches at Fuller Seminary, most recently in his D.Min. cohort on "Faith, Work, Economics, and Vocation." Mark is married to Linda, a marriage and family counselor, spiritual director, and executive coach. Their two grown children are educators on the high school and college level.