Happy are those
+++who do not follow the advice of the wicked,
or take the path that sinners tread,
+++or sit in the seat of scoffers;
but their delight is in the law of the LORD,
+++and on his law they meditate day and night.
They are like trees
+++planted by streams of water,
which yield their fruit in its season,
+++and their leaves do not wither.
In all that they do, they prosper.
Focus
If we want to live fruitful lives, if we want to prosper in all we do, then we would do well to listen to Psalm 1. We can be like trees planted by streams of water, trees that flourish in all seasons, if we meditate upon and put into practice God's revelation in Scripture. With lives built upon God's Word, we will be both fruitful and resilient no matter what happens.
Today's devotion is part of the series Following Jesus Today.
Devotion
During this week of Life for Leaders we have been focusing on Luke 6:43-45. In this passage, Jesus uses the metaphor of trees and fruit to talk about how our "fruit" – our words and deeds – are a reflection of what kind of "tree" we are, especially when it comes to our "hearts."
It seems likely that Jesus was inspired in this teaching by Psalm 1. This psalm recognizes that those who avoid "the path that sinners tread" are "happy" (Psalm 1:1). Rather than paying heed to "the advice of the wicked," these happy ones delight "in the law of the LORD," upon which "the meditate day and night" (Psalm 1:2). What is the result of their contemplation of God's revelation? "They are like trees planted by streams of water, which yield their fruit in its season, and their leaves do not wither. In all that they do, they prosper" (Psalm 1:3).
Psalm 1 helps us to answer in more detail the question I asked in yesterday's devotion: How can we be good, generously faithful trees? Jesus's answer to this question, as you may recall, was to point to the heart. Good words and good deeds flow from a good heart. Thus, if you want to live a truly fruitful and moral life, you should pay attention to the state of your heart.
We can do this, Psalm 1 suggests, by being like trees planted by streams of water. What the psalm writer knows is that such trees flourish because their roots tap into the water near which they have been planted. They have a reliable and plentiful source of irrigation. And what is the water that allows such trees to be so fruitful? According to verse 2, it's the law of the Lord. The person who meditates on God's law is like the tree with roots burrowed into a generous source of water.
Christian readers of Psalm 1 take the phrase "law of the LORD" to refer to more than just the Hebrew Torah, the first five books of our Old Testament. For us, God's law includes all that God has revealed in Scripture, both Old and New Testaments. If we want to be fruitful and resilient trees, then we will know God's revelation: studying it, thinking about it, meditating upon it, memorizing it.
And also obeying it. This is surely implied in Psalm 1. But it is made explicit in Luke's gospel. Immediately after the passage about trees, fruit, and hearts, Jesus will praise the person who hears his words "and acts on them" (Luke 6:47). This person is like the one who builds a house on a solid foundation (Luke 6:48). The one who merely hears what Jesus says without doing it is like a person who builds a house on a loose foundation. When struck by a flood, that house is destroyed (Luke 6:49).
So, if we want to be fruitful and resilient trees, then we will both know God's Word and do it. We will study it and act upon it. We will meditate on it and put it into practice. We will allow the Word of God to guide our lives and form our hearts.
I realize this sounds pretty basic. It's the sort of thing I learned in Sunday school over half a century ago. But, knowing and doing God's Word continues to challenge me, comfort me, and form me. It's why I reflect on Scripture each morning. And it's why I spend so much of my time writing Life for Leaders devotions. My hope and prayer is that, through sharing my own meditations on God's Word, I might be able to help you become a fruitful tree, whose leaves do not wither, and who prospers in all you do.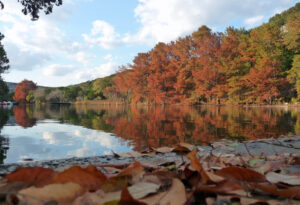 P.S. The photo in today's devotion is one of my favorite images of trees planted by streams of water. These Bald Cypress trees are across the river from Laity Lodge in the Texas Hill Country. They were planted alongside the Frio River by Mary Holdsworth Butt in the 1960s, and they flourish even in the heat of Texas because of their reliable water source. Green in spring and summer, Bald Cypress trees turn a brilliant shade of reddish-brown in the fall.
Reflect
In what ways do you engage with God's Word?
What helps you to meditate upon Scripture? What can stand in your way?
What helps you to obey the words of Jesus? What makes it hard to do so?
What could you do to help your roots grow deeply and firmly into the soil of God's Word?
Act
Set aside ten minutes for meditation upon Psalm 1. Read it several times, two or three times. Pay attention to what in this psalm speaks to your heart. Ask the Lord what he would like to say to you today through Psalm 1.
Pray
Gracious God, I long to be like the trees in Psalm 1, planted by streams of water, fruitful in season, resilient at all times. I would like to prosper, to live in such a way that my life matters for you and your kingdom.
Thank you, Lord, for revealing yourself in Scripture and for showing us how to live. Help me, I pray, to delight in your "law," to study and meditate upon your Word, not only because I should, but because it gives me joy to do so.
Help me, I pray, to be more than a hearer of your Word. May I put into practice what I hear, building my life on the solid foundation you have laid in Scripture.
May I be willing to be challenged by your truth, whether in my thinking or my acting. Even as I open your Word, may I also open my life before you. Let me attend to your Spirit as I read and meditate. Help me to live out what I am learning, for your purposes and glory. Amen.
---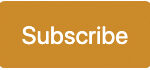 Sign up to receive a Life for Leaders devotional each day in your inbox. It's free to subscribe and you can unsubscribe at any time.
Find all Life for Leaders devotions here. Explore what the Bible has to say about work at the unique website of our partners, the Theology of Work Project. Commentary on today's Life for Leaders theme can be found here: Personal Integrity in Work (Psalm 1)

---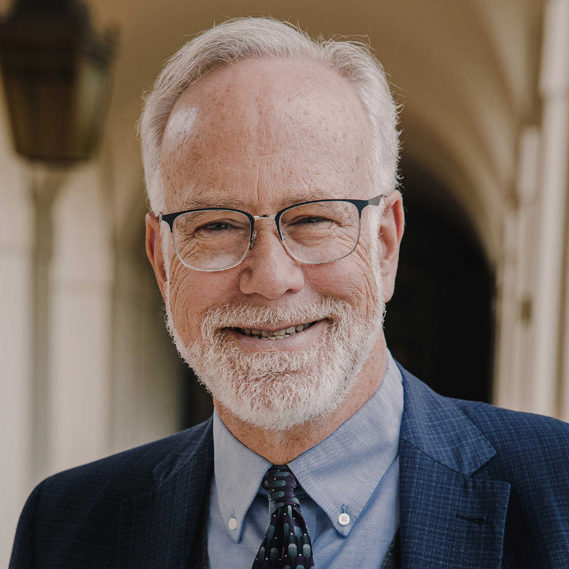 Dr. Mark D. Roberts is a Senior Strategist for Fuller's Max De Pree Center for Leadership, where he focuses on the spiritual development and thriving of leaders. He is the principal writer of the daily devotional, Life for Leaders, and the founder of the De Pree Center's Flourishing in the Third Third of Life Initiative. Previously, Mark was the Executive Director of the De Pree Center, the lead pastor of a church in Southern California, and the Senior Director of Laity Lodge in Texas. He has written eight books, dozens of articles, and over 2,500 devotions that help people discover the difference God makes in their daily life and leadership. With a Ph.D. in New Testament from Harvard, Mark teaches at Fuller Seminary, most recently in his D.Min. cohort on "Faith, Work, Economics, and Vocation." Mark is married to Linda, a marriage and family counselor, spiritual director, and executive coach. Their two grown children are educators on the high school and college level.