A Note from Mark
I'd like to share some exciting news with you. Today a wonderful new book is being released: Make Work Matter – Your Guide to Meaningful Work in a Changing World, by Michaela O'Donnell. Now, you may know that Michaela is now my boss, so my enthusiasm may seem required. But I read the manuscript of her book months before she became the Executive Director of the De Pree Center. Here's what I wrote back then:
Make Work Matter is surprising in many ways. Unlike so many other books on work, it is based, not just on the writer's solid convictions, but also on research into the working lives of real people. Yet the book is also filled with astute theological insights that are presented as if from a good friend seeking wisdom rather than from an esteemed professor with all the answers. Michaela generously opens up her own life to us, inviting us into a shared process of discovery and vocational discernment. Make Work Matter is perfect for folks in the early stages of figuring out their work lives. But, unexpectedly, it also speaks powerfully to older readers who are wondering about God's callings in the third third of life.
If you're in a place of vocational transition – like so many in today's world – this book is perfect for you. But I'd encourage you also to buy this book as a gift for friends, children, or grandchildren. I know they'll appreciate it.
If you'd like to learn more about Make Work Matter, check out this page on our website. Here's the Amazon link for Make Work Matter if you want to buy the book now.- Mark
If then you have not been faithful with the dishonest wealth, who will entrust to you the true riches?
Focus
If you want to get true riches – things like God's grace and mercy – be faithful with whatever God entrusts to you. Use well the gifts of God, not primarily for your own benefit, but for the benefit of others.
Today's devotion is part of the series Following Jesus Today.
Devotion
People in my line of work make headlines when we do questionable things with money. I'm sure you've seen or heard the news stories: "Pastor X is discovered to have embezzled funds from the church" or "Pastor Y owns a giant mansion and a private jet." (Sadly, I'm not making this stuff up. Both stories have appeared recently in the news.) The secular media seems to understand that godly people should be faithful when it comes to how they use money.
In this case, Jesus would agree with the media. In Luke 16, he has a lot to say about money and how we steward it. In verse 11, for example, Jesus says, "If then you have not been faithful with the dishonest wealth, who will entrust to you the true riches?" "Dishonest wealth" isn't just money earned from crime. It's money that's stained by the systems and structures of the fallen world.
But just because our money is tainted, that doesn't mean God doesn't care what we do with it. In fact, Jesus reveals, we ought to be faithful in our financial dealings. Not only is this a matter of integrity and justice. It's also a prerequisite for being entrusted with "true riches." Although Jesus doesn't mention God explicitly here, it's obvious that God is the one who entrusts people with true riches.
And what are these riches? Well, they're not gold or silver. Nor are they cryptocurrencies like Bitcoin or Ether. True riches are the treasures associated with God and God's goodness to us. For example, Ephesians mentions "the riches of [God's] grace" (Ephesians 1:7), "the riches of [God's] glorious inheritance among the saints" (1:18), "the immeasurable riches of his grace in kindness toward us in Christ Jesus" (2:7), "the boundless riches of Christ" (3:8), and "the riches of [God's] glory" (3:16). These are true riches, the riches that matter most of all, the riches we would like to be entrusted to us by God.
We can't earn these riches. We can't steal them. We can have them only as they are given to us by God. When we are faithful managers of what God has already given to us, including money, then we show that we are ready to be entrusted with even more. (Yes, this principle is reminiscent of Jesus's teaching in the Parable of the Talents, Matthew 25:14-30).
Faithful stewardship of God's riches is a matter, not of hoarding, but of lavish sharing. When God pours out grace upon us, we aren't supposed to collect it and save it for ourselves. Rather, faithful management of God's grace involves giving it away generously and freely to others. What Jesus once said to his first disciples he would say equally to us today, "Heal the sick, cleanse the lepers, raise the dead, cast out devils: freely ye have received, freely give" (Matt 10:8, KJV).
So, if you want to get true riches, be faithful with whatever God entrusts to you. Use well the gifts of God, not primarily for your own benefit, but for the benefit of others.
Reflect
When you think of earthly riches, what comes to mind? What do you envision? And if you're really honest with yourself, what do you wish you had (or had more of)?
Do you think of things like God's mercy and grace as riches? If so, why? If not, why not?
Why do you think that faithfulness with "dishonest wealth" is a prerequisite for being entrusted with God's true riches?
Act
Take stock of your life. How are you doing when it comes to being a faithful steward of money? How are you doing when it comes to giving away to others the "true riches" of God?
Pray
Lord Jesus, may I steward well all that you have entrusted to me. And may I value "true riches" more than all the other things I care about. Help me, Lord, to give away generously the good things you entrust to me. May I be a faithful manager of all of your gifts, for your glory. Amen.
Find all Life for Leaders devotions here. Explore what the Bible has to say about work at the unique website of our partners, the Theology of Work Project. Commentary on today's Life for Leaders theme can be found here: Generosity: The Secret to Breaking Wealth's Grip (Luke 10:38-42; 14:12-14; 24:13-15)

---
Subscribe to Life for Leaders
Sign up to receive a Life for Leaders devotional each day in your inbox. It's free to subscribe and you can unsubscribe at any time.
---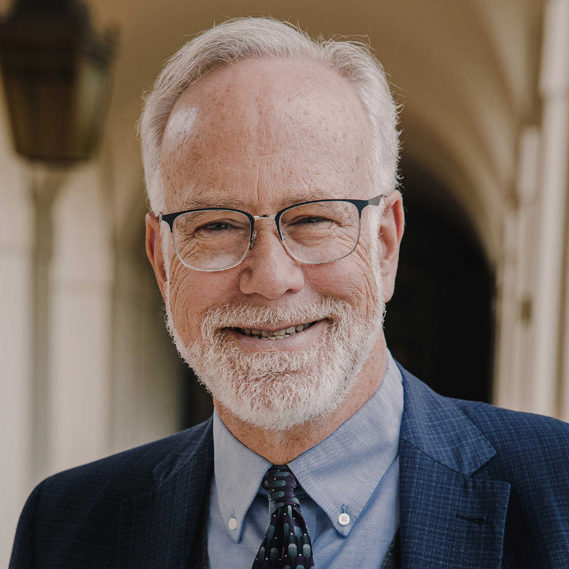 Dr. Mark D. Roberts is a Senior Strategist for Fuller's Max De Pree Center for Leadership, where he focuses on the spiritual development and thriving of leaders. He is the principal writer of the daily devotional, Life for Leaders, and the founder of the De Pree Center's Flourishing in the Third Third of Life Initiative. Previously, Mark was the Executive Director of the De Pree Center, the lead pastor of a church in Southern California, and the Senior Director of Laity Lodge in Texas. He has written eight books, dozens of articles, and over 2,500 devotions that help people discover the difference God makes in their daily life and leadership. With a Ph.D. in New Testament from Harvard, Mark teaches at Fuller Seminary, most recently in his D.Min. cohort on "Faith, Work, Economics, and Vocation." Mark is married to Linda, a marriage and family counselor, spiritual director, and executive coach. Their two grown children are educators on the high school and college level.