I recently attended a memorial service for a man I knew when I was young. It was a fine service, full of worship, gratitude, sadness, and joy. Several people shared their memories of this man. Most were praise-filled tributes, though quite a few were curiously humorous. This man, it seems, was rather quirky. But people loved him in spite of—or even because of—his idiosyncrasies.
As I listened to the various testimonials, I was glad for all this man had accomplished. His business successes stood out in addition to his eccentric habits. But I was struck by what was missing. His love for his family was mentioned, but not emphasized. His faith was acknowledged, as was his service to others, but both were minor themes. People laughed at his tendency to be overly critical and judgmental of others. He seemed to care a lot about little things that, in the end, didn't really matter very much.
Driving home from that memorial service I asked myself a question I've considered again and again throughout my life: How will I be remembered after I'm gone?
Why the "How Will I Be Remembered?" Question Matters
Now, let me assure you that I'm not obsessed with my death or even my legacy. But I have regularly wondered how I will be remembered after I die because I've been to more funerals than most human beings. It's something that comes with being a pastor. In my professional role, I have attended or officiated at dozens and dozens of memorial services. I've listened to scores of families talk about their loved ones who recently died. I've heard hundreds of people speak in services of remembrance, sharing their memories of those who passed away. Often, on my way home from a service, I wonder what people will say about me one day at my memorial service. How will I be remembered after I'm gone?
I'm glad this question regularly visits my consciousness. Why? Because the "How will I be remembered after I'm gone?" question leads to other questions, like: "Am I investing my life in the things that matter most? Am I spending the limited time I have on this earth in fulfillment of my life's purpose? Am I nurturing deep, loving relationships with people, especially those who are close to me? Am I living each day in a way that reflects the presence and grace of Christ?"
As you may recall, last month's Third Third Life highlighted an article I wrote called "Will I Be Remembered After I'm Gone? Does It Matter?" I talked about the common desire of people to be remembered after they die and the research that explains this curious longing. I also shared some personal remembrances of my mother and my great-grandfather.

In this current article I want to work on a related but slightly different question, not "Will I be remembered?" but "How will I be remembered?" This article is personal in that I'll be talking about myself. But this isn't a personal therapy exercise. Rather, I'm sharing my thoughts with you in the hope that I will encourage you to reflect similarly. As I write about how I will be remembered, I'd urge you to be thinking about how you will be remembered. (As always, I'd be interested in hearing from you. If you have some thoughts to share, please email me at markroberts@fuller.edu.)
I plan to organize my thoughts about being remembered by collecting them in three "buckets." This is my "remembrance bucket list," if you will. In this article, I'll share some thoughts on the first bucket. The other buckets will appear in future articles.
Bucket #1 – Being Remembered for My Work
After I die, I'd like to be remembered for the work I've done in my life. I know not all of my work will be remembered. I doubt anyone will recall my efforts as a gardener, coin dealer, secretary, audio engineer, dishwasher, bathroom cleaner, house painter, or manager of a small educational business. But I do hope some of what I've done as a pastor, writer, coach, teacher, mentor, and leader will be worthy of remembrance. Plus, let me be clear: my work isn't only what I've done for pay. An essential part of my life's work has been as a husband, father, son, grandson, brother, and uncle. (Plus, I hope, someday, as a grandfather, but no pressure kids!)
I'm not alone in wanting to be remembered for the work I've done. This is a common human desire. That we should wish to be remembered for our work makes sense considering one of the first things we learn in Scripture about what it means to be human. In Genesis 1, God, who is revealed to us as the first worker, creates human beings in God's own image. We are made to be workers, right from the start. Moreover, the very first instruction God gives to people is: "Be fruitful and multiply. Fill the earth and govern it" (Gen 1:28, NLT). Or, to put it succinctly, God's first commandment is, "Work!" Part of that work includes being literally fruitful, that is, making and raising children. But, as Genesis 2 makes clear, God created human beings to work in the world, to help the world be productive and to care for it (Gen 2:15). Thus, given the centrality of work to our basic nature, it makes sense that we should want to be remembered for the work we have done in life as we fulfill God's created intentions for us.
As followers of Jesus, we also join our Lord in his redemptive, restorative work. Shortly before he ascended to heaven, Jesus told his first followers that they were to be his witnesses, both locally and globally (Acts 1:8). In a similar way, he enlisted his disciples to continue in his disciple-making business, baptizing new believers and teaching them to do everything Jesus had taught them to do (Matt 28:19-20). Thus, our work as followers of Jesus includes all that we do to bear witness to him, to make disciples, to seek his kingdom and justice, and to love our neighbors. Often, we do this work as members of a church, where we contribute to the growth of the church as the body of Christ (Eph 4:11-16). We share in the church's work of feeding the hungry, doing justice, embracing the marginalized, and caring for those who are often overlooked by society.
In summary, our work includes participation in the creative and sustaining work of God, that which began in creation. Our work also includes participation in the redemptive and restorative work of God through Christ and his church. Given how much our work matters to God and God's work in the world, we rightly want to be remembered for the good work we have done in this life, whether paid or unpaid, whether in our workplaces or at home, whether in church or the world.
Inspired by Memories of My Father's Work
My father died 37 years ago at the relatively young age of 54. I have strong and fond memories of his memorial service and the ways he was remembered. It was not surprising that people at church spoke of my dad's work there as an elder, a Sunday School teacher for children, and a Bethel Bible teacher for adults. Nor was it unexpected to hear from several members of our family who testified to all the work my dad did for our benefit. Though he held down a full-time job, church and family were my dad's priorities in life and work.
I knew little about his work outside of home and church, however. I knew he was a computer analyst for a grocery company, that he went to work each morning and came home before dinner. My dad didn't talk much about what he did at work. I never visited him at his workplace. Most of his day-to-day labors were unknown to me.

I was surprised, therefore, when many of his colleagues showed up at his memorial service. I was even more surprised when a few of them wanted to speak during the "sharing" time of the service. They talked about what good work my dad did. But, more impressive to me, they shared stories of the kind of person he was at work. They mentioned his friendliness, humor, care for his colleagues, and willingness to help others. They said his positive presence in their workplace was a gift they would greatly miss.
I've never forgotten what I heard at my dad's memorial service about his workplace relationships. I've thought many times that I'd like to be remembered similarly. Yes, I hope what I've produced through my work is memorable. But I also hope that I will be remembered for my friendliness, humor, care for my colleagues, and willingness to help others. I want to be remembered for the person I've been at work, not only for the work I've done.
Conclusion
What about you? Do you want to be remembered for your work? I expect you do. So, let me ask you some questions:
How would you like to be remembered by your colleagues, customers, and even competitors?
How would you like to be remembered by your students, clients, patients, or vendors?
How would you like to be remembered by your family and fellow church members when it comes to the work you did with them and how you did it?
Reflecting on how you'd like to be remembered isn't meant to motivate you to polish your image, to make yourself look better for the sake of your post-mortem reputation. Rather, the point of thinking about how you'll be remembered is to inspire you to live and work today with greater integrity, faithfulness, love, and purpose. If I want to be remembered as a caring person, then I am reminded to care more actively for the people in my life, including the folks I engage with through my daily work.
In the next article in this series, I'll examine a couple more "remembrance buckets." In the meanwhile, let me encourage you to join me in these reflections. Plus, once again, I'd love to hear from you if you'd like to share your thoughts with me (markroberts@fuller.edu).
Banner image by Getty Images on Unsplash.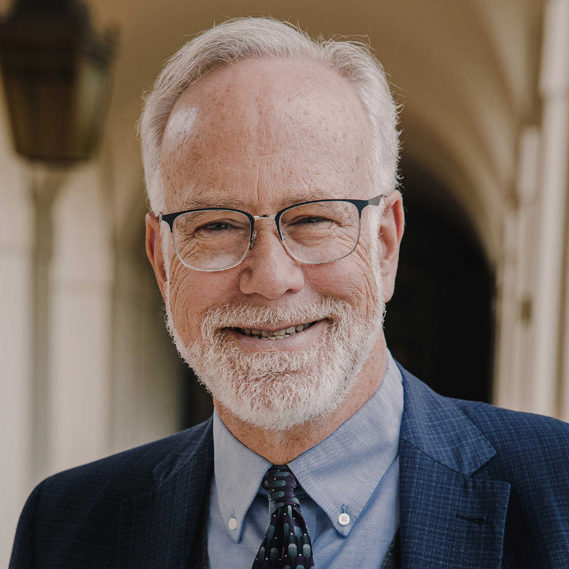 Dr. Mark D. Roberts is a Senior Strategist for Fuller's Max De Pree Center for Leadership, where he focuses on the spiritual development and thriving of leaders. He is the principal writer of the daily devotional, Life for Leaders, and the founder of the De Pree Center's Flourishing in the Third Third of Life Initiative. Previously, Mark was the Executive Director of the De Pree Center, the lead pastor of a church in Southern California, and the Senior Director of Laity Lodge in Texas. He has written eight books, dozens of articles, and over 2,500 devotions that help people discover the difference God makes in their daily life and leadership. With a Ph.D. in New Testament from Harvard, Mark teaches at Fuller Seminary, most recently in his D.Min. cohort on "Faith, Work, Economics, and Vocation." Mark is married to Linda, a marriage and family counselor, spiritual director, and executive coach. Their two grown children are educators on the high school and college level.