Have you ever driven home from a memorial service wondering what might be said someday in your own service? This happened to me recently after a memorial service for a friend. I spent a good chunk of time imagining how people would remember me. I wasn't so concerned about polishing my post-mortem legacy, however. Rather, I saw my time of reflection as an opportunity to choose to live differently and more intentionally both today and in the years to come.
In the previous article in this "How Will I Be Remembered?" series, I explained that my reflections fall into three different "buckets." These three constitute a concise "bucket list" for me, clarifying how I want to live before I "kick the bucket." My first bucket, as you may recall, has to do with being remembered for my work. I would like those who know me well to recollect some of the good things I have done in my work (both compensated and uncompensated work, by the way). But I would hope to be remembered, not just for what I accomplished at work, but also for the kind of person I have been as I worked. This aspiration points to my second bucket.
Bucket #2 – Being Remembered for My Love

Previously, I noted that the first commandment found in the Bible—"Be fruitful and multiply and fill the earth and subdue it" (Gen 1:28)—underscores the importance of work. But when someone asked Jesus which commandment was "first of all," Jesus said, "The first is, 'Hear, O Israel: the Lord our God, the Lord is one; you shall love the Lord your God with all your heart, and with all your soul, and with all your mind, and with all your strength.' The second is this, 'You shall love your neighbor as yourself.' There is no other commandment greater than these" (Mark 12:29-31). Jesus meant "first" not as "the first commandment to appear in the Bible" but rather as "the most important commandment." What matters most in life, according to Jesus, is our all-encompassing love for God, which is our response to God's all-encompassing love for us. But it's crucial to note that Jesus adds a second commandment even though he was asked only about the first. Our love for our neighbor may not be the first commandment, but it runs a very close second and is an outgrowth of the first. As it says in 1 John 4:7-8, "Beloved, let us love one another, because love is from God; everyone who loves is born of God and knows God. Whoever does not love does not know God, for God is love."
Could any human being be remembered more wonderfully than in the simple statement: "This person truly loved God and people"? I add the word "truly" because we can play at love without actually loving. We can talk as if we love others but fail to give of ourselves for their sake. Remember the admonition in Romans 12:9, "Let love be genuine." Of course, human love will never be perfect, at least not this side of the age to come. But genuine love truly cares for and acts sacrificially for the good of others and the glory of God.
My first two buckets—work and love—are not completely separate from each other, or at least they shouldn't be. In fact, one of the major ways we love people is through our work. I think, for example, of Charlie, who recently laid a new floor in our kitchen. He did excellent work at a fair price. His effort was not just a job to be done, but also an expression of love. Charlie was more than a fine craftsman. He was also a pleasant, kind, and caring person. He loved us both through the work he did with his hands and by the way he related to us as he worked.
How People Remembered Homer
As I noted above, my reflections on "How will I be remembered?" were initially inspired by my experience at a memorial service earlier this year. Thirty years ago, I attended another memorial service that I remember clearly. In this service, people shared remembrances that had everything to do with love . . . lavish, genuine love.

The memorial service I'm talking about was for "Homer," an elder in the church where I was an associate pastor. I knew him rather well in that context. He always impressed me with his exceptional faith, prayerfulness, and wisdom. He was kind and considerate, an enthusiastic encourager of the other pastors and me. Homer was always at the forefront of our church's mission in the world. He urged us to share generously with others what God had given to us so abundantly.
I knew little about Homer's life outside of the church. I knew he was successful in business, but that's about it. It wasn't until his memorial service that I learned so much more. As the service began, I was struck by how many people in attendance were not part of our church. I wondered where they came from and how they knew Homer. Then, in the middle of the service, there was a time for open sharing, a time when anyone who wished to speak could do so. At least a dozen of the people I didn't recognize joined the sharing line. When they got to the microphone, they talked about Homer and his impact on their lives.
All these people, it turns out, knew Homer through his various work endeavors. Several were employees of his business. Others lived in apartments Homer owned. Though they were diverse when it came to race, ethnicity, gender, class, and age, all the speakers told basically the same story about Homer. They all talked about what a loving person he had been, so kind and considerate. This was true especially when they experienced difficult times. I learned about how Homer allowed one family to stay in one of his apartments rent-free during a season of unemployment. I heard that Homer had paid the medical expenses of the son of one of his employees. Though he was an astute and successful person of business, Homer understood so well the lesson once taught by Jacob Marley to Ebenezer Scrooge,
"Business!" cried the Ghost, wringing its hands again. "Mankind was my business. The common welfare was my business; charity, mercy, forbearance, and benevolence, were, all, my business. The dealings of my trade were but a drop of water in the comprehensive ocean of my business!" (Charles Dickens, A Christmas Carol, Stave 1).
Or, to put it differently, loving people graciously and generously was Homer's business.
Driving home from his service, I mused on what I had learned about Homer. Nothing I heard shocked me. Everything was consistent with my own experience of the man. But I was impressed by just how faithfully, consistently, and sacrificially Homer had loved so many people. I found myself yearning to be someone like Homer, a person of Christ-like love in all settings of life.
Thirty years ago I didn't think about how I would be remembered after I'm gone. After all, that's not how most 35-year-olds think. But today, as I reminisce about Homer's memorial service, I am encouraged to live as he lived, to be someone who will be remembered as a loving person because, in truth, I was a genuinely loving person.
Questions for You
I'd like to wrap up the second installment of my three-part "How will I be remembered?" series by asking you some personal questions:
To what extent are you actually living in response to the commandments to love God and to love your neighbor?
How do you express your love for God each day?
How do you love the people in your life: your family, your colleagues, your friends, your church siblings, and your neighbors?
When your mortal life comes to an end, will people remember you as a person who loved genuinely and graciously?
Are there new things you could do—starting today—as expressions of love for the people in your life?
The final article in this series will consider the third bucket in my "How will I be remembered after I'm gone?" collection. For now, I'd encourage you to reflect on the questions I've suggested and anything else that the Lord puts on your heart.
Banner image by Getty Images on Unsplash.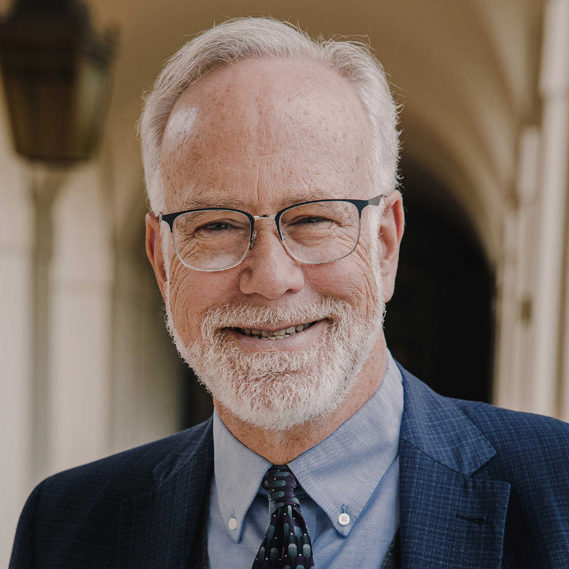 Dr. Mark D. Roberts is a Senior Strategist for Fuller's Max De Pree Center for Leadership, where he focuses on the spiritual development and thriving of leaders. He is the principal writer of the daily devotional, Life for Leaders, and the founder of the De Pree Center's Flourishing in the Third Third of Life Initiative. Previously, Mark was the Executive Director of the De Pree Center, the lead pastor of a church in Southern California, and the Senior Director of Laity Lodge in Texas. He has written eight books, dozens of articles, and over 2,500 devotions that help people discover the difference God makes in their daily life and leadership. With a Ph.D. in New Testament from Harvard, Mark teaches at Fuller Seminary, most recently in his D.Min. cohort on "Faith, Work, Economics, and Vocation." Mark is married to Linda, a marriage and family counselor, spiritual director, and executive coach. Their two grown children are educators on the high school and college level.