Although you have not seen him, you love him; and even though you do not see him now, you believe in him and rejoice with an indescribable and glorious joy, for you are receiving the outcome of your faith, the salvation of your souls.
Focus
Because the word "imagination" is based on the Latin word imago, meaning "image," we tend to think of it as having to do with visual images, those we see in our minds even though they are not in front of our eyes. Yet imagination actually embraces all the senses, and even more. We can use our imaginations to think lofty thoughts, to dream dreams of justice and peace.
This devotion is part of the series, Imagination: Redeemed and Redemptive.
Devotion
In yesterday's Life for Leaders devotion, I began a new series called Imagination: Redeemed and Redemptive. Quoting Merriam-Webster, I suggested that imagination can be defined as "the act or power of forming a mental image of something not present to the senses or never before wholly perceived in reality." The notion that imagination has to do with "seeing" in our minds makes sense, given the etymology of the word "imagine," which comes from the Latin word imago, meaning "image."
To be sure, images are often central to the exercise of our imagination. This happens whether we are remembering our past, anticipating the future, or living in the present. If, for example, I ask you to think of your favorite dessert, it's likely that you will picture something like a hot fudge sundae in your mind's eye. That's your imagination at work.
You might also remember how that hot fudge sundae tastes. This suggests that imagination is not limited to seeing images of things that are not physically present. We can use our imagination for all of our senses: seeing, hearing, tasting, smelling, and touching. For example, if you've been reading Life for Leaders for a while, you'll remember that my mom went to be the Lord several years ago. I can picture her right now, using my imagination in what is perhaps its most familiar form. But I can use my imagination to "hear" her voice. And I can remember how it felt when she hugged me. So, clearly, imagining has to do with more than just visual representation. As Gene Edward Veith, Jr., and Matthew P. Ristuccia write in their book, Imagination Redeemed, "Imagination is simply the power of the mind to form a mental image, that is, to think in pictures or other sensory representations." Note that final phrase: "or other sensory representations."
I can think of hundreds of examples of the use of imagination in relationship to hearing. Indeed, everyone who writes music exercises their imagination in this way. But perhaps one of the most astounding examples of this kind of imagination comes from the life of the classical composer Ludwig van Beethoven.
Beethoven's Ninth Symphony is considered by many to be, not only his finest work, but also one of the finest musical pieces ever created. It continues to be one of the most frequently performed of all symphonies. It features not only soaring orchestral movements but also an astoundingly moving choral section featuring a sung version of the poem known as "Ode to Joy." (You can hear an inspiring version here.) This portion of the Ninth Symphony is familiar to many Christians because it supplies the music for the hymn, "Joyful, Joyful, We Adore Thee," with lyrics written by Henry van Dyke.
No matter your taste in music, if you hear the Ninth Symphony, you'll be struck by its majesty and beauty. But, here's the thing. Ludwig van Beethoven never heard it. Ever. By the time he wrote the Ninth Symphony, he was completely deaf.
Now, what I just wrote is literally true. Beethoven never heard the Ninth Symphony with his ears. But there is another mind-blowing truth at work here. Beethoven heard the symphony with his imagination. His extraordinary giftedness as a musician enabled him to "hear" with his mind what he would never hear with his ears.
I'm making this point about the "more than visual" aspect of the imagination, not because I have anything against the imago aspect of "imagination." The fact that we can "see" with our minds is indeed wonderful. But I want to be sure that we don't limit our imaginations to the visual. God has made us with so much more capacity to imagine, to see, hear, taste, smell, and touch that which is not physically present. Moreover, our imaginations can help us to "see" things that are not merely visual, things like faithful churches, empowering communities, loving families, and just societies. Thus, our imaginations have immense redemptive potential. I'll say more about this in tomorrow's devotion.
I want to close today's devotion by noting how our imaginations can inspire our worship. 1 Peter 1:8-9 twice mentions the fact that we have not seen Jesus Christ. Yet, because we are not limited by what our eyes perceive, we can love him and believe in him. Moreover, we can "rejoice with an indescribable and glorious joy" because of what we are now experiencing through Christ and because of what lies ahead in the future, a future we can imagine without seeing. Thus, we can allow the music of Beethoven and the words of van Dyke to stir our hearts to worship the God whose glory inspires our imaginations with robust praise:
Joyful, joyful, we adore You,
God of glory, Lord of love;
Hearts unfold like flow'rs before You,
Op'ning to the sun above.
Melt the clouds of sin and sadness;
Drive the dark of doubt away;
Giver of immortal gladness,
Fill us with the light of day!
Reflect
Which works of human imagination are most inspiring to you?
When in your life do you exercise your creative imagination?
As you think about your own future, how do you envision your life?
Act
Set aside at least 5 minutes to listen to and reflect upon the hymn, "Joyful, Joyful, We Adore Thee" as performed in Royal Albert Hall in London. And then, for another version, treat yourself to this gospel choir, also from London.
Pray
Gracious God, thank you for the gift of imagination. Thank you for all the ways this gift has been used to glorify you and serve people.
Help me, Lord, to be open to how you might want to use my imagination for your purposes. May all that I do with my mind glorify you. Amen.
Banner image by Samuel Sianipar on Unsplash.
Find all Life for Leaders devotions here. Explore what the Bible has to say about work at the unique website of our partners, the Theology of Work Project's online commentary. Reflection on today's Life for Leaders theme can be found here: Resident Aliens and a Royal Priesthood (1 Peter 1:1–2:12).
---
Subscribe to Life for Leaders
Sign up to receive a Life for Leaders devotional each day in your inbox. It's free to subscribe and you can unsubscribe at any time.
---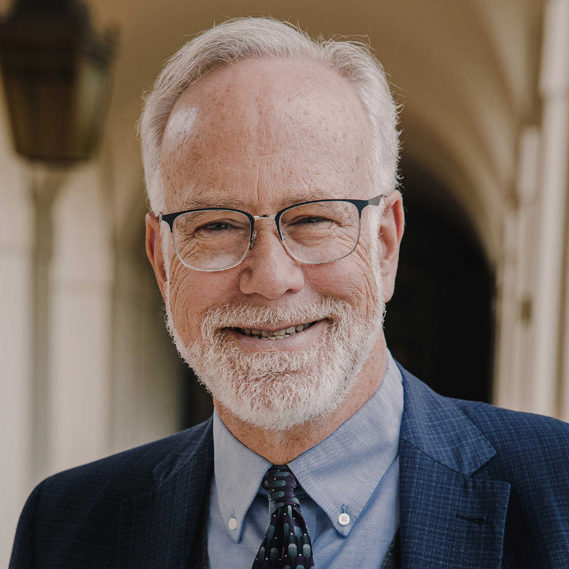 Dr. Mark D. Roberts is a Senior Strategist for Fuller's Max De Pree Center for Leadership, where he focuses on the spiritual development and thriving of leaders. He is the principal writer of the daily devotional, Life for Leaders, and the founder of the De Pree Center's Flourishing in the Third Third of Life Initiative. Previously, Mark was the Executive Director of the De Pree Center, the lead pastor of a church in Southern California, and the Senior Director of Laity Lodge in Texas. He has written eight books, dozens of articles, and over 2,500 devotions that help people discover the difference God makes in their daily life and leadership. With a Ph.D. in New Testament from Harvard, Mark teaches at Fuller Seminary, most recently in his D.Min. cohort on "Faith, Work, Economics, and Vocation." Mark is married to Linda, a marriage and family counselor, spiritual director, and executive coach. Their two grown children are educators on the high school and college level.