"When he was at the table with them, he took bread, gave thanks, broke it and began to give it to them. Then their eyes were opened and they recognized him, and he disappeared from their sight."
"To believe in Jesus Christ means to become thankful."  —Karl Barth, Church Dogmatics
The disciples that had walked with Jesus for 7 miles did not recognize him on the road, but they did so when he broke bread, gave thanks and fed them. This gathering at the table to take bread and give thanks had become habit-forming. It was here in a grateful community and around feasting at the table that the beloved rabbi was more easily recognized. He gave thanks and the aroma of Christ floated off the bread into their nostrils and their eyes were opened. They had done this countless times.
I love that the miracle of seeing Christ occurred in the mundane task of eating with others. In this season of Thanksgiving that is around the corner, for those of us living in the United States, I wonder how gratitude could strengthen our workplaces and communities by seeing the grace of God in the ones around our tables. This practice does not necessitate a national holiday nor is it exclusive to the global community we are a part of.
I am currently reading Living into Community by Christine Pohl. In it, she states that gratitude strengthens communities, and envy and jealousy weakens them.  It challenged me that the opposite of gratitude is not ingratitude, it is envy and jealousy. This plays out more strongly in close-knit communities due to the danger of comparison which is the silent killer of community. Teams and homes and friendships and playgrounds and board tables that experience success by individuals are at higher risk to toil in the soil of comparison that gives birth to multiple character defects. Even seasoned leaders are not immune to such.
I was struck by Pohl's statement that "envy flourishes in close-knit communities" and strikes most powerfully in those "intimate relations where love is supposed to rule." Pohl quotes Neal Plantinga to explain that envy is deadlier than jealousy or covetousness. Plantinga argues that the closer you are to others that experience success, not only do you want and resent what another has, but "envy is to resent somebody else's good so much that one is tempted to destroy it." In fact, Pohl states that it is beyond wanting what another has for ourselves; it's that we don't want her or him to have it for themselves. (Let's all take a deep honest breath).
Next week as we sit around family tables gathered around different meals, let's also consider the ones gathered. As God breaks the rotten bread of ingratitude, Jesus offers us the bread of thanksgiving as a corrective—to be thankful for the gifts that God has given us in equal measures of being thankful for the gifts that God has graced another.
As leaders, let us exhale envy and jealousy, and let us inhale grace and gratitude for the gifts of others. May our workplaces and homes and playgrounds be strengthened by gratitude and not weakened by envy. For it is in giving thanks for others and the fullness of their gifts that we will recognize Jesus around our tables of leadership. May this be the aroma that others smell at our tables, not only around holiday tables. May this be the bread of thanksgiving that nourishes our leadership tables for the flourishing of all humanity.
Something to Think About:
What do you think about the difference between jealousy and envy?
Do you struggle with either or both of them?
How has envy and ingratitude played a role in your relationships with neighbors, colleagues, friends in the community? How does it drive what you say or do that could potentially sabotage the success of another?
Something to Do:
Get honest about envy. Sit with this devotional. Name the people that you are envious of. What makes you envious about them? Confess your envy and ask the Holy Spirit to help you destroy this challenge in our discipleship.
Get honest about your identity. Name your gifts that God has given you. Ask God to show you what God thinks of yourself.  Ask God for the grace to see yourself as God sees you.
At the next meeting, invite everyone to go around and say one thing they're thankful for in the life of another colleague. Incorporate this habit on a regular basis.
Prayer:
God of grace and giver of all good gifts, we confess our ingratitude, our inner grumblings, our jealousy that breeds envy. We confess that a seed of smallness was planted in us one day that gave birth to a distorted view of our selves. Grant us eyes to see ourselves the way you see us. We confess that a seed of envy was planted when we couldn't give thanks for the gifts you gave our friends and family. We not only covet what they have, we secretly desire that they would not have it.
Oh God, crush this dis-ease and this dis-grace. Instead, give us eyes to see our sisters, brothers, colleagues with grace. Give us eyes to see your invitation to come to an abundant table where we can all feast from the bread of gratitude as one family. Grant us this grace. Amen.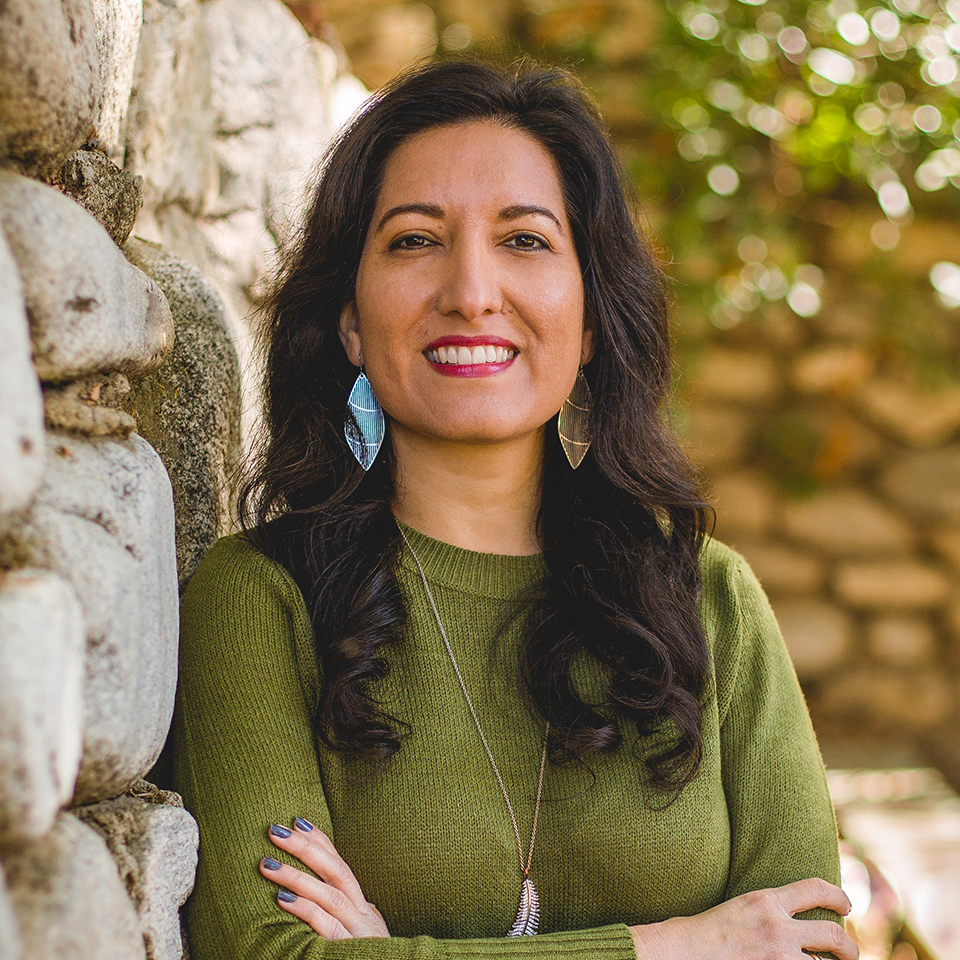 Inés is an ordained pastor, preacher, reconciler, writer, and speaker. We are pleased to feature Inés as a regular Life for Leaders writer.
Click here to view Inés' profile.