Then Jacob woke from his sleep and said, "Surely the LORD is in this place—and I did not know it!"
Today, I want to continue reflecting with you on Genesis 28:16, "Surely the LORD is in this place – and I did not know it!" In the previous edition of Life for Leaders, I suggested that the language of God "showing up" in special ways runs the risk of implying that God is not present in ordinary times and places. We who think this way may need to recognize, along with Jacob, "Surely the LORD is in this place — and I did not know it!"
Another phrase that is popular among some Christians to describe the experience of God's presence in a particular place is to call that place a "thin place." This phrase, which comes from Celtic Christianity, refers to a physical location in which people experience God in unusual ways because, metaphorically speaking, the barrier between heaven and earth is thinner there. For example, during my years as director of Laity Lodge, a marvelous retreat center in the Texas Hill Country, people often referred to the Lodge as a "thin place." This was a way of labeling their experience of being close to God and associating it with Laity Lodge.
Now, God can certainly choose to make himself known in certain places more than others. For many centuries, God designated the temple in Jerusalem as such a place. The Jewish people looked forward to visiting the temple because, among other things, they experienced God's presence in an unusually powerful way there.
But, there are problems with the thin place metaphor if we press it too far. We can end up believing that God is really and fully present only in certain special places. We divide the world into "secular" places (most of the world) and "spiritual" places (unlike most of the world). We live the vast majority of life, including our work life, in the secular places where God is not present. Thus, we miss out on communion with God in all spaces, including the space where we work. Moreover, we often miss opportunities to serve God in these "secular" spaces because we don't expect God to act there.
Much more could be said about "thin places" from a biblical perspective. In fact, I've cited many of them in an online article called "Thin Places: A Biblical Investigation." But perhaps the most important point to be made here is that when God chose to make himself known to us in an ultimate way, he did not reveal himself in a place but, rather, in a person. Jesus is God's true thin place, if you'll pardon the oddness of this statement. We encounter God most fully and deeply through Christ, in whom the barrier between heaven and earth was made uniquely thin, even non-existent.
I'm not saying that Christians should never use the language of "thin places." But, if we do, we should be prepared to refer to our workplaces as thin places, as places where God is present and active. We should adapt our expectations accordingly, so that we might experience our work as an occasion for deep communion with God as well as an opportunity to live our whole life for his purposes and glory.
QUESTIONS TO CONSIDER:
Are you familiar with the language of "thin place"? What, in your opinion, is helpful about this language? What is unhelpful?
Do you think of God as being present in your workplace? Why or why not?
How does God make his presence known to you? How does God's presence affect the way you work?
PRAYER:
Gracious God, thank you for so-called "thin places," for special places where our hearts can be still so that we're more attentive to you. Thank you also for being fully present in places that don't seem so thin, in our offices and workshops, in our board meetings and classrooms, in our stores and warehouses.
Help us, Lord, to be aware of your presence wherever we work. May we experience communion with you at all times. May we be available to you, to offer our whole lives as living sacrifices. Be glorified in us, Lord, in all we do, including our work. Amen.
This post originally published on November 6, 2015.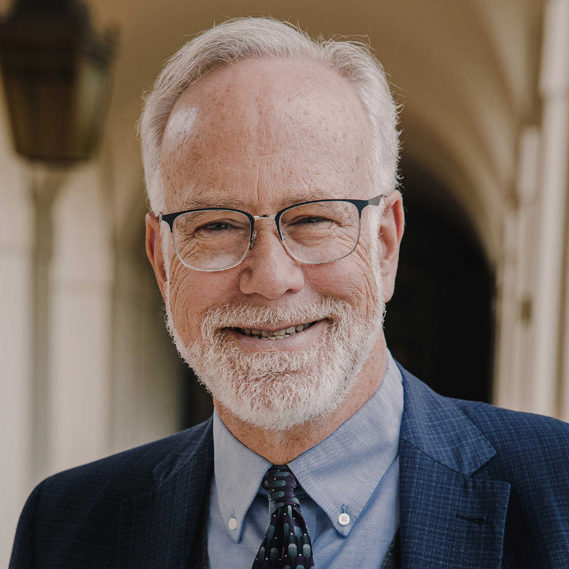 Dr. Mark D. Roberts is a Senior Strategist for Fuller's Max De Pree Center for Leadership, where he focuses on the spiritual development and thriving of leaders. He is the principal writer of the daily devotional, Life for Leaders, and the founder of the De Pree Center's Flourishing in the Third Third of Life Initiative. Previously, Mark was the Executive Director of the De Pree Center, the lead pastor of a church in Southern California, and the Senior Director of Laity Lodge in Texas. He has written eight books, dozens of articles, and over 2,500 devotions that help people discover the difference God makes in their daily life and leadership. With a Ph.D. in New Testament from Harvard, Mark teaches at Fuller Seminary, most recently in his D.Min. cohort on "Faith, Work, Economics, and Vocation." Mark is married to Linda, a marriage and family counselor, spiritual director, and executive coach. Their two grown children are educators on the high school and college level.