In the beginning when God created the heavens and the earth . . . And the man and his wife were both naked, and were not ashamed."
Today I begin a few days of concluding reflections on Genesis 1-2. As I sit back and consider what speaks incisively to me from these chapters, I'm reminded of the first sentence in Rick Warren's bestseller, The Purpose Driven Life: "It's not about you." He explains, "The purpose of your life is far greater than your own personal fulfillment, your peace of mind, or even your happiness. It's far greater than your family, your career, or even your wildest dreams and ambitions. If you want to know why you were placed on this planet, you must begin with God. You were born by his purpose and for his purpose."
The story of creation in Genesis 1-2 underscores Rick's point. As I observed in a previous Life for Leaders edition, "[A]t its core, the Bible is a story, a story of God, the story of God." God is both the author and the main character in this story, including Genesis 1-2. So, to add to Rick's insight, I might say, "It's not about you. It's about God."
I'm impressed that Rick began The Purpose Driven Life with such a blunt, in-your-face statement. He rightly confronts the tendency in our culture, not to mention our souls, to make it all about us. We are encouraged to be the center of the universe, the author and star of the only story that matters, our story. We are to believe in ourselves and to follow our passions. Rick's opener jars us into rethinking what life, including our own life, is really all about.
Yet, we might want to amend Rick's opening line a bit. According to Genesis 1-2, it is about you, in a way. It is about you, me, and the rest of us because God chooses to include humanity in his narrative. He writes us into his story. By God's design, we are supporting actors in the drama in which he plays the lead. God is the undisputed sovereign of the universe. Yet he chooses to give human beings both freedom and authority under his ultimate lordship. We are to use this freedom and authority to fill, till, and steward well the world God created. Thus, it is about us, partly. Our lives, choices, loves, and work matter in the cosmos because that's how God set it up in the first place.
One of the first and most important things we learn from Genesis 1-2 is that God is the unique creator, the source of all that is, the sole author and protagonist of his story. When we recognize that this story is not mainly about us, we are able to grasp ways in which it is, to an extent, about us. When we acknowledge God's central and sovereign role, then we are ready to play the role he has assigned to us, for his purposes and glory.
QUESTIONS TO CONSIDER:
How do you respond to the statement "It's not about you"? Does this offend you? Encourage you? Challenge you?
How can we embrace our value in the cosmos without putting ourselves in the central place that belongs to God alone?
PRAYER:
Gracious God, in a culture that urges me to be the measure of all things, thank you for the reminder that it's not about me. It is about you, Lord. Life is your story. Everything exists for your purposes, including me.
Yet, you have chosen to include me in your story. Thus, while it's not about me primarily, portions of the story are about me, my life, my work, my calling, my contributions. This is true, not because of anything wonderful in me, but because of the wonder of your grace and sovereignty.
Help me, Lord, to live your story today. As I do, thank you for including me in your grand work in this world. Thank you for the fact that I matter. Amen.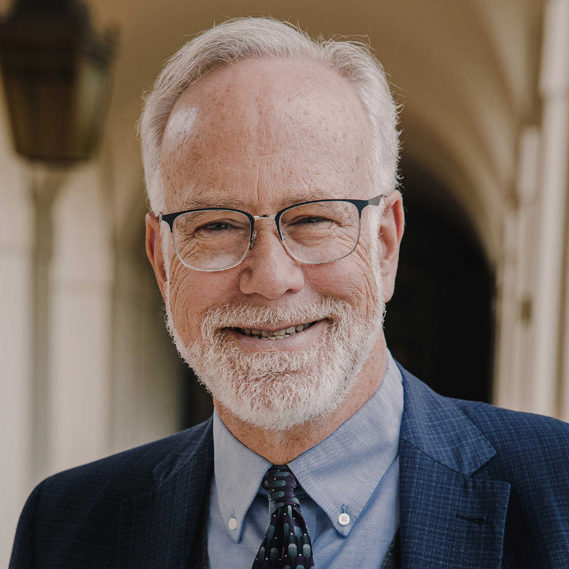 Dr. Mark D. Roberts is a Senior Strategist for Fuller's Max De Pree Center for Leadership, where he focuses on the spiritual development and thriving of leaders. He is the principal writer of the daily devotional, Life for Leaders, and the founder of the De Pree Center's Flourishing in the Third Third of Life Initiative. Previously, Mark was the Executive Director of the De Pree Center, the lead pastor of a church in Southern California, and the Senior Director of Laity Lodge in Texas. He has written eight books, dozens of articles, and over 2,500 devotions that help people discover the difference God makes in their daily life and leadership. With a Ph.D. in New Testament from Harvard, Mark teaches at Fuller Seminary, most recently in his D.Min. cohort on "Faith, Work, Economics, and Vocation." Mark is married to Linda, a marriage and family counselor, spiritual director, and executive coach. Their two grown children are educators on the high school and college level.