On the next day, when they had come down from the mountain, a great crowd met him. Just then a man from the crowd shouted, "Teacher, I beg you to look at my son; he is my only child. Suddenly a spirit seizes him, and all at once he shrieks. It convulses him until he foams at the mouth; it mauls him and will scarcely leave him. I begged your disciples to cast it out, but they could not." Jesus answered, "You faithless and perverse generation, how much longer must I be with you and bear with you? Bring your son here."
Focus
Jesus is with us in good times and bad times, when we're rejoicing and when we're sad. Jesus understands because he was fully human in addition to being fully God. The divine Son became human, not only that he might empathize with our sorrows, but also so that he might save us from sin, suffering, and death. When we struggle, when we hurt, when we feel afraid, Jesus is with us to comfort us, strengthen us, and to save us.
Today's devotion is part of the series Following Jesus Today.
Devotion
In yesterday's Life for Leaders devotion I began reflecting on a scene from Luke 9. I'd like to consider this scene a bit more today. Jesus had recently come down from the mountain where he had been transfigured, revealing his heavenly glory and receiving strong verbal affirmation from his Heavenly Father. But then he confronted the annoying reality of demonic bondage and human unfaithfulness. In frustration he said, "You faithless and perverse generation, how much longer must I be with you and bear with you? Bring your son here" (Luke 9:41). Notice that Jesus didn't let his frustration keep him from rebuking the unclean spirit and healing the boy, giving him back to his father whole. Feeling frustrated is not a sin, though it can lead to sin. This was not the case for Jesus, who acted in loving compassion for the father and his son.
I find this story strangely comforting, in that I have often felt something like Jesus must have felt. Many times in my professional life, for example, a sublime experience of God's presence was followed by something painfully down to earth. I remember, for example, one Christmas when I was pastor of Irvine Presbyterian Church. Our Christmas Eve services that year were especially glorious. (Today's photo shows one of our Christmas Eve services.) We were in our new sanctuary, which was both visually stunning and wonderfully supportive of choral and congregational singing. I was struck more than ever by the reality of Christ's birth as we sang "Joy to the World."
Then, the day after Christmas, a different kind of reality hit me like a ton of bricks. A dear woman from my church called me at home. "Mark," she said, "my husband died today." I was dumbfounded. At first I didn't even know what to say. Partly, I was exhausted from four Christmas Eve services. Partly, I couldn't imagine that this woman's husband, a young, healthy man, was dead. When I finally found my words, I shared my shock and sadness. When I asked the woman what had happened, she explained that her husband had become ill with the flu a few days before Christmas. Then on December 26th his fever spiked, and before she was able to get him to the hospital, he died. My grief for this woman, whose wedding I had performed only a couple of years earlier, was profound. My Christmas reverie was devastated by the reality of death, loss, and sadness. Of course, what this woman experienced was far more terrible and tragic.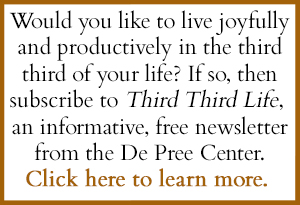 I find it comforting that Jesus knows what it's like to go from heavenly glory to earthly pain and frustration. It makes such a difference that Jesus "will all our sorrows share," in the phrasing of the hymn "What a Friend We Have in Jesus." But, even more astoundingly, Jesus chose to live with us, in our pain, loss, confusion, and limitations. Philippians 2:6-8 reminds us that Christ surrendered his divine privilege in order to become human, humbling himself even to the point of death. Though he still participated in divine reality, he chose to live in the messiness and suffering of fallen human life. Jesus joined our reality so that we might join his reality. Or, as it says in 2 Corinthians 5:21, "For our sake [God] made [Christ] to be sin who knew no sin, so that in him we might become the righteousness of God." How amazing!
If you're on a mountaintop today, celebrating God's blessings in your life, Jesus is with you. And if you're in the darkest valley, confronting the harsh reality of human life, Jesus is with you. Not only does he understand, but also he took on this reality so he might set us free from bondage to sin, suffering, and death. No matter what you're facing today, let me urge you to take this good news to heart.
Reflect
Can you remember a time when you were facing something very difficult and you sensed God's presence with you? What happened? What helped you to know that God was there with you?
Are you dealing with something right now that is distressing and/or painful? Given the impact of the pandemic on our lives, it's likely that you are, at least in some way. Do you sense the presence of Jesus with you now? If not, are you willing to ask him to make himself known to you in this time?
Act
Take some time to think or to write in your journal about how you experience the presence of Jesus in your life.
Pray
What a friend we have in Jesus,
all our sins and griefs to bear!
What a privilege to carry
everything to God in prayer!
O what peace we often forfeit,
O what needless pain we bear,
all because we do not carry
everything to God in prayer!
Have we trials and temptations?
Is there trouble anywhere?
We should never be discouraged;
take it to the Lord in prayer!
Can we find a friend so faithful
who will all our sorrows share?
Jesus knows our every weakness;
take it to the Lord in prayer!
Are we weak and heavy laden,
cumbered with a load of care?
Precious Savior, still our refuge—
take it to the Lord in prayer!
Do your friends despise, forsake you?
Take it to the Lord in prayer!
In his arms he'll take and shield you;
you will find a solace there. Amen.
"What a Friend We Have in Jesus" by Joseph Scriven. Public domain.
---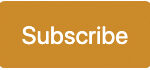 Sign up to receive a Life for Leaders devotional each day in your inbox. It's free to subscribe and you can unsubscribe at any time.
Find all Life for Leaders devotions here. Explore what the Bible has to say about work at the unique website of our partners, the Theology of Work Project. Commentary on today's Life for Leaders theme can be found here: Reconciling the Whole World (2 Corinthians 5:16–21)

---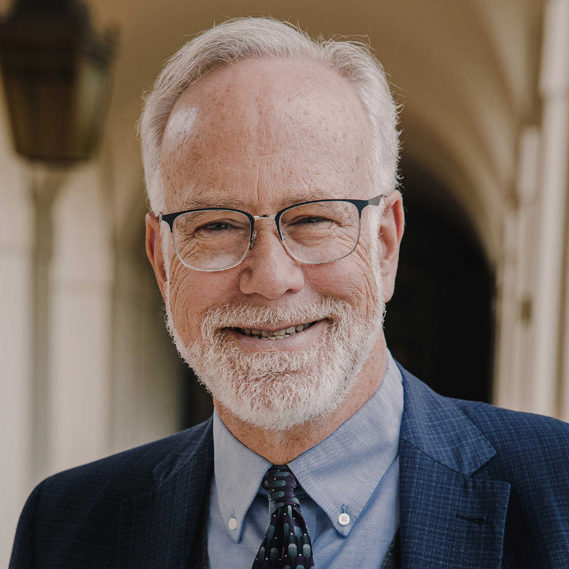 Dr. Mark D. Roberts is a Senior Strategist for Fuller's Max De Pree Center for Leadership, where he focuses on the spiritual development and thriving of leaders. He is the principal writer of the daily devotional, Life for Leaders, and the founder of the De Pree Center's Flourishing in the Third Third of Life Initiative. Previously, Mark was the Executive Director of the De Pree Center, the lead pastor of a church in Southern California, and the Senior Director of Laity Lodge in Texas. He has written eight books, dozens of articles, and over 2,500 devotions that help people discover the difference God makes in their daily life and leadership. With a Ph.D. in New Testament from Harvard, Mark teaches at Fuller Seminary, most recently in his D.Min. cohort on "Faith, Work, Economics, and Vocation." Mark is married to Linda, a marriage and family counselor, spiritual director, and executive coach. Their two grown children are educators on the high school and college level.