You shall not withhold the wages of poor and needy laborers, whether other Israelites or aliens who reside in your land in one of your towns. You shall pay them their wages daily before sunset, because they are poor and their livelihood depends on them; otherwise they might cry to the LORD against you, and you would incur guilt."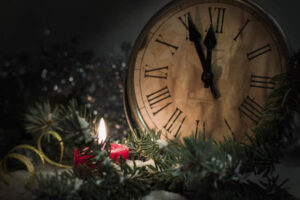 In yesterday's devotion, we saw that Ebenezer Scrooge was transformed from someone who treated his worker, Bob Cratchit, poorly, to a boss who paid just wages. Seeking justice in the workplace is an essential element of keeping Christmas well, both in Dickens' A Christmas Carol and in the Scripture. Yet, there is more to keeping Christmas well for those of us who are in a position of leadership in our workplaces.
Before his transformation, Scrooge cared little about Bob Cratchit the man: a husband, father, and human being. Scrooge saw Bob only in terms of his usefulness at work. His perspective began to change, however, through what he saw on his excursions with the ghostly visitors. Scrooge watched the Cratchit family as they loved each other in spite of their poverty. He saw them drink a toast even to him, in spite of Mrs. Cratchit's objections. Most of all, Scrooge saw Tiny Tim in his sweetness and his physical limitations. All of this contributed to Scrooge's change of heart.
Thus, in the final stave of A Christmas Carol, Scrooge did more than raise Bob's salary. In his own words, Scrooge said: "I'll raise your salary, and endeavour to assist your struggling family, and we will discuss your affairs this very afternoon, over a Christmas bowl of smoking bishop." (Smoking bishop is a kind of mulled wine, by the way.) Scrooge didn't just promise to help Bob's family. Rather, "Scrooge was better than his word. He did it all, and infinitely more; and to Tiny Tim, who did NOT die, he was a second father."
We will keep Christmas well when we see the people we work with as people, not just workers. This is especially true for those of us who have management responsibility. I'm not saying that we need to get deeply involved in the family life of all who report to us. I am saying that we will see them differently, and therefore treat them differently.
I am reminded of a story in Max De Pree's classic book, Leadership Is an Art. Max's father, D.J. De Pree, was managing a furniture company when one of his employees died. This man had been a millwright at the factory. D.J. went to call on the man's family after his death. During his visit, the millwright's widow read some of her husband's poetry to D. J. He was struck by the unexpected giftedness of the man he had known mainly as a millwright. This experience transformed D.J.'s understanding of how to think about the people whom he employed. He embraced a new commitment to seeing his employees, first and foremost, as full, gifted human beings. Reflecting on his father's experience, Max writes, "In our effort to understand corporate life, what is it we should learn from this story? In addition to all of the ratios and goals and parameters and bottom lines, it is fundamental that leaders endorse a concept of persons" (Leadership Is an Art, p. 8).
The incarnation of the Word of God, which we celebrate at Christmas, reminds us of the sacredness of human life. Each human being is special to God. Each human being is far more than just a cog in a workplace machine. Therefore, we will keep Christmas well when we care about the whole person of each one who works for us or alongside us.
QUESTIONS TO CONSIDER:
Have you had a similar experience like D. J. De Pree did after the millwright died? Has there ever been a time in your life when you came to see someone in your workplace with new eyes?
How can we care for people whom we manage as people? If you are a supervisor at work, what things do you do – or might you do – to demonstrate care for those who report to you?
PRAYER:
Gracious God, today we want to thank you for those with whom we work. Thank you, Lord, for our colleagues, from those who report to us, for those to whom we report. Thank you for the chance to work together, and in the process to care for each other as human beings.
Help those of us who manage people to find wise and appropriate ways to care for the wholeness of the persons who work for us. May our efforts as supervisors reflect the sacredness of each life entrusted to our care. Amen.
P.S. You can watch a brief video of D.J. De Pree expressing in his own words how he came to see employees as whole people here. (Click on The Millwright Poet video link in the right-hand column.)