How lonely sits the city
+++that once was full of people!
How like a widow she has become,
+++she that was great among the nations!
She that was a princess among the provinces
+++has become a vassal.
She weeps bitterly in the night,
+++with tears on her cheeks;
among all her lovers
+++she has no one to comfort her;
all her friends have dealt treacherously with her,
+++they have become her enemies.
Focus
The Old Testament book of Lamentations invites us to pay attention to the grief of others, to open our hearts to those who suffer. It also summons us to attend to our own sorrows and to express them freely in prayer. God wants to hear what is real in our lives, including our struggles and disappointments. The book of Lamentations deepens our experience of Lent by encouraging us to grow in the freedom to share all that we are with God.
Today's devotion is part of the series Lamentations in Lent.
Devotion
How do you respond when you see someone grieving? How do you react when you hear someone crying out to God in pain?
I respond in various and often contradictory ways to the grief of others. On the one hand, when someone is weeping, part of me wants to turn away, to allow that mourner to grieve in private. On the other hand, I can find myself strangely curious. For example, when the evening news televises an interview with a mother of a young man who was killed because of racial hatred, part of me wants to denounce the media for intruding into the private life of a devastated family. Yet, at the same time, I watch with curiosity. It's not that I want to see people in pain. But there is something in me that connects with them, something that aches to feel along with them.
The biblical book of Lamentations invites us to eavesdrop on the grief of others. This book is filled with more pain and sorrow per chapter than any other book of the Bible. Many of the laments express the sorrow of a nation and a city. They are the corporate response of God's people to the conquering of Judah and the destruction of Jerusalem by Babylon in 587 BC. Lamentations 3 features the sorrow of an unknown individual, as this person takes personally what happened to the nation. (Authorship of Lamentations has sometimes been attributed to the prophet Jeremiah, though the book is actually anonymous, with little indication of the actual author.)
The word "lamentation," by the way, means "a passionate expression of grief or sorrow, weeping" (Oxford Dictionary of English, 2010). It comes from the Latin word lamenta, which has this same meaning. The Latin Bible called this biblical book lamenta for reasons that will soon become obvious. It is filled with laments, that is, with cries of pain and anguish, with sorrow and weeping, all directed at God.
The fact that Lamentations appears in the canon of holy Scripture means that God wants us to take it seriously. This is not a time to turn our heads away from those who mourn. Rather, we are to pay close attention to their experiences, words, and feelings. We are to enter into their distress and join them in wrestling with the theological implications of suffering. Perhaps it would be more accurate to say that we're to join them in wrestling with the God who allows and, according to Lamentations, who sometimes causes suffering.
Lamentations invites us to attend and join in the grieving of others. In a day when so many people in our world are suffering, whether as victims of war or oppression, of racial injustice or disease, of hunger or loneliness, we need to learn how to lament with and for them.
Yet, Lamentations isn't only a summons to share in the grief of others. It is also an invitation for us to get in touch with the pains and uncertainties in our own lives. Lamentations is not a book of comfort. It doesn't offer "chicken soup for the soul." If anything, it stirs up difficult feelings and challenging thoughts. Yet, these are feelings and thoughts God wants us to embrace. The example of Lamentations teaches us to experience new freedom as we share with God everything in our lives, including the sorrows that can feel unutterable.
A study of Lamentations is particularly fitting for Lent for several reasons. The poetic prayers of this book illustrate graphically the reality that we are from dust, and to dust we will return, a fundamental Ash Wednesday and Lenten theme. Lamentations helps us grapple with the brokenness of the world as well as our own personal brokenness. It encourages us to bring our whole selves before God, the good, the bad, and the ugly (not that God sees us as ugly, mind you, but that's how we can feel about ourselves). Lamentations also gives us words to pray as we come to Holy Week, including a verse that is often used in worship services on Good Friday.
Because our Lord is one who was acquainted with grief, because he knew what it was like to cry out to God in pain, "Why?", because he had compassion for those who suffer, a Lenten study of Lamentations helps us draw near to Jesus. It weakens our pretense of self-sufficiency and reminds us of just how much we need a Savior, one whose steadfast love for us never ceases.
So, I invite you to join me in this three-week devotional study of Lamentations. As you do, I pray that God's grace will touch you in new ways. Perhaps you'll be able to exercise new empathy for those who suffer. Perhaps you'll find new freedom to talk with God about the pain in your own life. Perhaps you'll feel a new closeness with Jesus as he approaches the cross. No matter what God has in store for you, let me encourage you to be open and willing.
Reflect
How do you respond when you observe someone grieving?
How free are you to express your lamentations to God? Why do you think this is the case?
When you read that we're going to do a three-week study of Lamentations, how do you respond? Are you intrigued? Eager? Reticent? Disappointed? Or???  Why do you respond this way?
Act
The book of Lamentations has five chapters. If you are able, read the whole book through once. If you don't have time for this, at least try to read the first chapter.
Pray
Gracious God, to be honest – and it's always a good idea to be honest with you – there is part of me that's not thrilled about doing a devotional study of Lamentations. A big part of me would prefer something like Philippians, a book filled with joy. But Lamentations is in the Bible, your inspired Word, your Word for your people, your Word for me. So, I trust that you want to speak to me as I work through this book. Give me ears to hear you, Lord, and a heart open to your Spirit.
Help me, I pray, to attend, not only to the book of Lamentations, but also to the grief and laments of others. May I not close my heart to those who are in pain. Rather, my I feel genuine empathy and join them in their cries to you for justice and deliverance.
As I open my heart to the grief of others, may I also be set free to share with you all that's in my heart. If I have been holding back in my own lamentation, help me, gracious God, to discover new freedom in my prayers.
Finally, I ask that this devotional series help prepare me – and all the readers of Life for Leaders – for a truer, deeper, and more transformational experience of Holy Week, Good Friday, and Easter. Amen.
Find all Life for Leaders devotions here. Explore what the Bible has to say about work at the unique website of our partners, the Theology of Work Project. Commentary on today's Life for Leaders theme can be found here: Jeremiah the Poet at Work: Lamentations

---
Subscribe to Life for Leaders
Sign up to receive a Life for Leaders devotional each day in your inbox. It's free to subscribe and you can unsubscribe at any time.
---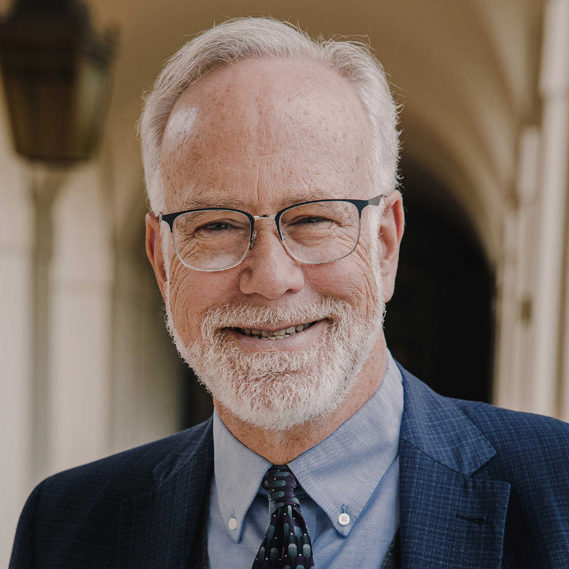 Dr. Mark D. Roberts is a Senior Strategist for Fuller's Max De Pree Center for Leadership, where he focuses on the spiritual development and thriving of leaders. He is the principal writer of the daily devotional, Life for Leaders, and the founder of the De Pree Center's Flourishing in the Third Third of Life Initiative. Previously, Mark was the Executive Director of the De Pree Center, the lead pastor of a church in Southern California, and the Senior Director of Laity Lodge in Texas. He has written eight books, dozens of articles, and over 2,500 devotions that help people discover the difference God makes in their daily life and leadership. With a Ph.D. in New Testament from Harvard, Mark teaches at Fuller Seminary, most recently in his D.Min. cohort on "Faith, Work, Economics, and Vocation." Mark is married to Linda, a marriage and family counselor, spiritual director, and executive coach. Their two grown children are educators on the high school and college level.