To each is given the manifestation of the Spirit for the common good. To one is given through the Spirit the utterance of wisdom, and to another the utterance of knowledge according to the same Spirit, to another faith by the same Spirit, . . . to another prophecy, to another the discernment of spirits. . .
Today is the fifth installment in a series of devotions I'm calling Leading in a Crisis: The Difference God Makes. In yesterday's Life for Leaders devotion, we considered the example of the Jerusalem Council in the Book of Acts, noting how, in a time of crisis, leaders of the early church did not lead alone, but rather worked together to come up with the best solution to their crisis. Today, I want to reinforce that lesson theologically and then illustrate it with an example from my own experience as a leader.
In the Old Testament, God's Spirit was given mainly to kings, prophets, and priests. Though royal leaders were inspired to make decisions by themselves, they sometimes consulted with trusted advisors (2 Kings 2:14-20). Even kings could choose to follow the wisdom of Proverbs 15:22, "Without counsel, plans go wrong, but with many advisers they succeed."
In the New Testament era, the Holy Spirit was given to every Christian and not just to church leaders. As Paul wrote to the Corinthians, "To each is given the manifestation of the Spirit for the common good" (1 Corinthians 12:7).  These manifestations included gifts to help the church make wise decisions: "To one is given through the Spirit the utterance of wisdom, and to another the utterance of knowledge according to the same Spirit, to another faith by the same Spirit, . . . to another prophecy, to another discernment of spirits" (1 Corinthians 12:8-10). Those who exercised leadership had divine resources to help them through the gifts of the Spirit given to the community.
Thus, Christians who lead, whether in church or family, business or school, government or non-profit, should regularly consult with, and if appropriate share decision-making with, their brothers and sisters in Christ. As I have written before, one of the major differences God makes for leaders in times of crisis is the opportunity not to be alone. When we find ourselves leading in difficult times, we need the wisdom, perspective, expertise, and support of others.
I learned this lesson many times while senior pastor of a church in Southern California. One experience stands out in my memory. The church was involved in a real estate transaction and my signature as pastor was needed on several key documents. We were facing a rapidly approaching deadline when I finally got the documents to sign. As I read through them, I saw something that worried me. There was a statement on one document that wasn't actually true. Yet I was supposed to sign as if it were true. I called the real estate person who had prepared the documents and he assured me that it was no big deal. He said things like, "Everybody signs this stuff all the time" and "We all know what's really true." When I said I was still uncomfortable signing the document, he told me that if I failed to sign the church would blow the deal and lose a significant down payment. "Just sign it," he advised. "It will be fine. You really don't have any other options."
But I wasn't fine with this advice. I believed strongly that I should not sign something that wasn't true, even if "everybody does it." Yet I didn't want to hurt the church financially. I was deeply distressed. I felt both desperate and desperately alone. This wasn't a life or death crisis, but it was surely a personal crisis for me and my leadership.
As I prayed for wisdom, all of a sudden an idea came to me. I believe it was a gift from the Holy Spirit. "I should call Gary," I thought. Gary was an elder in the church and a wise attorney. He'd be able to help me make the right decision. So I called Gary and explained the situation to him. Sensing how upset I was, Gary began, "Mark, don't worry. You don't have to carry this by yourself." How relieved I was to hear that! "You're absolutely right not to sign something that isn't true," he said. "Stay with that conviction. Stuff like this comes up all the time in legal matters. I'm sure there's a way to figure it out. Please let me handle it for you. Give me the number of the other guy and I'll see what I can do." So I gave Gary the number and thanked him profusely. Then I thanked the Lord for the fact that I did not have to make that decision alone.
Later, Gary called back. He had figured out a way to move forward with the transaction that did not require me to sign anything untrue. "The guy will send over the new docs," Gary explained. "You can check them, but they're all fine now. Everything you sign will be true." Again, I thanked Gary for his invaluable help. And, again, I thanked God for his help through Gary.
Of course difficult leadership crises won't always end on such a happy note. Even as I write this, leaders are making decisions that will have negative consequences for many, at least in the short term. My nephew was supposed to get married in a few days in an area of California where people are now required to shelter in place. There will be no wedding for many months now because of decisions made by state and county leaders in California. I should say that my nephew and his fiancée, though understandably disappointed, are supporting the decisions of their government leaders. I simply want to acknowledge that sometimes the decisions we make as leaders will cause disappointment and pain, even if we make the right decisions in fellowship with others.
The point remains, however, that God makes a difference for our leadership—in  ordinary times and especially in times of crisis—by giving us advisors, counselors, and friends who can help us with the tough decisions we have to make. So, as you take on these challenges, don't do it alone.
Something to Think About:
Can you think of a time in your life when you felt very alone in your leadership? What was happening at that time? What did you feel? What did you do?
Who are the people in your life – at work, at home, in your family, in church, etc. – to whom you turn when you need wisdom?
Are you facing a difficult decision right now that you are carrying by yourself? Is there someone who could serve as a trustworthy counselor?
Something to Do:
If you answered "Yes" to the last question, why don't you reach out to that person now? Don't isolate yourself from someone (or several people) who can be a partner in discernment.
Prayer:
Gracious God, thank you for joining us together as the body of Christ, and for giving us your Spirit. Thank you for sisters and brothers who can stand with us in hard times, who can help us make wise decisions even in a crisis.
Help me, Lord, to reach out when I need support. Give me the humility to seek guidance from others. And, may I be a wise counselor to others in their time of need.
Above all, Lord, thank you that we are not alone in our leadership because you are always with us! Amen.
Free Subscription to Life for Leaders
If you would like to receive a Life for Leaders devotional like this one, each day, in your inbox, without cost, please subscribe to Life for Leaders. You can unsubscribe at any time.
Learn More About Life for Leaders
You can access all of our Life for Leaders devotions HERE. You can also learn more about the De Pree Center and its resources HERE.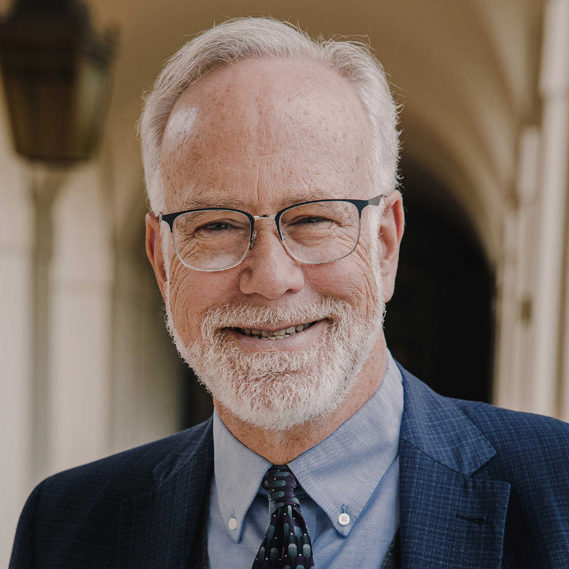 Dr. Mark D. Roberts is a Senior Strategist for Fuller's Max De Pree Center for Leadership, where he focuses on the spiritual development and thriving of leaders. He is the principal writer of the daily devotional, Life for Leaders, and the founder of the De Pree Center's Flourishing in the Third Third of Life Initiative. Previously, Mark was the Executive Director of the De Pree Center, the lead pastor of a church in Southern California, and the Senior Director of Laity Lodge in Texas. He has written eight books, dozens of articles, and over 2,500 devotions that help people discover the difference God makes in their daily life and leadership. With a Ph.D. in New Testament from Harvard, Mark teaches at Fuller Seminary, most recently in his D.Min. cohort on "Faith, Work, Economics, and Vocation." Mark is married to Linda, a marriage and family counselor, spiritual director, and executive coach. Their two grown children are educators on the high school and college level.