Come, behold the works of the LORD;
see what desolations he has brought on the earth.
He makes wars cease to the end of the earth;
he breaks the bow, and shatters the spear;
he burns the shields with fire.
Today's devotion in the eleventh part of a series entitled: Leading in a Crisis – The Difference God Makes. You can read the whole series here.
As we watch the spread of the novel coronavirus, we worry about what might happen to our families and friends, our workplaces and churches, our cities and countries. We fear the desolations that might come as this virus continues to infect thousands and effectively shuts down our world.
In Psalm 46, God visits desolations on the earth, desolations of a most astounding and shocking kind. God's desolations fill us, not with fear, but with hope.
We began this Life for Leaders series, "Leading in a Crisis: The Difference God Makes" by examining the first verses of Psalm 46: "God is our refuge and strength . . . . Therefore we will not fear" (46:1-2). Today and tomorrow, we will return to Psalm 46 as we finish this series. This beloved psalm has so much to say to us in this moment of history, given all we are facing together. It speaks to all people, and in a special way to those of us called to leadership in work, church, community, and family.
Verse 8 of Psalm 46 extends this invitation: "Come, behold the works of the LORD; see what desolations he has brought on the earth." We are to examine, not just God's works, but also his desolations. This sounds rather unsettling, doesn't it? We'd rather focus on God's healings and blessings, not on his desolations. We understandably wonder what these desolations include. Perhaps God's judgments on those who disobey him? His punishments for sin? A giant flood? Or . . . ?
The word translated in verse 8 as "desolation," shamma in Hebrew, can mean "waste, desolation, horrific or atrocious event." In Isaiah 64:10, for example, we read: "Your holy cities have become a wilderness, Zion has become a wilderness, Jerusalem a desolation [shemama, a version of shamma]." Jeremiah 5:30 uses shamma with emphasis on how it makes us feel to see such devastation, "An appalling [shamma] and horrible thing has happened in the land." So talk of God's desolations rightly makes us distressed, at first. We might even be horrified.
But then we continue on in Psalm 46 to see just what devastations the psalm writer has in mind: "[The LORD] makes wars cease to the end of the earth; he breaks the bow, and shatters the spear; he burns the shields with fire" (Psalm 46:9). The things that usually bring devastation to the earth – war and its weapons – are the things devastated by the hand of God. We might say that God desolates the desolations. God destroys destruction and wages war on warfare, thus bringing God's true peace to the whole earth.
Behind Psalm 46 lies a vision of God's coming kingdom, a day when peace and justice will fill the earth (Isaiah 9:7, for example). In that day, human violence will cease. Under God's reign, people "shall beat their swords into plowshares, and their spears into pruning hooks" (Isaiah 2:4). Deathly weapons will become tools for life-promoting food production. Moreover, human beings will be healed of "all" our diseases (Psalm 103:3). As we read in the prophet Malachi, "But for you who revere my name the sun of righteousness shall rise, with healing in its wings. You shall go out leaping like calves from the stall" (Malachi 4:2).
Thus, Psalm 46 reminds us that disease, including the COVID-19 pandemic, is not what God ultimately intends for our world. The future peace of God includes both health and flourishing. We who lead should at all times be strengthened and moved by a vision of God's kingdom. During a crisis, we need this vision even more than usual because it's so easy to become focused only on our challenges, disappointments, griefs, and fears. We can lose sight of what God is doing and will do in the world. Yet, when we keep this vision in mind and heart, when it animates our leadership, then we'll be able to lead both wisely and resiliently.
Psalm 46 also reminds us that God is at work in the world right now. We can behold God's work—including his ironic desolations—not only in our vision of the future, but also in our current reality. In fact, God often uses what we perceive in the moment as desolations to advance his kingdom. In this time of history, it's hard to know exactly how God will use our current pandemic for good. Yet, we can be confident that the God who is with us now is also at work in us, through us, and around us. We hold tightly to the promise found in Romans 8:28: "And we know that in all things God works for the good of those who love him, who have been called according to his purpose" (NIV). "In all things" God is at work for good. With this confidence we lead, trusting that God is at work in us for his purposes and glory. As we read in Philippians, "[F]or it is God who is at work in you, enabling you both to will and to work for his good pleasure" (Philippians 2:13).
Something to Think About:
When you think of observing God's works, what comes to mind for you? What works of God do you tend to envision?
Have you experienced God at work in your life in hard and difficult things? Can you think of a time–or many times–when God worked redemptively in a situation that seemed to be hopeless?
How might the vision of God's peaceful kingdom make a difference in your daily work right now?
Something to Do:
Set aside some time to think about how God has worked through hard things in your life, bringing good both for you and for his kingdom. As you think of these occasions, thank God for his grace and goodness. Let these memories give you confidence in God's sovereignty today.
Prayer:
Gracious God, how amazing you are! You do indeed bring "desolations" on the earth, desolating violence and warfare as you wage peace. You give us confident hope in your coming kingdom and allow us to experience even now evidence of your redemptive power. Thank you, Lord!
May our leadership be inspired by a vision of your future, Lord. In a world so torn by violence, injustice, and disease, may we keep before us the confident hope of your future.
O Lord, even in the "desolations" of this moment, be at work, in our world, in your church, in our work, and in us. Amen.
Free Subscription to Life for Leaders
If you would like to receive a Life for Leaders devotional like this one, each day, in your inbox, without cost, please subscribe to Life for Leaders. You can unsubscribe at any time.
Learn More About Life for Leaders
You can access all of our Life for Leaders devotions HERE. You can also learn more about the De Pree Center and its resources HERE.
---
Click on button(s) below to find other articles like this one: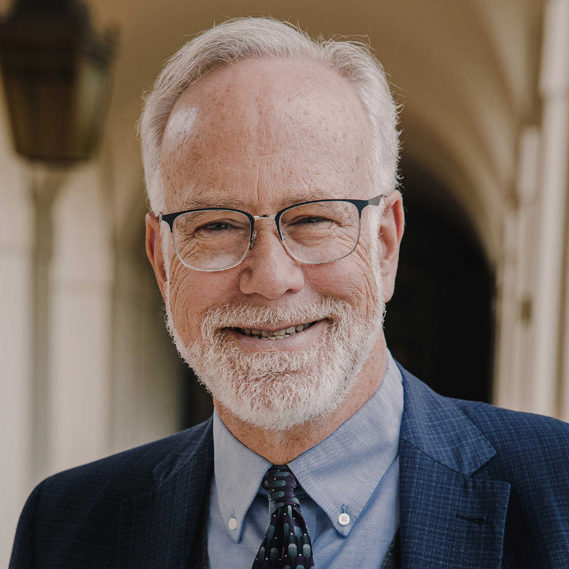 Dr. Mark D. Roberts is a Senior Strategist for Fuller's Max De Pree Center for Leadership, where he focuses on the spiritual development and thriving of leaders. He is the principal writer of the daily devotional, Life for Leaders, and the founder of the De Pree Center's Flourishing in the Third Third of Life Initiative. Previously, Mark was the Executive Director of the De Pree Center, the lead pastor of a church in Southern California, and the Senior Director of Laity Lodge in Texas. He has written eight books, dozens of articles, and over 2,500 devotions that help people discover the difference God makes in their daily life and leadership. With a Ph.D. in New Testament from Harvard, Mark teaches at Fuller Seminary, most recently in his D.Min. cohort on "Faith, Work, Economics, and Vocation." Mark is married to Linda, a marriage and family counselor, spiritual director, and executive coach. Their two grown children are educators on the high school and college level.