The words of Nehemiah son of Hacaliah. In the month of Chislev, in the twentieth year, while I was in Susa the capital, one of my brothers, Hanani, came with certain men from Judah; and I asked them about the Jews that survived, those who had escaped the captivity, and about Jerusalem. They replied, "The survivors there in the province who escaped captivity are in great trouble and shame; the wall of Jerusalem is broken down, and its gates have been destroyed by fire." When I heard these words I sat down and wept, and mourned for days, fasting and praying before the God of heaven.
Today we conclude the second week of a devotional series I'm calling "Leading in a Crisis: The Difference God Makes." During this week we have been learning from one of the Old Testament's most effective leaders, a Jewish man named Nehemiah. We can observe his leadership through a memoir he wrote, which shows up in the Bible with the appropriate name, Nehemiah.
I have been studying Nehemiah's leadership for over 30 years. I began when writing a commentary on the books of Ezra, Nehemiah, and Esther (which, I'm surprised to see, you can still buy from Amazon, at a greatly discounted rate). I have continued to reflect on Nehemiah's examples as I have sought to lead in a variety of contexts (church, retreat center, digital media platform, seminary leadership center). But, until recently, I have not paid much attention to the way Nehemiah honors emotions, both his own and those of the people entrusted to his care, as an essential aspect of his leadership.
In Monday's Life for Leaders devotion, we focused on the first verses of Nehemiah's memoir. There, we saw that Nehemiah, serving in a Persian government post, received a dire report about the condition of Jerusalem and the situation of the Jewish people living near that city. This is how Nehemiah describes his response to that report: "When I heard these words I sat down and wept, and mourned for days, fasting and praying before the God of heaven" (Nehemiah 1:4). On Monday I reflected on the fact that Nehemiah was fully human as a leader, a person of strong emotions in addition to strategic brilliance and solid will.
Today, I want to think with you about the fact that Nehemiah was willing to write about his emotions so candidly. We live in a world where people are self-revealing—often to excess. But this was not the case in the ancient world. Most people, not to mention most leaders, did not write about their feelings, especially feelings like sadness. You won't find many first-person accounts from leaders in the Ancient Near East in which they admit to weeping and mourning for days.
Now, I'm not suggesting that we who lead should always bare our souls, putting our emotions in the center of our leadership. We mustn't make ourselves the main thing when we are leading others, especially in a crisis. Remember, it isn't about you! Rather, we need to focus on the situation that challenges us and especially the wellbeing of the people we lead. But we can contribute to their welfare if we wisely share our own emotions.
Again, I'd like to draw from the wisdom of crisis communication experts Peter Sandman and Jody Lanard. In "Crisis Communication I," a document found on the website of the Centers for Disease Control, they offer fourteen suggestions for leaders dealing with a public health crisis. Number 14 in their list reads: "Establish your own humanity. Professionals are understandably preoccupied with looking professional. But especially in a crisis, the best leaders reveal their humanity. Express your feelings about the crisis and show that you can bear them; that will help the rest of us bear our own feelings, and help us build a stronger alliance with you. Express your wishes and hopes as well. Tell a few stories about your past, your family, what you and your officemate said to each other this morning about the crisis." I'm struck by the encouragement here to express our feelings about the crisis "and show that [we] can bear them." We might say, for example, "Yes, I do feel afraid sometimes." But our demeanor and our decisions make it clear that we are not ruled by this fear.
The thought of letting those we lead know what we're feeling may not settle well with some of us. We've been taught that leaders need to appear impervious to human emotions. Plus, the idea of being vulnerable can be a scary one. I surely understand this, as one not innately comfortable with vulnerability. But I am persuaded, by the example of Nehemiah and other biblical leaders, and the counsel of Sandman and Lanard, that judicious, honest vulnerability can be helpful when we're seeking to lead in a crisis.
Leadership guru Patrick Lencioni urges leaders to risk vulnerability in order to build healthy, strong teams. In The Advantage: Why Organizational Health Trumps Everything Else, Lencioni writes, "The only way for the leader of a team to create a safe environment for his team members to be vulnerable is by stepping up and doing something that feels unsafe and uncomfortable first. By getting naked before anyone else, by taking the risk of making himself vulnerable with no guarantee that other members of the team will respond in kind, a leader demonstrates an extraordinary level of selflessness and dedication to the team." (p. 37). He adds, "At the heart of vulnerability lies the willingness of people to abandon their pride and their fear, to sacrifice their egos for the collective good of the team" (p. 27). Notice this isn't mainly about personal expression or freedom. It's about what's best for the team we lead.
Neither Lencioni, nor Sandman, nor Lanard, nor Nehemiah would tell you to simply "spill your guts." Nobody is envisioning unrestrained emotional displays or the sharing of feelings that ought to be kept private. But leaders who can acknowledge having truly human feelings will build trust among their followers. Moreover, if they can communicate emotions like fear in a way that shows they can bear them, as Sandman and Lanard advise, then their example will help others admit and wisely manage their own feelings as well.
Our relationship with God will help us be leaders who are unafraid to be fully human. If, like Nehemiah, we can come before God with open hearts, knowing that we are accepted and loved, then we will find freedom to be prudently vulnerable with others. We will do this, not for our own benefit. Rather, as Lencioni observes, we'll open our hearts "for the collective good of the team." And, I would add, for the good of all of those we serve through our leadership. If my team is working well together, for example, then we'll do a better job serving you.
Let me conclude this devotion by practicing what I preach. I'll share with you that I have been feeling quite unsettled by the COVID-19 crisis. Besides worrying about health risks for my family and friends, I've been trying to figure out how to be a wise leader for my team and for all of those we serve, including you. I feel out of my comfort zone, unsettled but not gripped by fear. However, just a few moments ago, I learned that someone I know has COVID-19. I have not been with this person, so I'm not worried that I might have caught the virus from her. But I do feel a mix of feelings right now, including fear and sadness. What will I do with these feelings besides acknowledging them? In a few moments, I'll take them to the Lord in prayer. I will renew my trust in God, even if it's a struggle. And I will ask God to use my feelings to motivate me to focus on my work, including both my leadership of my team and my effort to write devotions that are faithful to God and helpful to you. Lord, have mercy!
Indeed, he does. Thanks be to God!
Something to Think About:
Have you known leaders – either personally or through the media – who are able to share their feelings in a way that is helpful to those they lead? If so, what makes their way of communicating helpful?
How do you respond to suggestion #14 from Sandman and Lanard? Does this make sense to you? If so, why? If not, why not?
Can you think of other biblical examples, beside Nehemiah, of leaders who are open about their feelings for the sake of others?
Something to Do:
Think about whether there is an opportunity for you to share you emotions as you lead. As you think about this, you might want to talk with a trusted friend or advisor. If you decide that you do have such an opportunity, work on a plan for communicating your emotions openly and judiciously.
Prayer:
Gracious God, you have created us to be people of mind and heart, thinking and feeling, notions and emotions. Thank you for making us this way and for being present in every part of our lives.
As we lead, Lord, may we lead as whole people. Teach us how to share our emotions in a way that serves others. Keep us from using our leadership opportunities to advance our own egos or selfish agendas. Show us how to be vulnerable and when it is wise to be so.
May all I do as a leader be honoring to you and contributing to your kingdom purposes. Amen.
Excellent article on "Flourishing Amidst Coronavirus." So much wisdom here from Tyler VanderWeele, Director of the Human Flourishing Program at Harvard. He writes about: helping others, strengthening relationships, finding happiness, and facing suffering. I highly recommend this piece to you.
Free Subscription to Life for Leaders
If you would like to receive a Life for Leaders devotional like this one, each day, in your inbox, without cost, please subscribe to Life for Leaders. You can unsubscribe at any time.
Learn More About Life for Leaders
You can access all of our Life for Leaders devotions HERE. You can also learn more about the De Pree Center and its resources HERE.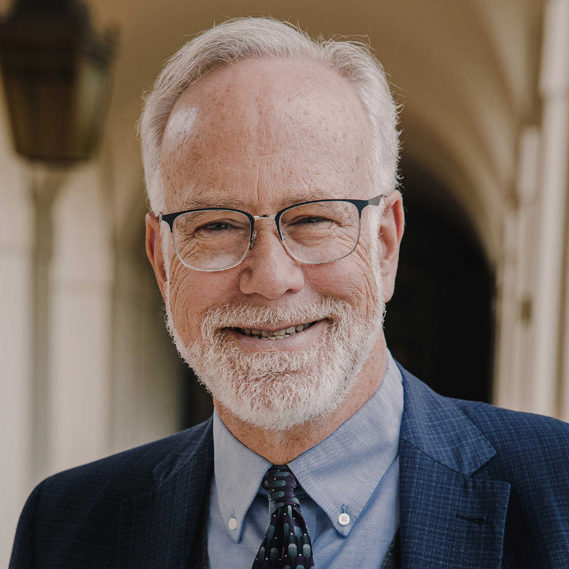 Dr. Mark D. Roberts is a Senior Strategist for Fuller's Max De Pree Center for Leadership, where he focuses on the spiritual development and thriving of leaders. He is the principal writer of the daily devotional, Life for Leaders, and the founder of the De Pree Center's Flourishing in the Third Third of Life Initiative. Previously, Mark was the Executive Director of the De Pree Center, the lead pastor of a church in Southern California, and the Senior Director of Laity Lodge in Texas. He has written eight books, dozens of articles, and over 2,500 devotions that help people discover the difference God makes in their daily life and leadership. With a Ph.D. in New Testament from Harvard, Mark teaches at Fuller Seminary, most recently in his D.Min. cohort on "Faith, Work, Economics, and Vocation." Mark is married to Linda, a marriage and family counselor, spiritual director, and executive coach. Their two grown children are educators on the high school and college level.