As God's chosen ones, holy and beloved, clothe yourselves with compassion, kindness, humility, meekness, and patience. Bear with one another and, if anyone has a complaint against another, forgive each other; just as the Lord has forgiven you, so you also must forgive. Above all, clothe yourselves with love, which binds everything together in perfect harmony. And let the peace of Christ rule in your hearts, to which indeed you were called in the one body. And be thankful. Let the word of Christ dwell in you richly; teach and admonish one another in all wisdom; and with gratitude in your hearts sing psalms, hymns, and spiritual songs to God. And whatever you do, in word or deed, do everything in the name of the Lord Jesus, giving thanks to God the Father through him.
Focus
Christ's death on the cross did more than provide an opportunity for individual salvation. It also paved the way for peace between divided and hostile peoples. The cross leads to reconciliation between humans and God and, crucially, between and among human beings. We who follow Jesus should let the cross-created peace of Jesus govern our actions. To this kind of peacemaking God calls us.
Today's devotion is part of the series Live Who You Are.
Devotion
One of God's greatest gifts is inner peace, especially in times of trial or suffering. Along with millions of other Christians, I can testify to times in my life when I was deeply troubled. As I turned to God in prayer, opening my heart honestly, I felt exquisite and unexpected peace. This experience mirrored the promise we find in Philippians 4:6-7, "Do not worry about anything, but in everything by prayer and supplication with thanksgiving let your requests be made known to God. And the peace of God, which surpasses all understanding, will guard your hearts and your minds in Christ Jesus." What a wonderful promise! Peace that surpasses understanding . . . what a wonderful gift!
At first glance, Colossians 3:15 seems to call us to that experience of inner peace: "And let the peace of Christ rule in your hearts, to which indeed you were called in the one body." But that second phrase makes me wonder: How is personal, inner peace something to which we are called "in the one body"? Is it possible that Colossians 3:15 is calling us to another kind of peace, one equally wonderful, but not limited to our souls?
Yes, I believe it is possible, and not only possible, but likely. Let me explain why. First of all, in Scripture, God's peace includes but is far more expansive than inner tranquility. It's also much more than the absence of conflict. Biblical peace—shalom in Old Testament Hebrew, eirene in New Testament Greek, is life being ordered according to God's masterplan. It is life as God intended from the beginning. Peace is deeply personal, to be sure, but also profoundly relational and social. As theologian Cornelius Plantinga observes, biblical peace is "the webbing together of God, humans, and all creation in justice, fulfillment, and delight." It is "a rich state of affairs in which natural needs are satisfied and natural gifts fruitfully employed." In a nutshell, according to Plantinga, peace is "the way things ought to be." So, biblical peace is about wholeness, flourishing, and the abundant life. (See Cornelius Plantinga Jr., Not the Way It's Supposed to Be: A Breviary of Sin, p. 10). This kind of peace is surely something to which we are "called in the one body." It's something we experience and contribute to as members of the body of Christ.
We see a profound discussion of this sort of peace in the second half of Ephesians 2. There, the death of Christ on the cross leads not only to personal salvation; it also brings about the ending of hostility between divided and hostile peoples. As we read in Ephesians 2:14-16:
For [Christ] is our peace; in his flesh he has made both groups [Jews and Gentiles] into one and has broken down the dividing wall, that is, the hostility between us. He has abolished the law with its commandments and ordinances, that he might create in himself one new humanity in place of the two, thus making peace, and might reconcile both groups to God in one body through the cross, thus putting to death that hostility through it.
The peace of Christ, forged in the cross, is about reconciled relationships: yes, the relationship between us and God, but also and essentially the relationships among people.
This suggests that the "peace of Christ" in Colossians 3:15 refers mainly to relationships among the believers in Colossae. But, we might wonder, what about the "rule in your hearts" phrase? Doesn't this point to the experience of inner peace? Not if we pay close attention to the meaning of the original language. Notice, for one thing, that Colossians does not say "Let the peace of Christ fill your hearts" or "Let the peace of Christ comfort your hearts" or something like this. Rather, it says, "Let the peace of Christ rule in your hearts." This is the language of sovereignty, of governance. The peace of Christ is to exercise authority in our hearts.
This makes sense once we remember the meaning of "heart" in the biblical worldview. For us, the heart is the source or place of our emotions. The heart is where we feel. For the biblical writers, however, emotions were related to the heart, but the heart contained much more. The heart was the place within us where we chose, where we made decisions. The heart was the place where we exercised our will. The heart governs our speech and our behavior. It shapes how we live and who we are.
Given the biblical understanding of "peace" and "heart," we can now see how we are called to let the peace of Christ rule in our hearts, to which [peace] we were called in the one body. If something rules in our heart, then that something governs our choices. It guides our behavior. It shows us how to think, judge, and act. Therefore, when Colossians says we're to let the peace of Christ rule in our hearts, this means that our choices, values, and actions should be governed by the peace of Christ. We're to act in light of the peace that comes from the cross of Christ. In particular, we're to be people whose lives reflect Christ's own commitment to peace and reconciliation.
What we read here about peace, therefore, is consistent with the emphasis in the previous verses of Colossians. As you recall, these verses called us to live who we are as God's chosen, holy, and beloved people. We do this, in particular, through our relationships with our brothers and sisters in Christ. We put up with things about them that bug us. We forgive them when they wrong us. And, above all, we act toward them in Christ-like love. Continuing this focus on relationships among believers, verse 15 adds, and I paraphrase, "Let the reconciling, cross-creating peace of Christ govern your moral choices. You were called to this sort of peace in the one, unified body of Christ."
I know this devotion has had an ample amount of biblical interpretation. If we're going to understand what's going on with the peace of Christ in verse 15, we need this kind of investigation. But, once we have figured out what the verse means, we can begin to examine our own lives. Are we making our moral choices in light of Christ's cross-creating peace? Are seeking to live according to the peace of Christ in our key relationships: in church and family, in our neighborhoods and our workplaces? In a day when conflict fills our culture, are we letting the peace of Christ rule in and over our hearts? Questions like these deserve careful, prayerful consideration.
Reflect
When you think about the reconciling power of the cross of Christ, how do you respond? What do you think? What do you feel? In order to answer these questions, you may wish to read Ephesians 2:11-22.
What might make it hard for you to let the peace of Christ govern your moral choices?
Can you think of a time when you chose to act toward someone with the peace of Christ? Perhaps this was a time when you were not feeling particularly loving or charitable, but you chose to act in light of Christ's cross rather than your negative feelings. If you can think of such a time, reflect on what you learned from this experience.
Act
Choose to act toward someone this week in light of the cross of Christ and the peace it creates.
Pray
Gracious God, thank you for your gift of multifaceted peace. Thank you for the times your peace extinguishes conflict. Thank you for the ways your peace touches my heart in times of anxiety and fear. Thank you for making peace among peoples possible through the cross of Christ.
Lord, help me to let the peace of Christ rule in my heart today. May I make moral choices based on the peace that flows from the cross. Help me, Lord, to be a peacemaker whose actions both reflect your sacrifice and honor your sovereignty. Amen.
Find all Life for Leaders devotions here. Explore what the Bible has to say about work at the unique website of our partners, the Theology of Work Project. Commentary on today's Life for Leaders theme can be found here: God's Grand Plan: A Theological Vision (Ephesians 1:1–3:21)

---
Subscribe to Life for Leaders
Sign up to receive a Life for Leaders devotional each day in your inbox. It's free to subscribe and you can unsubscribe at any time.
---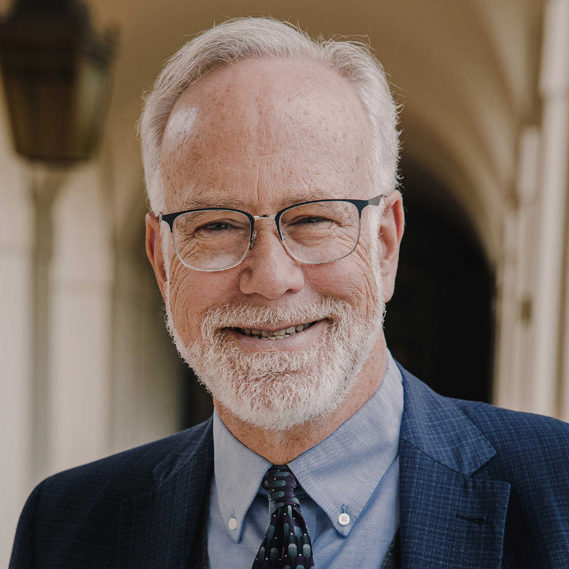 Dr. Mark D. Roberts is a Senior Strategist for Fuller's Max De Pree Center for Leadership, where he focuses on the spiritual development and thriving of leaders. He is the principal writer of the daily devotional, Life for Leaders, and the founder of the De Pree Center's Flourishing in the Third Third of Life Initiative. Previously, Mark was the Executive Director of the De Pree Center, the lead pastor of a church in Southern California, and the Senior Director of Laity Lodge in Texas. He has written eight books, dozens of articles, and over 2,500 devotions that help people discover the difference God makes in their daily life and leadership. With a Ph.D. in New Testament from Harvard, Mark teaches at Fuller Seminary, most recently in his D.Min. cohort on "Faith, Work, Economics, and Vocation." Mark is married to Linda, a marriage and family counselor, spiritual director, and executive coach. Their two grown children are educators on the high school and college level.