Do not let any unwholesome talk come out of your mouths, but only what is helpful for building others up according to their needs, that it may benefit those who listen. And do not grieve the Holy Spirit of God, with whom you were sealed for the day of redemption.
Ephesians 4:30 says we should not grieve the Holy Spirit. In context, we understand that we can do this through using our words so as to hurt others.
But can our words also give God pleasure? In yesterday's devotion, I shared a collection of biblical passages that reveal God's delight in his people. Taking what we learn from these passages and connecting this to Ephesians 4:30, it does seem likely that our words can give delight to God.
Psalm 19 makes this truth crystal clear. Verse 14 of this psalm reads, "May these words of my mouth and this meditation of my heart be pleasing in your sight, LORD, my Rock and my Redeemer." The psalmist knows that his words can be "pleasing" in the sight of God.
I grew up with a slightly different translation of this verse: "Let the words of my mouth, and the meditation of my heart, be acceptable in thy sight, O LORD, my strength, and my redeemer." The King James Version used "acceptable" to translate the Hebrew word ratzon. This translation misses nuances of ratzon that are better represented by the NIV's "pleasing in your sight." For example, in Proverbs 16:13 we read, "Kings take pleasure [ratzon] in honest lips." Or, in Esther 1:8, the king gives a command that each of his guests could drink whatever he wanted, "for the king instructed all the wine stewards to serve each man what he wished [ratzon, meaning "according to his pleasure"]." Thus, Psalm 19:14 shows us that our words can be, not just acceptable to God, but even pleasing to God.
There are many different ways to use words to give pleasure to God. To be sure, our words of worship, whether spoken, prayed, or sung, can please the Lord. But, Ephesians 4:29-30 reminds us that our words can please God not only when they are directed to God in worship but also when they build up others, meet the needs of others, and benefit those who hear them.
Think of it! When you use your words to encourage someone, when your words are a channel of God's grace to others, the Spirit of God is pleased. God delights in you because he has chosen to love you with an everlasting love. But through using the power of your words to serve others and to build up the body of Christ, you can give joy to God.
Ephesians 4:29-30 focuses on speech that happens among members of Christ's body. But it would be wrong to limit the lessons of this passage to communication only among Christians. If, for example, your colleagues at work represent other religious traditions or are not religious, you can still use your words to give grace to them. As you do, the God of grace is pleased.
Something to Think About:
Can you think of times when your words helped others, and therefore gave joy to God?
Are there people in your life right now who need to hear your words of grace, love, and encouragement?
What might you say to them that will serve them and give pleasure to God?
Something to Do:
Take some time to consider prayerfully who in your life needs to receive God's grace through your words. Then act on what you have realized. Use your words to build up at least one other person today. More than one is fine, too!
Prayer:
May all the words of my mouth and all the meditations of my heart be pleasing in your sight, LORD, my Rock and my Redeemer. May I give you joy in what I say, always. Amen.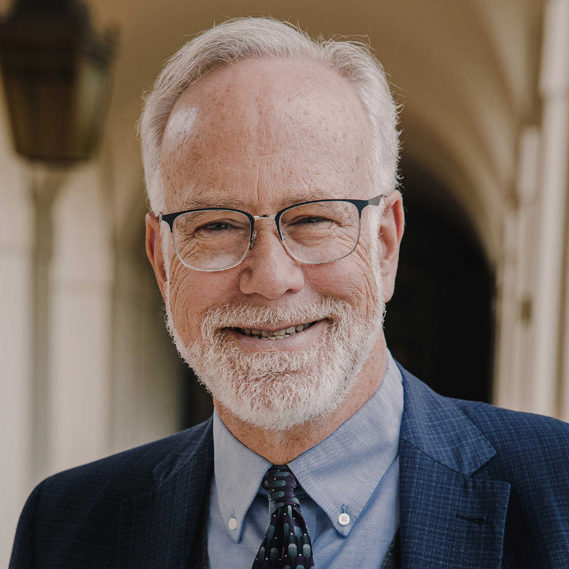 Dr. Mark D. Roberts is a Senior Strategist for Fuller's Max De Pree Center for Leadership, where he focuses on the spiritual development and thriving of leaders. He is the principal writer of the daily devotional, Life for Leaders, and the founder of the De Pree Center's Flourishing in the Third Third of Life Initiative. Previously, Mark was the Executive Director of the De Pree Center, the lead pastor of a church in Southern California, and the Senior Director of Laity Lodge in Texas. He has written eight books, dozens of articles, and over 2,500 devotions that help people discover the difference God makes in their daily life and leadership. With a Ph.D. in New Testament from Harvard, Mark teaches at Fuller Seminary, most recently in his D.Min. cohort on "Faith, Work, Economics, and Vocation." Mark is married to Linda, a marriage and family counselor, spiritual director, and executive coach. Their two grown children are educators on the high school and college level.