As God's chosen ones, holy and beloved, clothe yourselves with compassion, kindness, humility, meekness, and patience. Bear with one another and, if anyone has a complaint against another, forgive each other; just as the Lord has forgiven you, so you also must forgive. Above all, clothe yourselves with love, which binds everything together in perfect harmony. And let the peace of Christ rule in your hearts, to which indeed you were called in the one body. And be thankful. Let the word of Christ dwell in you richly; teach and admonish one another in all wisdom; and with gratitude in your hearts sing psalms, hymns, and spiritual songs to God. And whatever you do, in word or deed, do everything in the name of the Lord Jesus, giving thanks to God the Father through him.
Focus
Today we begin a new devotional series on Colossians 3:12-17. This passage speaks with amazing succinctness and relevance to our lives today. We're encouraged to ask: Am I really living my life in Christ?
Today's devotion is part of the series Live Who You Are.
Devotion
Today I'm beginning a short devotional series that will take us halfway through Lent. My devotions will be based on Colossians 3:12-17.
Why this passage? There are several reasons. First, Lent is a time in which many Christians take a good, long look at their lives and how they're doing as followers of Jesus. Colossians 3:12-17 can serve as an inspired magnifying glass for this kind of scrutiny.
Second, this passage from Colossians offers one of the most relevant and succinct biblical pictures of what it means for us to live as Christians. At this moment, I can't think of any other six verses in the Bible that summarize the Christian life more concisely, not to mention profoundly.
Third, recently I've had the opportunity to preach through this passage of Scripture with my church. We're in between pastors right now, so I've been preaching several times. As I've shared with my congregation what I've been learning from Colossians 3:12-17, I've been struck by how much this text speaks to our needs at this time of history. In a time when we're emerging from a pandemic (we hope!), when churches are rethinking their mission in a changing world, when cultural pressures tempt us to foster division in our congregations and communities, and when many of us aren't quite sure what it means to be faithfully and distinctively Christian, we need to hear focused and fitting teaching of Colossians 3:12-17. I'd suggest that we need it now more than ever.
Tomorrow we'll get into the passage itself, starting with verse 12, as you may have guessed. Today, I'd like to provide a bit of context for the passage.
The New Testament book we call "Colossians" is a letter from the Apostle Paul to "the saints and faithful brothers and sisters in Christ in Colossae" (1:2). Paul was not the one who planted the church in this city in Asia Minor (modern day Turkey). Rather, it appears that a colleague of Paul named Epaphras did the church-planting honors in Colossae (Colossians 1:7), perhaps also in the nearby cities of Laodicea and Hierapolis (4:12-13).
From what we read in Colossians, the Christians in that city were doing well overall. The gospel that came to them through Epaphras was "bearing fruit among [the Colossian believers] from the day [they] heard it and truly comprehended the grace of God" (Colossians 1:6). It does appear, however, that the Colossian Christians were being harassed by teachers who sought to "take [them] captive through philosophy and empty deceit" (2:8). These false teachers attempted to draw the Colossians away from focusing on the uniqueness, deity, and adequacy of Christ (2:4, 8-19, 2:-23). In particular, they were imposing upon Christians various Jewish ceremonial practices as well as other peculiar things, such as the "worship of angels" (2:18).
Paul responded to the false teaching in Colossae by underscoring the uniqueness and centrality of Christ, who alone is "the image of the invisible God, the firstborn of all creation" (Colossians 1:15). Christ alone is the one through whom God "was pleased to reconcile to himself all things" (1:20). Thus, those who " have received Christ Jesus the Lord" should "continue to live your lives in him" (2:6).
Living in Christ involves seeking the things of Christ (Colossians 3:1). When we do this, we "put to death" the earthly, sinful parts of ourselves and our behavior (3:5-8). When we received the grace of God through Christ, we "stripped off the old self with its practices" and "clothed [ourselves] with the new self which is being renewed in knowledge according to the image of its creator" (3:9-10). It's likely that the language of stripping off and putting on had its origin in the baptismal experience of the Christians in Colossae (and elsewhere; see 2:11-15). When people said "Yes" to the gospel, they took off their old identity and lifestyle so that they might clothe themselves with a new identity and way of living, one defined by their relationship with Christ.
This act of putting off and putting on happened decisively in the past when the Colossians first received God's grace in Christ. But that wasn't the end of the process of putting on. Those who believe in Jesus have more clothing to wear. Thus, Paul writes, "As God's chosen ones, holy and beloved, clothe yourselves with compassion. . . . Above all, clothe yourselves with love . . ." (Colossians 3:12, 14). What we find in Colossians 3:12-17 is our new wardrobe, which we are encouraged to put on as we seek to live with Christ as the center of our lives.
Before we begin our investigation of this rich passage from Colossians, let me invite you to do a couple of things. First, go ahead and read all of Colossians 3:12-17. Read it slowly, perhaps several times. See what strikes you, what you wonder about, what speaks to your life today. (I'm actually working on memorizing this passage. I want to be able to carry it around with me, so to speak. Perhaps you'll join me.)
Second, use the following questions to reflect on where you are in your journey with Jesus. Be open to whatever the Spirit of God wants to make clear to you.
Reflect
In what ways is your life based upon and centered in Christ?
Are you ever tempted by teachings that move Christ out of the center?
As you think back to when you first became a Christian, did you experience any "putting off" and/or "putting on"? (Depending on your own faith journey, this may not really have happened, and that's okay. I first accepted God's grace in Christ when I was six years old. My first experience of "putting off" and "putting on" was rather limited.)
What in Colossians 3:12-17 strikes you today?
Act
Today's "Act" suggestions can be found in the last two paragraphs of the devotion.
Pray
Gracious God, thank you for Paul's letter to the Colossians. Thank you for its richness of wisdom and instruction.
Thank you, in particular, for Colossians 3, verses 12-17. These verses speak so simply yet profoundly. And they are amazingly relevant, given that they were written almost 2,000 years ago!
As we embark on this investigation of Colossians 3:12-17, may I be open to hearing what you want me to hear, Lord. May I truly live as one who has put off the old self and put on the new, and as one who is putting on even more of the new self, by your grace. Amen.
Find all Life for Leaders devotions here. Explore what the Bible has to say about work at the unique website of our partners, the Theology of Work Project. Commentary on today's Life for Leaders theme can be found here: Set Your Mind on Things Above: Heavenly Living for Earthly Good (Colossians 3:1–16)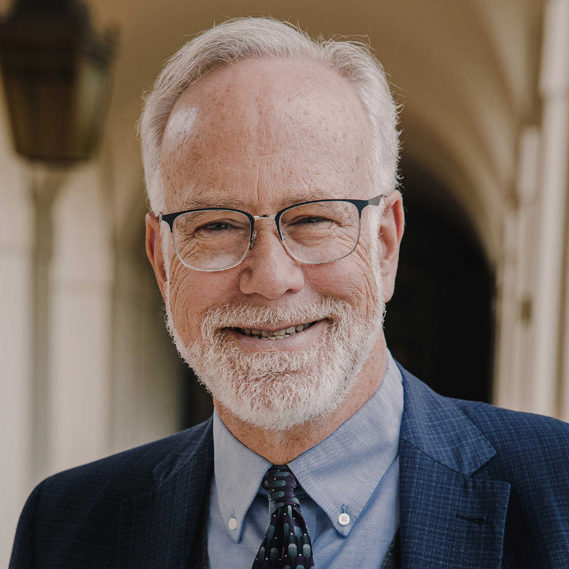 Dr. Mark D. Roberts is a Senior Strategist for Fuller's Max De Pree Center for Leadership, where he focuses on the spiritual development and thriving of leaders. He is the principal writer of the daily devotional, Life for Leaders, and the founder of the De Pree Center's Flourishing in the Third Third of Life Initiative. Previously, Mark was the Executive Director of the De Pree Center, the lead pastor of a church in Southern California, and the Senior Director of Laity Lodge in Texas. He has written eight books, dozens of articles, and over 2,500 devotions that help people discover the difference God makes in their daily life and leadership. With a Ph.D. in New Testament from Harvard, Mark teaches at Fuller Seminary, most recently in his D.Min. cohort on "Faith, Work, Economics, and Vocation." Mark is married to Linda, a marriage and family counselor, spiritual director, and executive coach. Their two grown children are educators on the high school and college level.