In our prayers for you we always thank God, the Father of our Lord Jesus Christ, for we have heard of your faith in Christ Jesus and of the love that you have for all the saints.
I grew up with "Count Your Blessings" ringing in my ears. If ever I complained about something in the presence of my grandmother, she would exclaim, "Count your blessings!" There was little room for grumpiness in her presence. Then, in Sunday School we would often sing a popular hymn penned by Johnson Oatman, Jr. "Count Your Blessings" began, "When upon life's billows you are tempest-tossed, When you are discouraged, thinking all is lost, Count your many blessings, name them one by one, And it will surprise you what the Lord hath done." Then came the refrain, "Count your blessings, name them one by one; Count your blessings, see what God hath done."
I expect that the Apostle Paul would have approved of this hymn. In the beginning of most of his letters, he explains how he "counts his blessings." He does this by offering thanks for the recipients of his letters and then telling them about it. We see an example of this in Colossians 1:3-4: "In our prayers for you we always thank God, the Father of our Lord Jesus Christ, for we have heard of your faith in Christ Jesus and of the love that you have for all the saints." When Paul prayed, he thanked God for the Colossians, noting in particular their faith and love. Then he let them know that and how he had prayed.
Counting our blessings is a good thing to do because Scripture teaches us to do it, both through example and specific exhortation (see, for example, Colossians 1:12; 3:15-17; 4:2). Counting our blessings is also a good thing to do if we want to live flourishing lives. Living gratefully leads to living fully.
That was the conclusion of a research project conducted by Robert Emmons and Michael McCullough, scholars whom I have mentioned previously in this devotional series on gratitude. Emmons and McCullough published their research in a paper called, "Counting Blessings Versus Burdens: An Experimental Investigation of Gratitude and Subjective Well-Being in Daily Life" (Journal of Personality and Social Psychology, 2003, Vol. 84, No. 2, 377–389; summary here). Basically, they gave different groups of people the assignment to write down specific things for which they were grateful or specific things which were burdensome. Then they measured the well-being of the participants at a ten-week experiment. Emmons and McCullough found that those who had written down their gratitude experienced a number of emotional and interpersonal benefits not shared by those who recorded their burdens.
This research and other similar experiments suggest that one way to express gratitude and to experience its benefits is through the simple practice of regularly writing down that for which we are grateful. If we keep a "gratitude journal," recording on a weekly basis five things for which we are grateful, we will receive significant additional blessings. I know this might seem like an exaggeration, but that's what the research shows.
Of course, for Christians, recording our gratitude fosters more than simply personal well-being. It also strengthens our relationship with God. When we pay attention to God's good gifts, our hearts are warmed with thankful love. We find it easier to trust God, to open our hearts to him, and to receive yet more of his grace.
Something to Think About:
Do you "count your blessings" in any regular way? Do you practice gratitude in your life consistently? If so, why? If not, why not?
Why do you think writing down our thanks makes a difference, even more than simply thinking about it?
Have you ever kept a gratitude journal? If so, what was this like for you? If not, would you be willing to give it a try?
Something to Do:
Begin (or continue) a gratitude journal. Your assignment is quite simple. Once a week, record in writing five blessings from the previous week. This exercise will be more meaningful if what you write is personal and thoughtful. Don't race through, but take time to reflect on the good gifts of God. Then, thank God specifically for each of the blessings you have written down. You can write your prayers or speak them.
Prayer:
Gracious God, I do need to count my blessings, to pay attention to the gifts you have given me. I confess that sometimes I can rush so quickly on to the next thing that I forget to thank you. Forgive me! Help me, I pray, to establish a regular discipline of gratitude. Remind me of how you have blessed me. Touch my heart that I might rejoice in your grace. Amen.
---
If you would like to receive a Life for Leaders devotional like this one, each day, in your inbox, without cost, please subscribe to Life for Leaders. You can unsubscribe at any time.
You can access all of our Life for Leaders devotions from this page.
You can learn more about the De Pree Center and its resources here.
---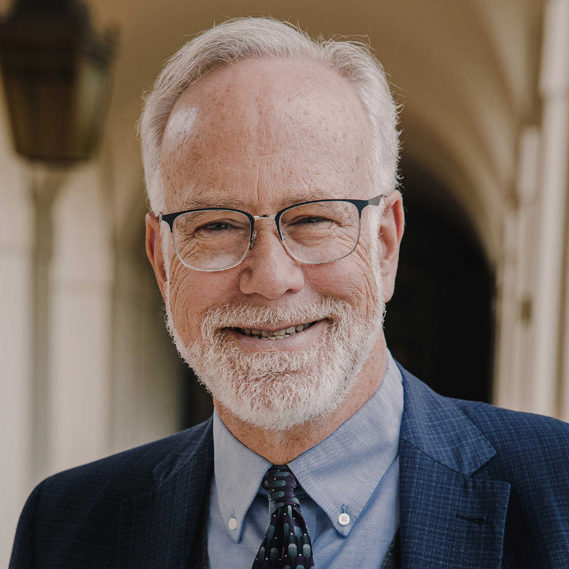 Dr. Mark D. Roberts is a Senior Strategist for Fuller's Max De Pree Center for Leadership, where he focuses on the spiritual development and thriving of leaders. He is the principal writer of the daily devotional, Life for Leaders, and the founder of the De Pree Center's Flourishing in the Third Third of Life Initiative. Previously, Mark was the Executive Director of the De Pree Center, the lead pastor of a church in Southern California, and the Senior Director of Laity Lodge in Texas. He has written eight books, dozens of articles, and over 2,500 devotions that help people discover the difference God makes in their daily life and leadership. With a Ph.D. in New Testament from Harvard, Mark teaches at Fuller Seminary, most recently in his D.Min. cohort on "Faith, Work, Economics, and Vocation." Mark is married to Linda, a marriage and family counselor, spiritual director, and executive coach. Their two grown children are educators on the high school and college level.