In our prayers for you we always thank God, the Father of our Lord Jesus Christ, for we have heard of your faith in Christ Jesus and of the love that you have for all the saints.
In the beginning of his letter to the Colossians, the Apostle Paul offers thanks to God for those who will receive his letter. The believers in Colossae did not know Paul personally (Colossians 2:1). Yet, they were the product of the work of his team—especially through Epaphras, a co-worker of Paul from Colossae. Epaphras, whom Paul identifies as "our beloved fellow servant," was the one who first shared with his fellow Colossians "the grace of God" (Colossians 1:6-7). So, though Paul was not the person who planted the church in Colossae, this church existed because of Paul's influence and leadership. Thus, Paul is especially grateful for the flourishing of the Colossian church (Colossians 1:3-4).
In other letters, Paul writes to churches he founded, offering thanks for them. In 1 Thessalonians 1:2-5, for example, he says, "We always give thanks to God for all of you and mention you in our prayers, constantly remembering before our God and Father your work of faith and labor of love and steadfastness of hope in our Lord Jesus Christ. For we know, brothers and sisters beloved by God, that he has chosen you, because our message of the gospel came to you not in word only, but also in power and in the Holy Spirit and with full conviction; just as you know what kind of persons we proved to be among you for your sake." In this opening section of the letter, Paul points to his own labors. But he frames his efforts with thanks to God. He acknowledges that the flourishing of the Thessalonian congregation is truly God's work, though Paul's own contribution mattered.
Paul's example of thanksgiving for his work encourages us to be similarly thankful. No matter the work you do, as long as it is consistent with biblical teaching, it contributes to God's work in the world. It is something you can do for God's purposes and glory. It is something in which you can take pride, to an extent. But at the same time you must acknowledge that even the good work you do with considerable effort is a reflection of God's grace. If you work with your hands, you're using the hands God gave you. If you work primarily with your mind, then you're using the brain God gave you. If you are able to work because of the labors of others, then you can be grateful for all that makes your work possible. Beyond this, you can be thankful for the life, health, strength, and talents that enable you to work.
Paul actually understands the tension between taking pride in his own hard work and acknowledging God's superintending grace. In 1 Corinthians 15:10, he talks about his apostolic work in this way: "But by the grace of God I am what I am, and his grace toward me has not been in vain. On the contrary, I worked harder than any of them—though it was not I, but the grace of God that is with me." I love this verse because it is so honest and I can so relate to it. Paul begins by acknowledging that his work is a result of God's grace. But then he boasts about working harder than all the other apostles. Yet, after this, he circles back to recognizing that even his hard work was not his own doing, but was God's grace at work through him.
So, when it comes to your work today, let me encourage you to thank God for your work. Think about the different ways God's grace enables you to do the work you do. Even if you're having a hard time at work, you can surely come up with many ways God has blessed and is blessing you. Without denying the problems, tell God thanks for all the ways you experience his grace through your work.
Something to Think About:
Do you thank God for your work? For the work itself? For the results of your work?
In what ways has God blessed you so that you are able to do the work you do?
Something to Do:
Set aside ten minutes in the next day or so, more if you can do it. Make a list of ways God's grace has been given to you in and through your work. Think about how your work matters. Remember your colleagues, your training, your skills and talents. If you have received God's specific guidance as you work, jot down your experience(s). Then, when you have a substantial list, thank God specifically for each gift.
If you started a gratitude journal (see the devotion from last Thursday), set aside time in the next couple of days to add five new things for which you are grateful.
Prayer:
Gracious God, thank you for the work I do, and for your grace that makes this possible. Thank you for my employer, the place in which I work, the equipment that facilitates my work, and for my colleagues and constituents. Thank you for my health and strength, for the talents you have given me. Thank you for the income that comes from my work. Thank you for my boss and those in authority over me. Thank you for those I manage, for the excellence of their work and the privilege of sharing life with them. Thank you, Lord, for the chance to contribute in some small way to your work in the world through what I do each day. Amen.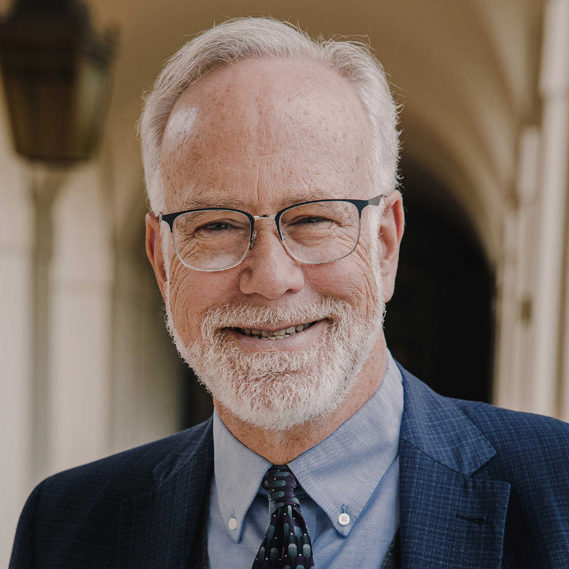 Dr. Mark D. Roberts is a Senior Strategist for Fuller's Max De Pree Center for Leadership, where he focuses on the spiritual development and thriving of leaders. He is the principal writer of the daily devotional, Life for Leaders, and the founder of the De Pree Center's Flourishing in the Third Third of Life Initiative. Previously, Mark was the Executive Director of the De Pree Center, the lead pastor of a church in Southern California, and the Senior Director of Laity Lodge in Texas. He has written eight books, dozens of articles, and over 2,500 devotions that help people discover the difference God makes in their daily life and leadership. With a Ph.D. in New Testament from Harvard, Mark teaches at Fuller Seminary, most recently in his D.Min. cohort on "Faith, Work, Economics, and Vocation." Mark is married to Linda, a marriage and family counselor, spiritual director, and executive coach. Their two grown children are educators on the high school and college level.