We also constantly give thanks to God for this, but when you received the word of God that you heard from us, you accepted it not as a human word but as what it really is, God's word, which is also at work in new believers.
Focus
What difference will the energizing good news of the gospel make in our daily lives? Since the centerpiece of the gospel is God's grace in Jesus Christ, then the more this gospel is alive in us, the more we will extend grace to others. In a world so filled with animosity and unforgiveness, we will treat people with the counter-cultural, impossible love of God in Christ.
Today's devotion is part of the series Encouragement from 1 Thessalonians.
Devotion
In yesterday's Life for Leaders devotion, I began to reflect with you on 1 Thessalonians 2:13. I noted that, although the good news of God's love in Christ comes packaged in human words, it is essentially God's word, God's story. The Christian life begins when we accept this word in faith. But that isn't the end of the gospel's influence in our lives. Rather, it's just the beginning. From the moment of conversation onward, "God's word . . . is also at work in you believers" (1 Thessalonians 2:13). The energizing gospel is working within each individual Christian and among the community of Jesus followers.
Today, I want to continue reflecting on 1 Thessalonians 2:13 by responding to the question: What difference will the energizing gospel make in our daily lives? If indeed God's word is active in us and among us, how will this affect us in real-time and real life?
I mentioned yesterday that questions like this could fill a book, so what I'm writing today will just scratch the surface. But I hope these are helpful scratches! Plus, I should mention, as I did yesterday, that in 1 Thessalonians the phrase "word of God" or "God's word" refers specifically to the gospel, to the good news of God's grace in Christ. It doesn't refer directly to Jesus, the Incarnate Word of God, or to the Bible, the written Word of God, though, of course, the gospel has everything to do with Jesus and is found in the Bible. But what we're considering today is what might happen in, through, and among us if the gospel is energizing us.
For one thing, if the gospel is alive in us, then we'll treat ourselves in light of God's love and grace. We'll acknowledge that we are sinners without defensiveness or rationalization. But we'll treat ourselves kindly, recognizing that we are loved and forgiven by God. When we fail – as indeed we will – we will confess to the Lord and receive divine forgiveness.
Now, I realize that sometimes people take this implication of the gospel and abuse it, turning God's grace into what Dietrich Bonhoeffer called "cheap grace." We can go ahead and sin without remorse or repentance. This is surely not what the gospel is meant to energize within us. Rather, the gospel of God's grace in our lives, when truly perceived and faithfully received, will call us to a life of God-honoring holiness. We will be eager to leave behind our sin as a response to God's amazing grace. And for those of us who tend to be hard on ourselves, who have a hard time ever forgiving ourselves, the gospel will teach us to be gracious when it comes to our own failures and sins.
If the gospel is at work within us, not only will we treat ourselves differently, but also we will act toward others in a gospel-formed way. If, at the center of our inner being, the story of God's love and grace is energizing us, then we will extend that love and grace to others. We will be people whose relationships reflect the gospel. We will be people whose public life and communication is gospel-shaped. The old chorus "And they'll know we are Christians by our love" will be true concerning us.
I know individual Christians for whom this is true. I've experienced people who embody the gospel, extending God's grace to others on a regular basis. I've also seen churches that have reached out to care for the poor, bind up the brokenhearted, and seek justice for the oppressed. Now, of course, I realize individual Christians and our churches often fall short of the gospel standard, way short. We can become preoccupied with ourselves and pumped up with our own rightness. We can be critical, judgmental, and mean. We can ignore those in need and hide our eyes from injustice. But if the good news of God's love and grace in Christ is truly at work in us, then surely that good news will guide our actions and form our words. Even when we stand up to injustice, we will do so with gospel-empowered grace. As I recall, Jesus did say something about loving our enemies (Matthew 5:44).
Throughout the course of my life, I have tried to let my heart and my behavior be formed by the gospel. To whatever extent this has been true of me, I give God the credit. Of course, that's part of the gospel story, right? Let me offer one example that might help you to consider how the good news might guide and inspire you.
In 2003 I began blogging. Within a few years, I had over 1,000,000 visitors to my blog each year. Mostly I wrote about things related to the Christian faith and life. And most folks responded with appreciation. Mostly, but not always. Because I was for a while a "public Christian," sometimes people would come after me with their social media knives drawn. They might criticize me (which was okay, if unpleasant), curse at me (not very nice), slander me (yikes!) and even threaten me (only a couple of times; once, for example, someone threatened to show up at my church and disrupt our services because of my position on some issue.) I'll confess that it was tempting to fight fire with fire, to respond to attacks with attacks of my own. But as I thought and prayed about my persona in the realm of social media, I knew God was calling me to live the gospel. Even when someone treated me poorly in public, I was to respond with grace. I could always disagree, but never in a way that belittled another person. For me, this was a way of living the gospel in public and not just in my private life or in my church. It was my way of turning the other cheek and walking the second mile, putting grace above my self-esteem.
There were times when I'd respond to someone's email and or online comment with grace, only to be slammed to the mat once again. That wasn't much fun. But I estimate that about 80% of the time my gracious response led to a change of heart in the one who had "slapped my cheek." I usually experienced in real-time the truth of Proverbs 15:1, "A soft answer turns away wrath, but a harsh word stirs up anger." That was encouraging, to be sure. But that's not why I sought to communicate in a "gospel-ish" way. I wanted the gospel to be fully alive in me so that I might, in the words of Ephesians 1:11, "live for the praise of God's glory."
So, my friends, may 1 Thessalonians encourage us to allow the gospel to energize us. May the good news of God's grace in Christ form us, inspire us, and guide us. May we be people who act and speak as a reflection of the gospel. To God be the glory!
Reflect
Can you think of ways that the good news of God's grace in Christ has made a difference in your life? In how you think? How do you feel? How do you treat others? How do you treat yourself?
As you think about the various contexts of your life – work, family, church, neighborhood, public square, etc. – how might the gospel inform and transform who you are in these settings?
In this day, with so much animosity in our culture, country, and world, is it possible for followers of Jesus to have their lives shaped by the gospel? Or is it naïve?
Act
Do or say something this week as a tangible way of allowing the gospel to thrive in you.
Pray
Gracious God, thank you for the good news of your grace in Christ. This gospel not only saves us, but also it is at work within us, transforming and renewing us. Thank you!
Help me, Lord, to live the gospel each day. In the way I speak and act, in the way I think and feel, in the way I present myself in private and in public, may I reflect the good news of your grace in Christ.
I pray also for the church, Lord. So often we fall short when it comes to grace, which is sadly ironic. Help us to be living communities of grace. Teach us how to speak the truth in love—yes, in love. Show us what it means to love our neighbors rather than being preoccupied with ourselves. May your church in this truly reflect the gospel into the world. To you be all the glory! Amen.
Find all Life for Leaders devotions here. Explore what the Bible has to say about work at the unique website of our partners, the Theology of Work Project. Commentary on today's Life for Leaders theme can be found here: What Do the Proverbs Have to Do With Work?

---
Subscribe to Life for Leaders
Sign up to receive a Life for Leaders devotional each day in your inbox. It's free to subscribe and you can unsubscribe at any time.
---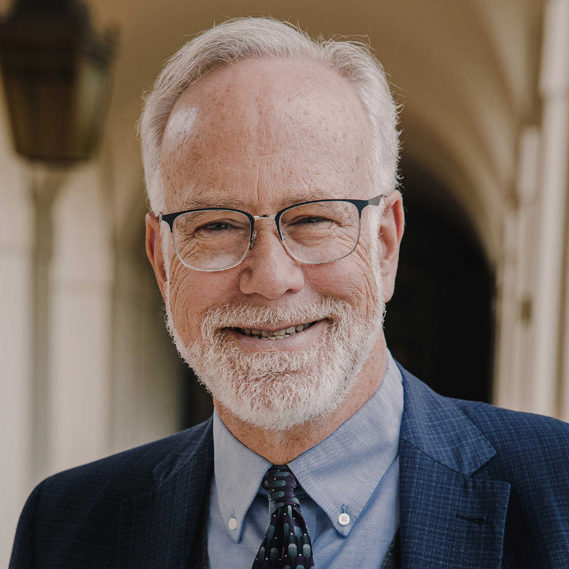 Dr. Mark D. Roberts is a Senior Strategist for Fuller's Max De Pree Center for Leadership, where he focuses on the spiritual development and thriving of leaders. He is the principal writer of the daily devotional, Life for Leaders, and the founder of the De Pree Center's Flourishing in the Third Third of Life Initiative. Previously, Mark was the Executive Director of the De Pree Center, the lead pastor of a church in Southern California, and the Senior Director of Laity Lodge in Texas. He has written eight books, dozens of articles, and over 2,500 devotions that help people discover the difference God makes in their daily life and leadership. With a Ph.D. in New Testament from Harvard, Mark teaches at Fuller Seminary, most recently in his D.Min. cohort on "Faith, Work, Economics, and Vocation." Mark is married to Linda, a marriage and family counselor, spiritual director, and executive coach. Their two grown children are educators on the high school and college level.